You are here
Student Global Clinical Immersion Experiences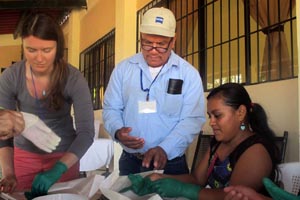 The Duke University School of Nursing (DUSON) believes that cultivating an understanding of global health is key to the success, development and enrichment of our students. Global clinical immersion experiences (GCIE) offer students unique opportunities to expand intercultural understanding, deepen their knowledge of community health and wellness and gain practical clinical experience in diverse environments. Each global clinical immersion experience is developed to meet specific program and course objectives to complement growth and learning. These global health experiences are academic, research and service initiatives that provide students with hands-on opportunities to work with diverse groups and populations worldwide. The Office of Global and Community Health Initiatives (OGACHI) continues to explore, identify and foster relationships to develop new GCIE sites and opportunities for our students.
ABSN Global Clinical Immersion Experience
ABSN students can fulfill clinical hours for NUR 397 Community and Public Health Nursing, a second semester course, locally or globally.
Students who choose local clinical placements will work with culturally rich and diverse populations in Durham County, including Latinos, refugees and immigrants, as well as an array of vulnerable groups, such as those living in poverty, homeless persons and the elderly. Current local community and public health partners include: Durham Rescue Mission, El Centre Hispano, Lincoln Community Health Center, CAARE, Church World Services and Genesis Home. Local clinical immersion groups fulfill their hours on a weekly basis throughout the semester.
Students who go abroad will travel to one of our clinical sites for a two-week immersion experience that occurs during the break between second and third semester. This rich learning environment provides students with invaluable insights into diverse health care systems, community-based initiatives and treatment protocols in different cultural settings. GCIE activities typically include: community assessment, clinical observations, hands-on experiences in the local health care centers or polyclinics, health promotion teaching, home visits, environmental health visits with local health officers and cultural enrichment activities.
Visit global academic and clinical sites to learn more.
Graduate Global Clinical Immersion Experiences
Graduate students have access to many academically relevant and personally enriching global health experiences. Students can use global health experiences to satisfy a portion of their academic requirements or to complete an independent study in global health or conduct a research project at the DNP or PhD level. Graduate students have a unique opportunity to work with global partners to understand community needs, address health care challenges and fortify essential nursing skills while deepening intercultural awareness and sensitivity.
Global experiences for graduate students can vary in length from two to four weeks depending on the associated course and stated objectives. Most students find it best to do a global experience near the end of their educational program, often during their residency or in the semester break just before the residency. We are also continually establishing new global partnerships, and available sites are subject to change. Although not all sites are equipped to accommodate all MSN specialty areas, we are continually establishing new global partnerships, and available sites are subject to change. All graduate students interested in participating in a global health experience are encouraged to apply.
Graduate students should begin by discussing goals with course faculty and advisors to identify and schedule academically relevant experiences that satisfy personal and professional interests, academic requirements and goals. Post-application, we work closely with all parties - advisor, student and global partners - to determine the appropriate academic placement opportunities for any given specialty.
Visit global academic and clinical sites to learn more.