You are here
Navigating National Accreditation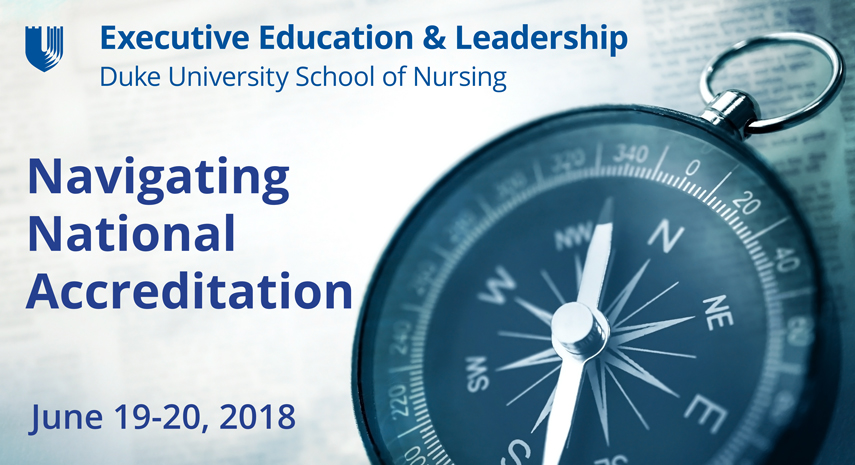 Back for a second successful year, Navigating National Accreditation is the only program of its kind!
This unique conference shares practical hands-on approaches to help you prepare for the CCNE accreditation process.*
How well-prepared are you? Ask yourself…
Do we know the best ways to prepare our senior administrators for the accreditation interview?

What are the best practices for creating a successful self-study, and what are the more common errors that schools make?
What do reviewers look for in documentation and data to ensure we meet national accreditation standards?
How do we organize our resource room, and what information should we not include?
What data should we collect after the accreditation visit to ensure we are prepared for the next visit?
What last year's participants said about Navigating National Accreditation

Navigating National Accreditation by the numbers (results of 2017 participant feedback)

Why You Should Attend
In-depth discussion in work groups for each CCNE standard for your school's self-study.
Plans to prepare your school for the on-site accreditation visits.
Seminar materials, including CCNE standards, planning templates, worksheets, timelines and best practice suggestions.
A complete digital set of all planning documents ready for use by your accreditation team upon return to your institution.
Conference, Hotel and Meals Included for One Price!
Single accommodations for each team member at the JB Duke Hotel.
Breakfast, mid-day break, lunch, mid-afternoon break and dinner at the JB Duke Hotel during the entire seminar.
One registration fee covers a team of up to three people.
Who Should Attend
We welcome accreditation teams (up to three participants) comprised of faculty and staff from nursing schools that are preparing for national accreditation or reaccreditation by the Commission on Collegiate Nursing Education (CCNE).* Participants should represent those within your organization who will be spearheading your national accreditation preparation efforts. For smaller teams and schools, we have a special individual registration option for one or two people should your school wish to send fewer than three people.
Register here and click the Navigating National Accreditation tab for instructions.
What You Will Learn
Each session includes a detailed review of each CCNE standard, strategies for organizing and implementing your institution's accreditation preparation plan, best practices, pitfalls to avoid during the process and how to integrate individual standard strategies into a comprehensive review plan.
Presenters
Michael V. Relf, PhD, RN, ACNS-BC, AACRN, CNE, FAAN
Associate Professor
Associate Dean for Global and Community Health Affairs
Dr. Relf, has significant experience with nursing accreditation. In addition to serving as an on-site evaluator, he has served as the faculty coordinator for CCNE re-accreditation at a prior institution. At Duke University, he has served on the faculty steering committee for its most recent CCNE accreditation having led the team focusing on Standard IV. He has consulted with universities in preparation of their self-study and has conducted mock on-site reviews.
He earned a graduate degree in nursing administration from Georgetown University and a PhD from the Johns Hopkins University. He has served as Chair of the Department of Nursing at the Georgetown University School of Nursing and Health Studies. Currently, he is the associate dean for global and community affairs at the Duke University School of Nursing.
Dr. Relf's research focuses on the psychosocial aspects of HIV, including HIV-related stigma and engagement in care. He has published his research in a number of high impact journals. He is the associate editor of the Journal of the Association of Nurses in AIDS Care.
Barbara S. Turner, PhD, RN, FAAN
Elizabeth P. Hanes Professor of Nursing
Chair, Health of Women, Children & Families Division
Dr. Turner, in addition to heading up the Duke CCNE site visit and self-study, has worked with a number of universities on the self-study and mock on-site reviews. She has also worked with state accreditation agencies for the sponsorship of new academic programs.
She earned graduate degrees in hospital administration and perinatal nursing prior to receiving her PhD from the University of California at San Francisco. Following her retirement from the Army Nurse Corps, she established the Center for Nursing Research at Duke and held the position of Associate Dean for Research for 13 years.
Dr. Turner's research interests focus on the effect of nursing intervention on critically ill newborns, including exogenous surfactant administration, endotracheal suctioning, high frequency ventilators and airway management. She has published widely in journals, books, monographs and computer-assisted instruction. Dr. Turner serves as a Section Editor in Heart & Lung in addition to being a reviewer for other nursing journals. She is active professionally in the American Academy of Nursing, American Nurses Association, North Carolina Nurses Association and Sigma Theta Tau International.
Moderator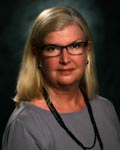 Debra L. Mattice, MA, MPA
Director, Academic Support Operations
Ms. Mattice joined the Duke University School of Nursing in October 2006. One of her responsibilities is serving as the primary point of contact for CCNE accreditation activities for the ABSN, MSN and DNP programs, including an initial program accreditation and a multi-program accreditation process. She has convened and staffed the accreditation task forces; developed and monitored the schedules for the preparation of the self-studies; provided final editing of the self-studies; coordinated faculty and community of interest preparation; coordinated development and staging of the site visit resource rooms; managed the on-site logistics during the site visits; and managed the preparation and submission of the school's comments on the final report.
Ms. Mattice also has ongoing responsibility for the coordination and submission of substantive change notices, including working closely with faculty in the development of academic majors to assure compliance with applicable standards and the development and submission of the Continuous Improvement Process Reports.
Speaker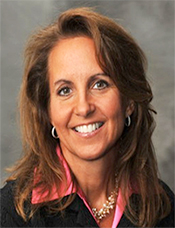 Tanya Sudia, PhD, RN
Associate Dean for Research and Scholarship
Louise Herrington School of Nursing
Baylor University
Dr. Sudia serves as the Associate Dean for Research and Scholarship at the Louise Herrington School of Nursing of Baylor University in Dallas, Texas. She is engaged in mentoring tenure track faculty as they develop research programs, mentoring and promoting scholarship among clinical track faculty, and providing grant writing and award support. Her current projects include leading a Nursing Innovation Grant from the Texas Higher Education Coordinating Board in collaboration with clinical practice partners for the development of a Geriatric Competency Validation Tool and Toolbox for pre-licensure nursing students.
Dr. Sudia earned her graduate degree in nursing and a PhD from Emory University. She joined Baylor in 2014 from the Mercer University Georgia Baptist College of Nursing in Atlanta, Georgia where she was instrumental in the development of the PhD in Nursing Program. Prior to that, she held a variety of leadership roles at Emory University including Director of the Institutional Review Board, Faculty Associate for the Center for Ethics, and faculty in the Nell Hodgson Woodruff School of Nursing.
Dr. Sudia's emerging international collaborative team research is focused on leading the development of a pediatric palliative care initiative for underserved rural populations in India.
Agenda
Day One: June 19, 2018
8:30-9:00 a.m.
Breakfast, Registration & Networking
9:00-10:00 a.m.
Welcome-Introduction-Overview of CCNE Accreditation
10:00-11:00 a.m.
Standard 1 - PROGRAM QUALITY: MISSION AND GOVERNANCE
11:00-11:20 a.m.
Mid-morning Break and Networking
11:20 a.m.- 12:20 p.m.
Standard 2 - PROGRAM QUALITY: INSTITUTIONAL COMMITMENT AND RESOURCES
12:20-1:30 p.m.
Lunch and Networking
1:30-2:15 p.m.
Surviving and Thriving During an On-site CCNE Visit: Pearls of Wisdom
Tanya Sudia, PhD, RN
Associate Dean for Research and Scholarship
Louise Herrington School of Nursing
Baylor University
2:15-3:15 p.m.
Resource Room Management
3:15-3:30 p.m.
Mid-afternoon Break
3:30-4:30 p.m.
Managing the Visit - Preparing Your Team
4:30-5:00 p.m.
Review of Standards 1 and 2, Discussion and Wrap-up of Day One
Day Two: June 20, 2018
8:00-8:30 a.m.
Breakfast
8:30-10:00 a.m.
Standard 3 - PROGRAM QUALITY: CURRICULUM AND TEACHING-LEARNING PRACTICES
10:30-10:45 a.m.
Mid-morning Break and Networking
10:45 a.m.-12:30 p.m.
Standard 4 - PROGRAM EFFECTIVENESS: ASSESSMENT AND ACHIEVEMENT OF PROGRAM OUTCOMES
12:30-1:30 p.m.
Lunch
1:30-2:30 p.m.
Review of Standards 3 and 4
2:30-3:15 p.m.
Managing for Future Reviews: The information you'll need, the information you won't
3:15-4:30 p.m.
Wrap up of Standards 3 and 4, Discussion and Wrap Up of Conference
Free for Registered Participants!
Tour of Duke University School of Nursing, Duke University and Durham
June 18, 2018: 3:00-4:30 p.m.
Participants of the 2018 Navigating National Accreditation can join a complementary tour of the Duke University School of Nursing, Duke University and downtown Durham on Tuesday, June 18.
We hope to give you a flavor for why we think the School of Nursing, Duke and Durham are such special places. While on your tour, you will visit the iconic Duke Chapel and the renowned Cameron Indoor Stadium, home to the national powerhouse Duke Blue Devils basketball team.
Accommodations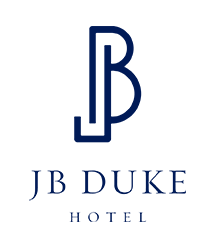 Enjoy a tranquil retreat at the JB Duke Hotel, a premier lodging destination and one of the newest hotels in Durham. Its 198 spacious guest rooms and suites will welcome you with warm neutral tones accented by the deep blue hues of Duke University's palette.
Each guest room is equipped with an outstanding selection of modern amenities, and inside the spa-inspired guest bathrooms you will find a delightful collection of complimentary Gilchrist & Soames London Collection soaps, lotions and shampoos.
Come and experience a uniquely modern twist on Southern hospitality. Visit the JB Duke Hotel website.
Seminar Note: Hotel reservations will be made through the seminar registration process and include the cost of the room and direct taxes and fees. Accommodations do not include personal incidental charges that may be incurred by seminar participants.
*Disclaimer: This accreditation preparation seminar is not associated with or endorsed by the Commission on Collegiate Nursing Education (CCNE). Attendance does not imply you will have a successful CCNE accreditation.