You are here
Destined for Health Care: Student Spotlight on Matthew Heyes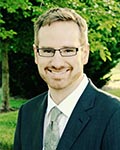 Duke University School of Nursing (DUSON) student Matthew Heyes, BSN, RN, remembers health care calling out to him at an early age. Growing up in Salt Lake City, Utah, Heyes remembers spending many nights with his father practicing the pronunciation of words such as olecranon and metatarsal, listening to tales of difficult surgeries and watching videos of knee arthroscopies and total hip replacements.
"Both my parents are practitioners in the medical field," said Heyes. "Early on it seemed inevitable that I would follow in my parents' footsteps. I even investigated other career paths initially but soon found myself revisiting the idea of medicine."
While exploring various specialties in health care, Heyes worked as a surgical technician in an oral surgery center, which provided him with a strong introduction to patient care and a front row seat to different surgical practices.
Witnessing the work of anesthesia practitioners, Heyes determined that a career in nursing would open several professional avenues for him. He completed nursing school at the University of Utah and secured a job in a Surgical and Cardiovascular Intensive Care Unit (ICU).
"During the majority of my years as an ICU nurse, I spent hours with my patients running supportive equipment such as ventricular assist devices and balloon pumps," he said. "It was during this period that I became keenly interested in the role of the anesthesia practitioner."
Heyes admired and respected the position at the head of the bed. "As a nurse, I wanted a strong voice in advocating for my patients, especially concerning their surgical treatment and pain management," he said. "I was tired of offering suggestions only to see them ignored. Becoming a certified registered nurse anesthetist seemed like the next natural progression in my nursing career."
Heyes applied to the DUSON Nurse Anesthesia - DNP Program. The program prepares nurse anesthesia clinical scholars who are skilled in anesthetic administration in a wide array of clinical settings to patients across the lifespan.
"My acceptance into Duke's nurse anesthesia program was a life-changing moment for me," said Heyes. "I had been working for several years to prepare myself for anesthesia school, and I could not have been happier to be accepted to such an excellent program."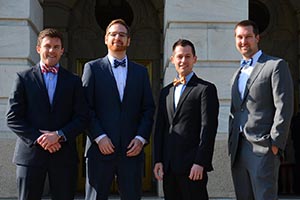 Since joining the Duke community, Heyes has been actively involved in student and on-campus activities. He was the community service chair for the class of 2017 for the first two years of his nurse anesthesia program. He also served as a student advocate, ambassador and mentor throughout the program. He is currently the senior student simulation assistant to the nurse anesthesia simulation director.
In the end, Heyes said all of this has prepared him to become a leader in the field of anesthesia. "My Duke experience and DNP degree have provided me with the critical skills necessary to assess and improve systems of care, measure patient and provider outcomes and to apply those outcomes to clinical practice," he said. "High-quality health care and improved health outcomes are the ultimate result of these foundational skills."
For the last two years, DUSON's Nurse Anesthesia Program was ranked no. 3 in the nation by U.S. News & World Report. Visit nursing.duke.edu to learn more about the program.