You are here
The No. 1 DNP Program in the Nation Launches Executive Leadership Specialty
Wednesday, March 15, 2017
The Duke University School of Nursing (DUSON) Doctor of Nursing Practice (DNP) program launches the new DNP Executive Leadership Specialty beginning in fall 2017. The specialty provides seasoned nurse leaders with the knowledge and skills needed to lead complex and changing organizations and health care systems.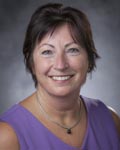 "Our DNP program allows nursing leaders to implement evidence-based practice into the health care system to bring positive change to systems of health care, communities and populations," said Katherine Pereira, DNP, RN, FNP-BC, ADM-BC, FAAN, FAANP, associate professor and director for the DNP Program for DUSON. "The new executive leadership specialty provides advanced knowledge and skills for leading these complex changes."
The specialty is offered as a nine-credit track within the DNP program and will provide students with the skills to:
Lead complex organizations by understanding people, organizations and the advanced use of multiple sources of data
Forecast and monitor trends in patient care, health care legislation and policy
Develop skills in designing, implementing and evaluating the care of special populations
Manage fast-breaking situations such as illness outbreaks, organizational emergencies or personnel issues
Develop and sustain a network of mentors and leaders to support professional growth
"The curriculum developed for this program has been designed for candidates with five to ten years of experience in a leadership role and aspire to be in an executive level of leadership," said Catherine L. Gilliss, PhD, RN, FAAN, Helene Fuld Health Trust Professor of Nursing, lead faculty for this program and former dean for DUSON. "Participants will be prepared for a career of leadership at the highest levels within the health sector.
The Duke DNP Program was ranked as the No. 1 DNP program in the nation by the U.S. News and World Report in its 2018 Best Graduate School rankings. The program is flexible enough to accommodate nurses working in advanced practice positions and designed to meet the needs of a working professional. Classes are distance-based with on-campus sessions each semester to deepen the understandings gained from course work alone.
For more information about the DNP Program or the DNP Executive Leadership Specialty, contact the Office of Admissions and Student Services at 877-344-4680.
Involved Faculty Profiles