You are here
DNP Executive Leadership Specialty Track
Doctor of Nursing Practice Executive Leadership Specialty: Preparing Tomorrow's Leaders Today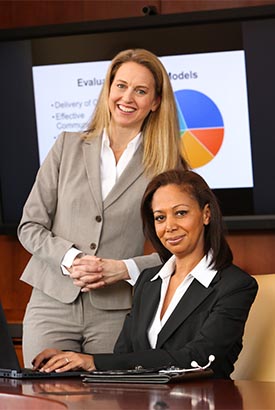 The Doctor of Nursing Practice Executive Leadership Specialty provides seasoned nurse leaders with the knowledge and skills needed to lead complex and changing organizations and health care systems. This specialty is offered as a track within the Doctor of Nursing Practice Program.
The curriculum of this specialty provides students the knowledge and skills to:
Lead complex organizations by understanding people, organizations and the advanced use of multiple sources of data.
Forecast and monitor trends in patient care, health care legislation and more.
Develop skills in designing, implementing and evaluating care of populations to meet organizational goals.
Comfortably and authoritatively manage fast-breaking situations, such as illness outbreaks, organizational emergencies or personnel issues.
Develop and sustain a network of mentors and leaders to support you as your career continues and grows.
The courses in the Duke Doctor of Nursing Practice Executive Leadership Specialty include:
Advanced Decision-Making in Health Care provides the skills required to make strategic and operational decisions; addresses the challenges in designing, implementing and evaluating care delivery systems; and provides data manipulation approaches to determine the best course of action for any challenge faced by a health care leadership team.
Advanced Topics in Leadership prepares students to apply various leadership theories to teams, develops skill in conflict management and negotiation and builds expertise in human resource management within nursing and health care settings.
Planning and Evaluation Care for Populations identifies and dimensionalizes populations of interest in the delivery of health care, provides tools to apply principles of effective collaboration with communities and evaluates models of care designed to maximize priority outcomes, including quality, access and value.
The ideal candidate the Duke Doctor of Nursing Practice Executive Leadership Specialty is a senior nurse leader with five to ten years of experience in a leadership role, who aspires to an executive role. The Duke DNP Program is designed to meet the needs of a working professional. Classes are distance-based with on-campus sessions each semester to deepen the understandings gained from course work alone.