You are here
Two Students Receive Future of Nursing Scholars Grant
Brian Douthit, MSN, RN-BC and Morine Cebert, RN, MSN, FNP are among 41 nurses around the country to receive the 2017 Future of Nursing Scholars program award, to support their work in the School's PhD program. The scholarship is funded by the Robert Wood Johnson Foundation (RWJF) to increase the number of nurses holding PhDs.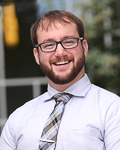 While Douthit was working as a medical-surgical floor nurse, the hospital he was working for was acquired and implemented an electronic medical record system. When volunteers were requested to become super users of the new electronic record system, Douthit volunteered and became pivotal in the implementation. Realizing the breadth of opportunity that exits in technology that can be leveraged to positively impact nursing, Douthit enrolled in the Health Informatics program at Duke University, and became the first recipient of the Big Data Management Nursing Informatics Scholarship in 2015. During this time, he also achieved the distinction of becoming a board-certified informatics nurse through the American Nurses Credentialing Center.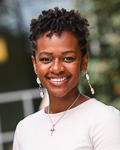 ​Cebert earned her BSN from Boston College, and while there was selected to participate in the Keys to Inclusive Leadership in Nursing Scholars program where she was exposed to the diversity in nursing research and the variety of leadership roles within the profession. This is where she found her passion and was inspired to pursue an advanced degree in nursing science and research. While reflecting on what research topics to study, she discovered a desire to help women who experienced issues building families by reading biblical stories on infertile women. This led to her specific interest in understanding treatment-seeking behaviors of infertile and sub fertile African American women.
Douthit and Cebert will both will receive financial support in the amount of $125,000, as well as mentoring and leadership development during the three-year program. The goal of the Future of Nursing Scholars is to create a large, diverse cadre of PhD prepared nurses committed to long-term leadership careers that advance science and discovery, strengthen nursing education, and bring transformational changes to nursing and health care.
"Having the support of the Robert Wood Johnson Foundation is crucial in supporting the work of our future nurse leader," said Debra H. Brandon, PhD, RN, CCNS, FAAN, program director of the PhD program and associate professor at Duke University School of Nursing. "As faculty members, nurse researchers foster discovery science in interprofessional teams that include students and faculty. I know that Brian and Morine will make a positive impact in the lives of patients and families with their work."
This is the fourth year of the Future of Nursing Scholars program, and DUSON is one of 28 schools selected nationwide to receive this grant for its students.
The Future of Nursing Scholars program is a multi-funder initiative with RWJF, Johnson & Johnson, Inc., Independence Blue Cross Foundation, Cedars-Sinai Medical Center, North Shore Long Island Jewish Health System and the Rhode Island Foundation. RWJF works to improve the health and health care of all Americans.