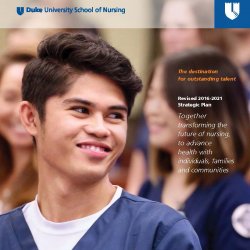 At the Duke University School of Nursing, we're working hard on our 2016-2021 Strategic Plan. This page and the plan allow you to learn more about our vision for the future of our community. Join us on this exciting journey!
Our Strategic Plan is built on six focus areas: Education, Research, Clinical Practice, Community Health Improvement, Global Health and People and Environment. From these six areas, our plan featured 23 specific goals and 58 strategies that would help us meet them. In our first year, we identified 20 of these strategies that would serve as the foundation of our future work.
More than 100 of our faculty, staff, students and Duke University and Health System partners have participated in plan implementation so far. Read the 2016-2021 Strategic Plan here, and learn about our progress to date here.