You are here
Psychiatric-Mental Health Nurse Practitioner Post-Master's Veterans Experience
With generous support from the Office for Academic Affiliations (OAA), the Durham VA Medical Center in partnership with the Duke University School of Nursing has developed an innovative psychiatric-mental health nurse practitioner Post-Master's Veterans Experience program.
This builds upon a long-standing collaboration between the two organizations. Board certified Psychiatric-Mental Health Nurse Practitioners who are accepted into the program will learn to become specialists in veterans' mental health conditions while working with our veterans' diverse health care needs.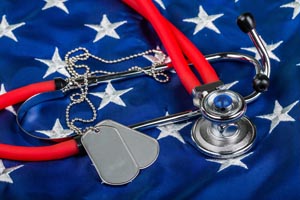 The goals of the Post-Master's Veterans Experience Program are to:
Provide culturally competent veteran-centric mental health patient-centric care experiences.
Enable the learner to function in the role of consultant and educator in regards to veteran-centric mental health care.
Provide the learner with opportunities to implement evidence-based practice recommendations for process improvement in areas of veteran specific mental health care.
Provide the learner with opportunities to have a mentored, multi modal, interdisciplinary, scholarship driven, intensive clinical experience that will generate culturally competent veterans mental health care.
Program Structure
This 12-month Post-Master's Veterans Experience Program is divided into two three-month blocks of clinical rotation assignments. Each learner will participate in at least four clinical rotations over the course of the year. Rotation assignments are based on consideration of both the learners' interests and identified training needs. Every effort is made to assign a set of clinical rotations that will balance the learners' interests with needs. To ensure a broad range of clinical experiences at the outset of the program, the program directors will meet with the learners to determine training needs and interests. Some of the possible clinical rotations include: Psychiatric Acute Recovery Center, Substance Use Disorders Clinic, Behavioral Sleep Medicine Clinic, Cognitive Behavioral Management of Pain, Operation Enduring Freedom/Iraqi Freedom/New Dawn Clinic, Post Traumatic Stress Disorder Clinic, and/or Women's Health Clinic.
Didactic Education
The learners will typically engage in eight hours of didactic experience per week in addition to 32 hours of clinical experience per week. The weekly didactic experiences will be drawn from existing regular educational offerings, case presentations and grand rounds at the Duke and Durham VA medical centers. These didactic experiences will facilitate the learners meeting the specific components within the psychiatric nurse practitioner Post-Master's Veterans Experience Program core domains.
Psychiatric-Mental Health Nurse Practitioner Post-Master's Veterans Experience Faculty
Duke School of Nursing and Duke School of Psychiatry and Behavioral Sciences Affiliated Faculty:
Eligibility
To be eligible, students must:
Be a graduate of an accredited psychiatric-mental health nurse practitioner (PMHNP) program.
Hold a master's degree or higher.
Be board certified as a PMHNP.
Contact