Health Equity Academy II: Mentoring to Increase Access to Health Professions (MAP)
What is MAP?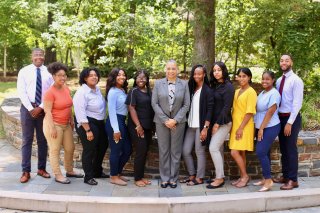 Mentoring to Increase Access to Health Professions (MAP) is a component of the Health Equity Academy II and is a program designed to provide ongoing mentorship to facilitate students' integration and completion of a health profession program. Mentorship by health professionals and faculty will address known barriers to successful progression of underrepresented minority students.
Due to uncertainties of the COVID-19 pandemic, students will attend a virtual immersion experience with Duke University School of Nursing (DUSON) where they will participate in activities that will cultivate an interest in various health professions for affording nursing and other health professions education.
Benefits of MAP
Expand understanding of health equity concepts
Academic advising and career counseling
Personal and professional career development
Some activities include:

Virtual seminars and activities which highlight health disparities and health access
Virtual simulated nursing experiences
Personal and Professional Development
APPLICATION DEADLINE: Friday, February 5, 2021
Anticipated Program Dates: June 14, 2021 through July 1, 2021 (will be confirmed by February 28, 2021)
Requirements:
Complete online MAP application which includes personal statement
Transcript of current college (does not have to be official but should have latest grades)
Two letters of recommendation
Send copies of all official documents via email to Wendy Perry at wendy.perry@duke.edu or healthequityacademy@duke.edu
For questions or information, email healthequityacademy@duke.edu.