We offer two post-graduate programs for Adult-Gerontology Nurse Practitioners: the Adult-Geriatric Nurse Practitioner Fellowship and the Adult-Gerontology Nurse Practitioner Residency in Primary Care for Veterans.
The fellowship supports adult-gerontology nurse practitioners' (A/GNP) transition into practice and expands the fellow's leadership skills in integration of geriatrics into primary care.
While engaging in clinical care of frail elders as a primary care A/GNP, fellows receive mentoring and practical experience leading programs focused on community care of older adults. Over the course of a year, A/GNP fellows enroll in shared coursework with advanced trainees in geriatric medicine and psychiatry who share a specific focus on community-based geriatrics care and the variety of models and systems by which it is delivered.
Eligibility Criteria
Candidates for the A/GNP fellowship must meet the following criteria:
U.S. citizen

Graduate of an accredited adult-gerontology primary care nurse practitioner program

Hold a master's degree or higher

Board certified as an A/GNP

Licensed to practice in North Carolina
The A/GNP Fellowship Connection With the Federally-Funded Geriatric Workforce Enhancement Project (GWEP)
The Duke Geriatric Workforce Enhancement Program (GWEP) is one of over 50 GWEPs funded through the U.S. Health Resources and Services Administration (HRSA). The Duke GWEP aims to strengthen a community's capacity to provide patient-centered coordinated health care for a growing population of seniors. At Duke we have brought together nationally acclaimed geriatrics training programs, primary care practices, community agencies and health care organizations to implement a new model of workforce development that strives to improve outcomes for older adults in a sustainable manner by implementing innovative interprofessional (IP) training models that emphasize accelerated translation of best practices into primary care. A/GNP fellows are an integral part of the Duke GWEP.
Specific objectives include:
Objective 1: Collaborate with community agencies, primary care practices and long-term care services to a) create a Best Practices Compendium for the care of vulnerable older adults residing in the community with linkages to related care and training resources and b) create a coordinated and sustainable model for linking primary care practices to geriatric assessment expertise and resources through community-based interagency care teams (ICTs).

Objective 2: Expand expertise in geriatric care management and delivery, IP teamwork and quality improvement (QI) in collaboration with community partners through advanced traineeships in geriatric medicine, geriatric psychiatry and advanced practice nursing.

Objective 3: Develop and implement innovative models for training interprofessional clinical teams and pre-professional learners in community-based settings on best practices for care of older adults and their caregivers in the context of expanded engagement with community-based agencies.

Objective 4: Engage and empower seniors, family caregivers and community leaders in teaching and learning about geriatric care management and resources, communication and advocacy.

Objective 5: Evaluate the impact of workforce development innovations on community capacity to implement and sustain IP teams that deliver evidence-based care in a collaborative manner and on appropriate patient-level and system-level outcomes, such as preventing avoidable hospitalizations and improving function and quality of life among seniors.
A/GNP fellows are fully immersed in the following activities as part of the GWEP program:
Weekly geriatric grand rounds

Weekly GWEP interagency care team consultation meetings

Monthly partnership for seniors meetings

Duke NICHE (Nurses Improving Care for Healthsystem Elders) programs

Opportunities to engage with innovative senior learning communities
Adult/Geriatric Nurse Practitioner Fellowship Program Faculty and Leadership
Advanced Practice Nursing Faculty
Loretta M. Matters, MSN, RN, Associate Director, Center of Geriatric Nursing Excellence

Eleanor McConnell, PhD, RN, GCNS-BC, Associate Professor

Margaret "Midge" Bowers, DNP, FNP-BC, AACC, CHSE, FAANP, Associate Professor

Geraldine "Geri" Kanne, MSN, RN, ANP-BC, GS-C
Geriatric Physician Faculty
Program Coordinator
Susannne M. Harris, BS
Please contact Ms. Harris at susanne.harris@duke.edu for more information on the Fellowship Program.
Duke University School of Nursing and the Durham Veterans Affairs Medical Center have developed an innovative and unique primary care nurse practitioner residency. Certified Adult-Gerontology Primary Care Nurse Practitioners accepted into the program will learn to become specialists in veterans primary care while working with our veterans' diverse health care needs.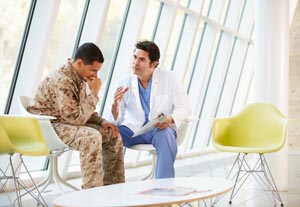 While enrolled in the program, nurse practitioners will:
gain tremendous experience in managing veterans primary care and complex health conditions

hone critical thinking and diagnostic skills

work closely with mentors and interdisciplinary health care teams within a state-of-the-art medical center and out-patient clinics

make meaningful impacts in the lives and well-being of veterans and their families by providing the highest quality primary care

have a supportive transition to practice upon graduation
Eligibility
To be eligible, students must:
be a U. S. citizen

be a graduate of an accredited adult-gerontology primary care nurse practitioner (AGPCNP) program

hold a master's degree or higher

be board certified as an AGPCNP

licensed to practice in North Carolina

​Contact
VA Nurse Recruiter
Durham VA Medical Center
508 Fulton Street, B10019 (118)
Durham, NC 27705
Phone: (919) 286-6858 or (919) 286-6894
Fax: (919) 416-8008