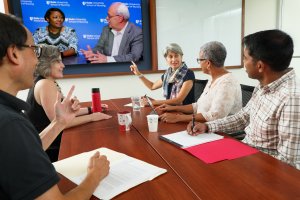 The Duke University School of Nursing is proud to host the Dean's Forum: Successful Strategies with Constrained Resources Webinar series.
These quarterly 60-minute webinars are for deans and senior nursing leaders to share practical ideas, information and advice, including best practices on common challenges facing all nursing schools.
This quarterly webinar series is free and every school of nursing is invited to join.
2020-2021 Deans' Forum
Topic: Racial Justice and Equality in Nursing and Higher Education
Date: October 28, 2020 | 2 p.m. (est)
Speakers: Marion E. Broome, PhD, RN, FAAN, Dean of the School of Nursing;
Brigit Carter, PhD, MSN, RN, CCRN, Associate Dean for Diversity and Inclusion
Participants will learn the importance of the subject, our attitude at DUSON before and during the current environment, personal insights Dean to Dean, creating a safe and welcoming space at DUSON, overview of activities at DUSON, and engaging students in helping advance the dialogue in our community.
Topic: Promoting Scholarship of Teaching for your Faculty: Turning the "Work" of Faculty into Scholarship
Date: To Be Determined
Speaker: To Be Announced
Topic: Best Practices to Grow Your School's Scholarship and Impact
Date: To Be Determined
Speaker: To Be Announced
Topic: Creating and Implementing a Strategic Plan that is Actionable, Living and People Support
Date: To Be Determined
Speaker: To Be Announced