Post-Graduate NP Residency Specializing in Primary Care for Veterans
Durham Veterans Affairs Health Care System and the Duke University School of Nursing have partnered to develop an innovative and unique primary care nurse practitioner residency program. This builds upon a long-standing collaboration between the two organizations. The Office of Academic Affiliations (OAA) provides generous support for VA health professions clinical training programs and oversees the NP Residency program in collaboration with the VA's Office of Nursing Services.
Nurse practitioners accepted into the program will learn to become specialists in the provision of primary care to the Veteran population while meeting diverse health care needs. The NP residents will advance from novice to competent nurse practitioners while developing competencies in Veterans' health care needs.
This residency program is a 12-month post-graduate training designed for the new graduate AGNP or FNP graduates.  The program is structured to give mentored clinical time and dedicated learning opportunities.  The resident will gain broad exposure to Veterans health care and engage in skills training, didactic seminars, grand rounds, supervised and independent clinical practice, specialty rotations, professional development activities and enhance leadership skills.
This one-year residency is available annually and is based on full time employment as a trainee within the VA and is designed for NP graduates who aspire to practice in the VA Health Care System.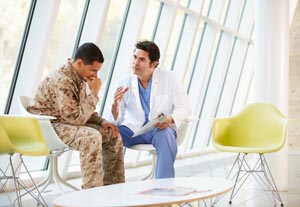 While enrolled in the program, nurse practitioners will:
gain tremendous experience in managing veterans primary care and complex health conditions
hone critical thinking and diagnostic skills
work closely with mentors and interdisciplinary health care teams within a state-of-the-art medical center
make a significant impact on the well-being of veterans and their families by providing high quality primary care
engage in a meaningful quality improvement project
have a supportive transition to practice upon graduation
Eligibility
To be eligible, applicants must:
be a U.S. born or naturalized citizen
be a graduate of an accredited NP program within twelve months
certified or eligible for AGNP-PC or FNP certification
unrestricted NP & RN license or eligible to practice in North Carolina

​Contact
Durham VA Health Care System Nurse Recruiter
Claudette H. Forrest, RN Nurse Recruiter
Durham VA Medical Center
508 Fulton Street, B10019 (118)
Durham, NC 27705
Phone: (919) 286-6858 or (919) 286-6894
Fax: (919) 416-8008
Email: Claudette.Forrest@va.gov or VHADURnurserecruiterteam@va.gov
Ertha Jeter, MSN, ANP-C
Co-Director - Primary Care NP Residency Program
Nurse Practitioner, Durham VA HCS
Consulting Associate, Duke University School of Nursing
Phone: (919) 286-0411
Email: Ertha.Jeter@va.gov
Michael E. Zycowicz, DNP, ANP, ONP, FAAN, FAANP
Professor and Co-Director, Primary Care NP Residency Program
Phone: (919) 613-4692
Email: michael.zychowicz@duke.edu