You are here
Doctor of Nursing Practice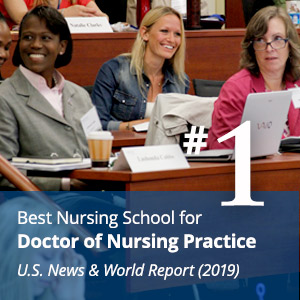 If you're a post-BSN applicant interested in advanced nursing practice or a post-master's applicant who works in advanced nursing practice, the Duke University School of Nursing's Doctor of Nursing Practice (DNP) program provides skills and tools that enable you to:
Assess published evidence to inform your practice
Improve systems of care to influence patient outcomes
Make changes to enhance quality of care, when needed
Graduates of our DNP program are nurse leaders in interdisciplinary health care teams and work to improve systems of care, patient outcomes, quality and safety.
Our program is flexible enough to accommodate nurses working in advanced practice positions and students who have earned a bachelor's degree in nursing and now want to pursue a DNP while earning an advanced nursing practice specialty.
Why Choose Duke University School of Nursing
Duke's DNP program offers advantages such as:
Comprehensive two-day on-campus orientation
Online courses with four executive on-campus sessions (two to three days per session; October, February, June, October) (August or January new student orientation pending if admitted Fall or Spring entry)
Pursue your degree without leaving your job
Faculty with broad experience in advanced clinical practice, leadership and patient safety
DNP project can be conducted at your place of employment
Learn more about why you should choose Duke.
Pathways to a DNP Degree
Videos About the DNP Program