You are here
Student Bios
2017 Cohort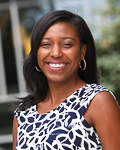 Nicole Calhoun was born in Stuttgart, Germany and reared in Gastonia, NC.  and is the youngest of 3 siblings. Nicole is a 2007 graduate of Harding High School in Charlotte, NC. She went on to study at Winston-Salem State University with a major in Nursing. While at WSSU she was a member of the Student Nursing Association, served as Miss Student Nursing Association 2011-2012, and served as a resident advisor in Housing & Residence Life. She graduated from WSSU in 2012 with a degree in Nursing. She passed the NCLEX the summer of 2012. Professionally she has served as MDS Coordinator at Countryside Manner in Stokesdale, NC. Currently she is a Charge Nurse for the VA Medical Center in Salisbury NC. Nicole is extremely dedicated to advocating and enhancing the care of the geriatric population. She is passionate about developing informed strategic applications that will help bridged the gap between Nursing research and nursing practice.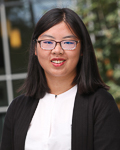 Jiepin Cao earned her BSN with distinction from Sun Yat-sen University in 2014. After her rotation in psychiatry, the suffering of the patients and their family attracted her attention to the mental health. And then she decided to continue her study in Huazhong University of Science and Technology, where she has worked with vulnerable adolescents in a national research project addressing health-related behaviors and mental health status for 3 years. During her graduate study, she has explored the effects of personality on adolescent mental health as well as how parenting rearing styles work through that process. And she has also participated in designing and conducting intervention both for adolescents and their parents to help these adolescents maintain mental well-being. Through that process, Jiepin became quite interested in how social network works in health promotion and how to take advantage of social network for better health outcomes. Her current research interests focus on the comparative study on the social network among Chinese and Chinese American breast cancer patients.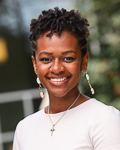 Morine Cebert is a Robert Wood Johnson Foundation Future of Nursing Scholar at Duke University. Originally from Bridgeport, CT, she earned her BSN from Boston College in 2012. While at Boston College, Morine was selected to participate in the Keys to Inclusive Leadership in Nursing Scholars (KILN) program where she was exposed to the diversity in nursing research and the variety of leadership roles within the profession. Being a KILN scholar ultimately inspired her to pursue advanced degrees in nursing science and research. After graduating, she worked as a registered nurse for two very busy level II emergency departments: Bridgeport Hospital and NYU Langone Medical Center. While in these positions, she volunteered on committees and frequently contributed ideas to help decrease patient wait times. Morine enjoys volunteering and has been on two medical mission trips in Haiti, where both of her parents immigrated from in the 1980s. While reflecting on what topics would interest her, she discovered a burgeoning desire to help women who experienced issues building families through reading biblical stories of infertile women. Further developing her research skills through the Bridge to the Doctorate partnership with Winston Salem State University (WSSU) and Duke University, she explored changes in marital role quality of women who conceived using in-vitro fertilization. She graduated in May 2017 from WSSU with High Honors with her MSN and is now a Family Nurse Practitioner. She has a specific interest in understanding treatment seeking behaviors of infertile and sub fertile African American women.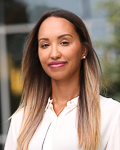 Anna M. Diané graduated from Boston College in 2012 with her BSN and was inducted into the Sigma Theta Tau International honor society. She began her clinical career as a staff RN in the Liver ICU at UCLA in Los Angeles, California. Pursuing her interest of nursing informatics, Anna went on to work as an electronic health record (EPIC) analyst for NYU Hospital where she was able to witness the lack of utilization of big data to inform clinical practice. Anna's clinical experience coupled with her "EPIC" experience has inspired her to become a patient advocate through informatics and health technologies. Anna's current research interests include health informatics, mobile health technologies and precision medicine. Anna has been awarded the James B. Duke Fellowship Award.
Brian J. Douthit earned his BSN from the Pennsylvania State University in 2012, and began working as a medical-surgical floor nurse at the Altoona Regional hospital. Shortly thereafter, the University of Pittsburgh Medical Center (UPMC) acquired Altoona Regional. As a result, an electronic medical record implementation was mandated by UPMC, and Altoona Regional (now UPMC Altoona) sought local volunteers to act as super users of the new electronic record. Brian answered the call and became pivotal in the implementation, realizing the breadth of opportunity that exists in technology which could be leveraged to positively impact the nursing process. With this inspiration and the evolving responsibilities as a new informatics nurse, he began the MSN in informatics program at Duke University, going on to become the first recipient of the Big Data Management Nursing Informatics Scholarship in 2015. During this time, Brian also achieved the distinction of becoming a board-certified informatics nurse through the American Nurses Credentialing Center (ANCC). Following his passion to further the discipline of nursing informatics, he applied to be a PhD student at Duke University. In early 2017, he happily accepted the invitation to again study at Duke, receiving the honor of being a Robert Wood Johnson Future of Nursing Scholar.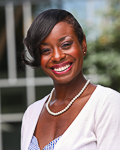 La'Kita M. J. Knight, a native of Charlotte, NC, earned her Bachelors of Science from the University of North Carolina at Greensboro, in 2003. She continued her studies at Queens University of Charlotte earning her BSN and in 2009 graduated Summa Cum Laude. While at Queens University she was a recipient of the North Carolina Nurse Scholars Program, a member of The Honor Society of Nursing- Sigma Theta Tau International as well as the Mortar Board Honor Society. Following graduation, she worked as a RN on a Neuro-Surgical ICU at Duke University Hospital. She also worked as an Assistant Nurse Manager on a Progressive Cardiac Telemetry Unit in Pineville, North Carolina. In 2015, she received dual admission to the Master of Science in Nursing (MSN) and The WSSU-Duke Nursing Bridge to the Doctorate program at Winston-Salem State University (WSSU). She successfully defended her thesis on April 05, 2017 titled "Exploring Emergency Department Provider Feasibility with Weight Based and Individualized Vaso-Occlusive Treatment Protocols in Sickle Cell Disease." La'Kita has also presented her thesis findings at the 31st Southern Nursing Research Society (SNRS) Annual Conference, in Dallas, TX in 2017, for UNC President Margaret Spellings, and at Duke University School of Nursing and Center for Nursing Research both in 2016. In May of 2017, she graduated with her MSN and was awarded the School of Health Sciences Achievement Award as a graduate student from WSSU. She achieved certification as a Family Nurse Practitioner, where she has served a diverse geriatric population in several counties in North Carolina. La'Kita's current research interest are patients with sickle cell disease (SCD). One of her professional goals is to develop specific interventions and resources for academic success for patients living with SCD.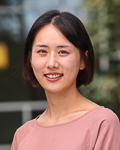 Chiyoung Lee earned her BSN (2013) and MSN (2017) from Seoul National University. She has worked as a nurse in Emergency Department and Cardiac Intensive Care Unit at Samsung Medical Center at South Korea (2013~2017). She provided vital comprehensive and innovative care during both the critical and palliative stages of illnesses, and developed technical skills and knowledge in the field of cardiology. During her graduate studies, she has constantly learned how to effectively incorporate clinical based knowledge into research work while maintaining a job as a CCU nurse. The theme of her master's thesis was 'health literacy of heart failure patients'. Her interests have mainly focused on designing educational programs that is relevant to each individual's own ability such as health literacy. After earning her master's degree, she worked as a part-time lecturer (2017~) at College of Nursing, Seoul National University and participated as a research assistant of Chronic Care Research Team (2017~) at SNU to broaden her perspective on chronic patient care. Her goal is to develop consolidated educational programs for geriatric patients to better support the patient's self-care. She also wants to participate in studies and interventions that enhance care for geriatric patients undergoing treatment for chronic conditions.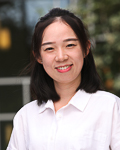 Yufen Lin earned her BSN from Central South University (2014) and her MSN from Fudan University, China (2017). She has worked as a research assistant at Shanghai Cancer Center for almost three years, where she was in close contact with approximately 400 patients who have suffered from a wide range of cancers. Yufen conducted a longitudinal study on nutritional status, gastrointestinal symptoms, and quality of life for gastric cancer and lymphoma patients during six-week radiation therapy. What' more, her master's thesis concentrated on symptom science, studying one of the most prevalent symptoms among stroke patients — hemiplegic shoulder pain (HSP). She used a mixed method to explore symptom experience, influencing factors and symptom outcomes in patients with HSP. Due to previous research experiences, Yufen has great enthusiasm to continue her research path on symptom management of chronic illness, especially in cancer patients, which is designed to improve the health-related outcomes for patients in the long run.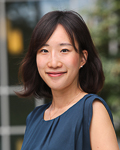 Heeyeon Son earned her BSN (2010) from Cha University, Korea. After graduation, she worked as a RN in a pediatric medical and oncology unit. While taking care of pediatric cancer patients, she witnessed the sufferings from physical, psychosocial and spiritual difficulties of pediatric cancer patients and their families and became interested in improving quality of life of children with cancer and their families. To broaden her experience, she relocated to United States and earned her MSN from University of Texas at Austin (2016). She majored child health with education and worked as a teaching assistant at Simulation center in UT Austin to gain much more experience and knowledge in teaching. During her MSN program, she specified her interest area and how to help children with cancer by improving their quality of life and their families'. Before she come to Duke for her PhD program, she worked as a faculty member at Cha University College of Nursing. She devoted herself as a passionate teacher to share her knowledge and experience with next nursing generation. Also, she helped running successful international program titled of Global Public health at Cha University CON. Her main research interest is pediatric palliative care and her specific research interests are developing interventions to address cultural and other communication barriers and concerns of pediatric cancer patients and their families facing difficult treatments and end-of life decisions, using established palliative care and communication principles. Her goal is improving quality of life of pediatric cancer patients and their families by identifying and enhancing the protective factors which could help pediatric cancer patients and their families gain resilience.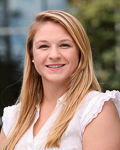 Robyn Wojeck earned her BSN with honors from the University of Miami (2014) and MSN from Vanderbilt University (2015). While at the University of Miami, she was selected for the VA Learning Opportunities Residency (VALOR) program where she worked with veterans living with chronic diseases. Upon graduation and certification as a Family Nurse Practitioner (FNP), she worked in the emergency department of a large, urban Level 1 Trauma Center. Her research interests were inspired by her mother's diagnosis of systemic scleroderma and her involvement in clinical research trials. As such, Robyn's current research interests focus on the impact of chronic illness, predominately in those with autoimmune diseases.
2016 Cohort
Michelle Scotton Franklin earned her BSN (2003) and MSN (2009) from the University of North Carolina at Chapel Hill (UNC-CH) and achieved dual certification as both a family nurse practitioner and family psychiatric-mental health nurse practitioner. As a nurse practitioner (NP), she has specialized in providing integrated primary care and mental health services to individuals of all ages with developmental disabilities throughout North Carolina. In 2014, Michelle completed her Leadership Education in Neurodevelopmental and Related Disabilities (LEND) Fellowship at the Carolina Institute for Developmental Disabilities (CIDD). She continues to serve as the UNC CIDD LEND NP faculty and is an adjunct professor at the UNC-CH School of Nursing. Michelle is the principal investigator of the Nurse Practitioner Education in Developmental Disabilities project funded by the Florida Developmental Disabilities Council and the American Academy of Developmental Medicine and Dentistry. Throughout her work in these various capacities, she has advocated for improving care quality and outcomes as well as advancing developmental disabilities specific education and training opportunities for nurse practitioners across all specialties. Michelle's current research interests include behavioral and physical health disparities experienced by those with intellectual and developmental disabilities particularly as they transition from adolescence to adulthood. Her goal is to develop interventions promoting self-management skills of these individuals and their families. Michelle has been awarded the 2016 Catherine Gilliss Endowed Scholarship Award.
Matthew R. LeBlanc graduated from Massachusetts General Hospital Institute of Health Professions and has worked primarily with adult cancer patients at Anne Arundel Medical Center in Annapolis, Maryland. Matthew's experience working with patients with cancer has inspired his passion for patient- and family-centered care, palliative care for cancer patients and caring for patients at the end of life. His doctoral studies will focus on gaining a better understanding of cancer patients' symptoms and supportive care needs to improve care.
Lisa Mansfield is a first-generation college graduate from Bridgeport, Connecticut, and earned her BSN from Winston-Salem State University (WSSU) in 2012. During her undergraduate studies, Lisa became interested in nursing research after attending various research conferences on health disparities. In 2014, Lisa returned to her alma mater for her graduate studies, where she was accepted into the second cohort of the WSSU-Duke Nursing Bridge to the Doctorate program. As a Bridges scholar, Lisa completed a master's thesis using secondary data analysis to examine the association between parental HPV knowledge, awareness and intentions to vaccinate their daughters. She also presented a student poster at the 2016 Southern Nursing Research Society conference and for UNC President Margaret Spellings during her visit to WSSU. In May 2016, Lisa earned an MS in nursing education and received the School of Health Sciences Achievement Award recognizing her academic excellence. Lisa plans to continue her work in HPV research with an interest in exploring factors hindering adolescent girls from completing the HPV vaccine series.
Jane Ralphe earned her BSN with honors in 1995 from the University of Iowa, beginning a career focused on the care of critically-ill newborn infants. She practiced first as a staff nurse, then as a pediatric nurse practitioner (PNP) in neonatology after earning an MSN from the University of Iowa in 2002. Jane then practiced as a PNP in the surgical neonatal intensive care unit at the Children's Hospital of Pittsburgh for three years prior to relocating to the University of Wisconsin-Madison, where she worked as a PNP in pediatric neurosurgery. In 2014, Jane completed a post-master's neonatal nurse practitioner certificate from the University of Missouri - Kansas City. Jane was inducted into the Gamma Chapter of Sigma Theta Tau International Honor Society in 1995 and is board certified in both pediatrics and neonatology. Jane's research interests focus on neonatal physiology, with an emphasis on how prematurity and nursing care affect development and influence mortality and long-term morbidity in the critically-ill neonate.
Jewel Scott is a Duke University School of Nursing alumna. Her research interests are in women's health, chronic disease, obesity and health disparities. She is currently employed by Piedmont Health System and practices at the Moncure Community Health Center in Moncure, North Carolina. Jewel has a strong commitment to community health and previously worked at a school-based health center operated by Loyola University School of Nursing in Maywood, Illinois, and in primary care at Lawndale Christian Health Center located on Chicago's West Side. In addition, she spent 16 months as a missionary volunteer in the Dominican Republic working with women and youth in school and community settings. Her experiences serving vulnerable populations in urban, rural and international settings as well as her own personal experiences have influenced her research interests. Jewel's research will focus on the interplay of stigma, obesity and chronic disease in minority populations.
Roy Thompson received his BScN with first class honors from The University of the West Indies (UWI), Jamaica in 2007. As an undergraduate, he was a part of a team that conducted an extensive literature review on drug abuse in Jamaica and presented the findings at the Caribbean Nurses Organization Conference in Curacao. He worked in the post anesthetic care unit and intensive care units at the University Hospital of the West Indies, Jamaica, where he completed training in critical care nursing. In 2013, he earned his MScN in advanced nursing education from UWI and taught at his alma mater in the areas of gerontology and care of patients in acute care settings. As part of his master's study, he analyzed an aspect of an existing large project on the prevalence of asthma among adults and children in Jamaica and presented at several research conferences in Jamaica. His current research interests include nursing workforce in the critical care environment and its impact on geriatric care.
Jackie Vaughn graduated with her BSN from the University of Michigan in 1984. Her primary career focus is in critical care with the pediatric population. She worked as a staff nurse in the pediatric ICU and neonatal ICU for 25 years. Since 2009, she has worked as a clinical lab instructor at the Duke University School of Nursing's Center for Nursing Discovery. As a nursing instructor, her major interests included integrating simulation into the accelerated BSN and advanced practice nursing programs. Jackie has also designed interprofessional simulation experiences that are used campus wide across health professions. She earned her Certified Healthcare Simulation Educator (CHSE) credential in 2014. These experiences encouraged her to explore innovative uses of technology to enhance simulation-based learning. She developed and implemented an augmented reality simulation to improve realism in simulation for novice students. This project was awarded the BAYADA Award for Technological Innovation in Nursing from Drexel University in 2015. She also developed simulations that implement telehealth technologies, including telepresence robots, which reflect real practice. She currently works with doctoral engineering students at Duke University who are developing a remote-controlled robot capable of performing simple nursing tasks to care for highly infectious and immunocompromised patients. Jackie's doctoral studies will focus on the use of wireless mobile technologies to improve monitoring and management of medically fragile children.
Sijia Wei graduated in 2014 with a BA in nursing and a concentration in biomedical studies from St. Olaf College. Passionate about finding a sustainable, holistic and cost-effective way of practicing medicine globally, she took leadership positions in Oles for Global Health and Holistic Medicine Club, interned at several medical facilities in China and the U.S. and analyzed a novel medical device for possible production and licensing during the Mayo Innovation Scholars Program at St. Olaf College. As a nurse, she has practiced in various facilities and gained experience in hospice, transitional care, long-term care and home health care. Her current research interest is in comparing China and the U.S. to understand how different educations, cultures and values surrounding death influence end-of-life decision making and how complementary and alternative medicines may be incorporated into long-term care and end-of-life care management to improve patients' and their families' quality of life.
Yesol Yang graduated in 2010 with a BSN from Korea University and worked as a registered nurse in the MICU of the Samsung Medical Center's Comprehensive Cancer Center. During her two years' of nursing experience, she became interested in ways to promote patients' quality of life, which led her to relocate Houston, Texas. Yesol graduated in 2014 with an MSN in nursing education and in 2015 with a post-master's adult gerontology nurse practitioner certificate from the University of Texas Health Science Center at Houston. The experiences in Houston she acquired as an oncology educator at MD Anderson and as an NP in family medicine changed her perspective towards cancer treatment; the purpose of cancer care needs transition from providing treatments for physical symptoms to improving quality of life for cancer patients by providing palliative care at the early stage of their treatments. Therefore, during her doctoral studies, Yesol would like to research ways to increase patients' quality of life using her background in biobehavioral research.
2015 Cohort
Dominique Bulgin graduated in 2015 with a BSN with highest honors from Nell Hodgson Woodruff School of Nursing at Emory University. During her undergraduate study at Emory, she was involved in a secondary analysis research study about the health behaviors of college women experiencing sexual violence and disordered eating symptomology. She also has experience with analysis of a grounded theory study data that focused on barriers to self-care management in working older adults who have diabetes. Her experiences volunteering in a sickle cell clinic inspired her current research interests, which include stigmatization of pain management in sickle cell disease and resulting outcomes in mental health self-management of care.
Eunji Cho earned her BSN (2008, valedictorian) and MSN (2013) from Korea University. While she worked as a nurse in a pediatric hematology/oncology unit, she became interested in psychosocial care for children and adolescents with cancer. She also worked as a teaching/research assistant and as a part-time lecturer. During that period, she participated in research about health care for children in childcare centers and families with chronically-ill children. Her master's thesis explored the experiences of adolescent cancer survivors and their social support networks. More recently, her research interests have shifted towards pediatric palliative and end-of-life care. She aims to study more about nursing care for children and adolescents with chronic conditions — especially those with cancer — during her doctoral studies. Moreover, her final goal is to develop her own nursing theory to improve the quality of nursing for such children and their families.
Ethan Cicero graduated in 2014 with a BSN with highest honors from the University of North Carolina at Chapel Hill (UNC) School of Nursing (SON). During his time at UNC, Ethan designed and conducted an exploratory study documenting the experiences of a transgender man navigating healthcare and his transgender identity. His project was awarded "Best Undergraduate Work in Sexuality Studies" by UNC, and he also earned a highest honors designation from the UNC SON. Ethan used the knowledge gained from this study to compile evidence-based recommendations for the baccalaureate nursing curriculum to educate students on how to care for the transgender community. He also worked with UNC SON's leadership to incorporate new content within the Education-Innovation-Simulation Learning Environment and served as the content expert educating instructors on ways to integrate this knowledge into their classrooms. Ethan also completed an advanced practicum in nursing at the UNC SON, where he developed targeted interventions with UNC Campus Health Services staff on how to best care and communicate with transgender clients. In 2014, as a result of his contributions to the field of nursing and advocacy for the transgender community, the UNC SON presented Ethan with The Pauline W. Brown Diversity Scholarship Award, and UNC awarded him with the Robert B. House Distinguished Service Chancellor's Award. His current research interests focus on the health disparities experienced by the transgender population. Ethan is a current Robert Wood Johnson Foundation Future of Nursing Scholar.
Cherie Conley has worked as a registered nurse in the cardiovascular unit of various hospitals around the country for the past eight years. However, her career in public health has spanned over 15 years and has included working as a community health educator in Baltimore, Maryland, managing chronic disease prevention programs for corporate audiences in the southern United States, researching women's health in Zimbabwe and studying and participating in health policy formation in Venezuela and Raleigh, North Caroline. After working in so many communities, she wanted to find out why there were such vast differences in the uptake of health knowledge and burden of disease between different populations around the world. To answer this question, she completed a master's degree in global health and community health nursing, where she studied HIV risk perception among African-American women in college and the impact of PEPFAR on HIV incidence in Africa. She will continue her studies in the field of health disparities as a doctoral student at Duke School of Nursing.
Vanessa Curlee's professional and personal experiences have fostered a deep commitment to serving disparate and underserved health populations and prompted an interest in advanced study to better serve these communities. Born in Florida and raised in North Carolina, in May of 2000, Vanessa earned a BA in both history and Spanish from the University of North Carolina at Chapel Hill. In 2007, she returned to school matriculating into the accelerated BSN program at Winston-Salem State University (WSSU). After completing her BSN, Vanessa entered the U.S. Army as a commissioned officer. In 2013, Vanessa was chosen as a member of the first cohort of the WSSU-Duke Nursing Bridge to the Doctorate program and completed an additional 17 credit hours in research and thesis curriculum in preparation for entry into a nursing research doctoral program. In 2015, Vanessa graduated from Winston-Salem State University's Master of Science Nursing Program, with a concentration in Family Nurse Practitioner with a research intensive concentration. Vanessa's interest in doctoral study is firmly rooted in the belief that advanced research and scholarship will be the keys to developing viable solutions to the ever-evolving challenges in health care. Her interests focus on continued research and development of complementary and alternative medicine, in addition to improved methods in identifying and treating mental illness in minority adolescents and young adults.
Gabrielle Harris is a 2013 graduate of Winston-Salem State University (WSSU) with a BSN. During her undergraduate studies, Gabrielle became interested in research and went on to participate in a summer research fellowship. During her education, she has excelled academically and received honors including participation on the WSSU Dean's List, being recognized as a Chancellor's Scholar and being inducted into the Rho Lambda Chapter of Sigma Theta Tau International. In May 2015, Gabrielle graduated with a master's in nursing from WSSU. Gabrielle is interested in examining the impact of depression in African-American stroke survivors. As a member of first cohort of the WSSU-Duke Nursing Bridge to the Doctorate program, she intends to have a positive and significant impact on the nursing profession by using research to help develop culturally- and evidence-based measures as well as interventions.
Bada Kang graduated in 2010 with a BS in nursing from Yonsei University, Korea. After practicing as a staff nurse in the rehabilitation hospital at Severance Hospital in Korea, she relocated to the United States and earned her MS in nursing from New York University, graduating from the adult-gerontology primary care nurse practitioner program in 2015. The graduate program at NYU has allowed her to broaden her perspectives on health care as well as develop as an advanced practice nurse. She was given the opportunity to apply her clinical experiences to diverse multicultural clinical settings. During her master's program, Bada also gained interdisciplinary research experience working as a research assistant in a National Institutes of Health-funded study. Her research interests mainly lie in improving quality of care in long-term care settings, promoting and maintaining function for community-dwelling older adults and enhancing informal caregiving outcomes.
Zhao Ni was born in Xichang, China. From September 2007 to June 2012, Zhao studied at Yunnan University of Traditional Chinese Medicine in Kunming, China and received Bachelor of Medicine degree. From January 2013 to May 2014, Zhao studied in Duke University's ABSN program. He received his BSN in May 2014 from Duke University and finished the NCLEX-RN in September 2014. Zhao worked as an RN in the emergency department of The First Affiliated Hospital of Kunming Medical University from December 2014 to July 2015.
2014 Cohort
Shaoqing Ge graduated with a BS in nursing from Shandong University, China and obtained multiple experiences as an exchange student at National Chengkung University, Taiwan and Wakayama Medical University, Japan. She observed the differences of health care supply under different cultural circumstances and developed an interest in exploring it. Afterwards, Shaoqing studied global health at Tulane University and got her MPH degree in May 2014. She worked as a research assistant at the Tulane Cardiovascular Health Science Center, where she started to pay attention to patients with chronic illness. Her primary research interest lies in how to provide better service to patients with chronic disease, especially in the context of a multicultural background and the trend of globalization.
Hyeyoung Park earned her BSN (2009) and MSN (2013) from the Seoul National University, Korea. After graduation, she worked in the cardio-pulmonary intensive care unit at Seoul National University Hospital, where she became interested in end-of-life care. She has worked as a research assistant on projects that analyzed factors related to enhancing the public's knowledge of advance directives. She also contributed to the development of an advance directive decision-making handbook. Hyeyoung's master thesis was about patient disclosure preferences of terminal illness among the elderly. She is a member of Sigma Theta Tau International, Lambda Alpha Chapter-at-Large. Her research interest remains centered on end-of-life decision making in the elderly.
Ashlee Vance completed a BS in psychology from Cornerstone University (2005), a master's in counseling psychology from Western Michigan University (2008) and a BSN from Virginia Commonwealth University (2011). During her early career, Ashlee focused on child and adolescent mental health outcomes. While in her accelerated BSN program, she was a research assistant in a National Institutes of Health-funded grant about play and touch massage with preterm infants in the neonatal intensive care unit (NICU). Ashlee is studying parenting in the NICU and how parental identity is influenced by the birth of infants with complex chronic illness. Ashlee's goal is it to promote parental role attainment to improve long-term infant and parent outcomes.
Kristin J. Wainwright has a BA in the natural sciences from New College of Florida and a BSN from East Carolina University (ECU) summa cum laude and is a graduate of the National Institutes of Health-National Institute of Nursing Research Summer Genetics Institute. Kristin worked as a clinical research nurse specialist at ECU's Brody School of Medicine, Division of Neurosurgery and served on ECU's University & Medical Center Institutional Review Board. She has taken part in a variety of research projects including a National Institute of Environmental Health Sciences-funded study that investigated the effects of Florida red tide on human health, an undergraduate thesis on puffer fish poisoning, a real-time occupational radiation exposure study and a variety of neurosurgery-related clinical and device trials. She is a returned U.S. Peace Corps Volunteer (Jamaica). She plays the French horn with the Duke Medicine Orchestra and is a member of Beta Nu Chapter of Sigma Theta Tau International. Her research interests are in genetics and genomics nursing and symptom management in chronic illness.
Jing Wang earned her BSN from Nantong University (2006) and her MSN in gerontology and geriatric nursing from Fudan University, China (2013). During her graduate study, she became interested in the quality of life and long-term care of older adults living in nursing homes in Shanghai. She has conducted multiple-methods research that explored the development of long-term care systems in Shanghai from the perspectives of older adults, the caregivers and nursing home administrators. Jing plans to further her research at Duke University by looking into the characteristics and challenges that caregivers of older adults are confronted with. She aims to develop workforce training models that will contribute to the promotion of long-term care in China.
2013 Cohort
Kaboni W. Gondwe graduated with a BSN and a University Certificate in Midwifery from the University of Malawi, Kamuzu College of Nursing in 2006 and 2008 respectively. After graduation she worked in the intensive care unit and labor ward at Queen Elizabeth Central Hospital, Malawi and as an assistant faculty member at University of Malawi, Kamuzu College of Nursing. She returned to school on a Fulbright scholarship and received her MSN from Ohio University in 2012. Upon completion, she returned to Malawi to continue working as a faculty member at Kamuzu College of Nursing teaching maternal and newborn care. She is a member of the Tau Lambda Chapter of Sigma Theta Tau International. She is passionate about women's empowerment and health care infrastructure development and continues to volunteer as an ambassador for Global AIDS Interfaith Alliance, a nongovernmental organization fighting HIV and AIDS, promoting women's empowerment, support for orphans and training of nurses in Malawi. Kaboni's research interests are in mothers, neonates and infants.
Tara Mann earned her BS in nursing at Emory University in 2011. At Emory, she was a member of an interdisciplinary research team examining the response of high-dose Interleukin-2 (IL-2) in metastatic melanoma patients and its impact on depression, neurotoxicity and treatment adherence. After graduation, Tara worked as a clinical nurse on the medical oncology unit at Emory University Hospital, where she administered IL-2 to patients and was able to observe the impact of treatment on melanoma patients and their families. Tara plans to continue her research on patient responses to melanoma treatments and to explore the challenges of neurological side effects.
Elizabeth Reeves graduated in 2011 with a BSN with highest honors from the University of North Carolina at Chapel Hill (UNC) School of Nursing. During her time at UNC, she served as an intern in the National Institute on Alcohol Abuse and Alcoholism at the National Institutes of Health, where she worked with research participants receiving treatment for alcohol addiction. She also conducted a funded focus group study on racial disparities in rates of breastfeeding, and this project was awarded a highest honors designation from the UNC School of Nursing. After graduating, Elizabeth served as a home visiting nurse at the Chatham County Public Health Department, where she worked with pregnant women and young children. At the time of her entry into the Duke School of Nursing PhD program, she was the care management supervisor. Her work at the National Institutes of Health and in public health inspired her interests in health disparities, women's health and post-traumatic stress disorder (PTSD). Her current research interests focus on improving health care experiences for survivors of traumatic life events.
Hanzhang Xu graduated with a BSN from Southeast University, China in 2013. During her undergraduate study at the school and her internship at Zhongda Hospital, she was involved in projects related to health education on healthy lifestyles among local communities in Nanjing. As part of her graduate studies, she is interested in management of chronic diseases such as diabetes. Hanzhang is also interested in how to effectively improve individual health behaviors and built-in environments to prevent and manage chronic diseases.
2011 Cohort
Joyell Arscott graduated in 1999 with a BS in biology from Towson University. She returned to school and received a an Associate in Science in Nursing degree from the Community College of Baltimore County in 2008 and a BSN from the University of Maryland, Baltimore, in 2010. Over the past 12 years, Joyell has worked with at-risk and HIV infected adolescents and young adults and their providers in various settings, which included schools, group homes, community clinics and the prison system providing counseling services, linkage to care and technical assistance. After obtaining her nursing degree, Joyell worked as the clinical operations manager of a sub-specialty adolescent HIV clinic, worked on an acute (in-patient) infectious disease unit and served as a research nurse at University of Maryland School of Medicine's General Clinical Research Center. She has also served as a committee member on the University of Maryland Medical Center's Multidisciplinary Research Council and the Nursing Research Council. Her research interests include adolescents and HIV/STIs and contributing risk factors for infection and transmission.