Grand Challenges are complex problems with broad impact that require a concerted effort of diverse perspectives and skills to resolve. The philosophy behind "Grand Challenges" is that by defining a problem well and facilitating innovative approaches to its management, a wide array of problem-solvers will focus their attention on developing sustainable, effective solutions (USAID, 2012).
Dementia care qualifies as exactly the type of issue that requires the concentrated effort called for in a Grand Challenge approach.
Dementia is a complex problem with broad impact. According to Healthy People 2020 reports, up to 5.1 million Americans aged 65 years and older have Alzheimer's disease, and these numbers are predicted to more than double by 2050 unless more effective ways to treat and prevent Alzheimer's disease are found (Herbert, Scherr, Bienias et al., 2003). Dementia's impact is multi-faceted, affecting clinical, family, and social outcomes.
Dementia care requires a wide array of problem solvers. According to the IOM report, only 4% of social workers, and less than 1% of RNs, pharmacists, physicians, physicians' assistants specialize in geriatrics. Subsequently, most clinicians often fail to recognize and document cognitive disorders, despite their influence on key patient outcomes. Additionally, there are challenges with respect to finding the best quality indicators to drive quality improvement. The National Alzheimer's Project Act recently held a research summit on long-term care services and supports that has identified important new directions that can help fill that void. Duke faculty, students and staff are focused on a variety of innovative projects to address some of those priorities.
Innovative approaches are needed to increase the capacity of the workforce to provide quality dementia care. The Grand Challenge in Dementia Care hopes to be the catalyst that encourages health professions to move beyond the current situation, where we have pockets of excellence in providing dementia care, yet little consistent depth in teaching health care professionals basic skills needed to care for this population, toward a model where health professions share a common set of competencies in caring for older adults with cognitive impairment.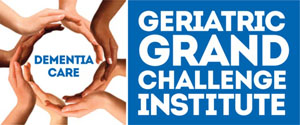 The CGNE strives to identify, develop and support initiatives across the school, our community, the region and nation that bring together diverse perspectives and resources to meet the needs of those suffering with dementia and those caring for people with dementia.