You are here
Staff Bios
Margie Molloy, DNP, RN, CNE, CHSE
Director
Margie works to purposely integrate simulation into the curriculum and strives to incorporate simulation standards of practice in the design, implementation and evaluation of simulation-based experiences. Margie earned her BSN from the State University of New York at Downstate Medical Center, her MSN in nursing education from Wagner College and her DNP in May 2015 from Duquesne University. Currently, Margie consults with faculty in the pre-licensure and advanced practice programs at the Duke School of Nursing to plan clinical laboratory experiences for nursing students, which include integration of the didactic component with hands-on experience in the lab. Margie's focus in the Center for Nursing Discovery (CND) has been to make it a learner-centered environment. With the growth of simulation in nursing education, Margie is active in making students comfortable in this practice setting, with knowledge, skills and attitudes being transferable to the practice setting. She is actively involved in developing interprofessional collaborative experiences that focus on patient safety, effective teamwork and communication. Margie was part of a team that was awarded the 2010 Campus Technology Innovators Award for creative use of social media in education. She was the recipient of the Duke School of Nursing Accelerated BSN Program's "Excellence in Clinical Teaching Award" in 2011 and 2012 and a recipient of the Spring 2012 CATALYST Faculty Innovation Award with Dr. Valerie Sabol. In May 2015, Margie and two of her colleagues were recipients of the Bayada Award for Technological Innovation in Health Professional Education and Practice for the use of Google Glass to enhance realism of simulation for nursing students.
Michele L. Kuszajewski, DNP, RN, CHSE
Assistant Director
Michele began her nursing career as a graduate of the Shadyside Hospital School of Nursing in 1987 and advanced her education by earning her Bachelor of Science degree in nursing from Slippery Rock University in 1989 and a Master of Science degree in nursing/clinical nurse specialist from the University of Pittsburgh in 2004. Michele is a clinical nurse specialist (CNS) with emergency, critical care and flight nursing experience. As a CNS, Michele has worked clinically to improve patient outcomes in the emergency setting through the simulation education and training of emergency nurses and paramedics in the emergency department as well as in air medical transport. In 2006, Michele became a simulation instructor at the Peter M. Winter Institute for Simulation, Education and Research (WISER) and continues to teach simulation both nationally and internationally with the WISER team.
In 2014, Michele joined the CND as assistant director with a primary focus on integrating simulation into clinical courses across the various specialties of the Nurse Practitioner and Nurse Anesthesia Doctor of Nursing Practice (NA-DNP) programs through collaboration with the advanced practice faculty. Michele has worked diligently with the faculty to increase the realism of course scenarios, including the use of telepresence as well as standardized patients across all academic programs at the Duke School of Nursing. In April 2015, Michele completed the DNP program at the University of Pittsburgh, which included a focus in health care simulation, including debriefing and curricular design.
Danett S. Cantey, MSN, RN, CNE, CHSE
Clinical Nurse Educator
Danett is a liaison for ABSN students and faculty. As a clinical nurse educator, she often teaches and facilitates skills and simulations. She graduated with a BSN degree in 1999 and an MSN degree in nursing education in 2007, both from the University of North Carolina at Greensboro. She has practiced nursing in acute, ambulatory and primary care settings with adult and pediatric patients. Prior to teaching in the skills and simulation lab at Duke School of Nursing, she taught classroom, lab and clinical for five years in the nursing department at Johnston Community College in Smithfield, N.C. She's a member of the North Carolina Nurses Association, National League for Nursing and Sigma Theta Tau. She's passionate about working with nursing students and helping them to become competent nurses who will deliver compassionate, safe and quality nursing care. Her professional interests include simulation and debriefing methodologies and recruiting and promoting diversity in nursing education. Danett is an American Heart Association Basic Life Support Instructor, a Certified Nurse Educator and a Certified Healthcare Simulation Educator.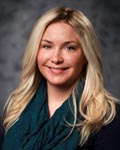 Katie Harrison, MSN, RN
Clinical Nurse Educator
Katie works in the Center for Nursing Discovery as a clinical nurse educator in the lab setting. Katie has a strong clinical nursing background in emergency room nursing as well as having worked as an EMT. Past teaching experience includes working as a clinical nurse educator in a hospital setting and teaching American Heart Association ACLS, PALS and BLS. Katie obtained her ASN at Seminole Community College in Lake Mary, Florida, and BSN at the University of Central Florida in Orlando in 2007. Throughout her clinical years in the ED, she developed an interest in and enthusiasm for teaching, resulting in her completion of her MSN in 2014 with a focus in nursing education. She strives to explore best practices to facilitate learning for each individual student.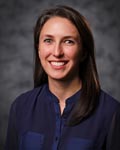 Jayme Sherrod, MSN, RN
Clinical Nurse Educator
Jayme works as a clinical nurse educator in the Center for Nursing Discovery (CND). She came to the CND after working as a clinical instructor for the adult health and wellness courses in the ABSN program at DUSON. Prior to working at Duke, she served as a lab instructor and clinical instructor at Belmont University in Nashville, Tennessee. Her clinical experience is predominantly in oncology, specifically hematologic malignancies. Jayme obtained her BSN from Belmont University and her MSN in nursing education from Western Kentucky University. She is passionate about working with pre-licensure students and developing innovative methods to enhance their skill development. Her research interests are centered on the transition process and development of novice nurse educators. Jayme is currently seeking certification as a Certified Healthcare Simulation Educator and working on her PhD in nursing at the University of North Carolina at Greensboro.
Raymond Brisson III
Simulation Technology Specialist
Raymond attended the College of Idaho, where he studied social sciences. Raymond joined the CND team in 2013. In his role as the simulation technology specialist, Raymond is responsible for maintaining the technology in the lab, including routine maintenance and updates on the high-fidelity manikins, multiple computers, telepresence robots and video recording equipment. Raymond is a vital member of the simulation planning meetings with faculty and CND staff to determine the best use of technology in all of the CND simulation activities. Raymond's responsibilities also include the management of the CND's master calendar. He is an active member of the Simulation for Society in Healthcare and SimGHOSTS.
NaShonda Thomas, RMA
Staff Assistant
NaShonda graduated from Medical Careers Institute in 2010 with an associate's degree in health science. She has worked in the clinical setting at Duke Health since 2010. As a staff assistant NaShonda ensures that the daily operations of the Center for Nursing Discovery (CND) are flowing. This includes scheduling and giving tours as well as welcoming all students and visitors to the department. NaShonda is instrumental in maintaining the instructional supplies as well as assisting with simulation technology and the setup and breakdown of classrooms and simulation activities. NaShonda's background as a registered medical assistant has made her an asset to the CND team. NaShonda is currently attending Durham Technical Community College and pursuing her dream of becoming a registered nurse.