Blanca Iris Padilla, PhD, FNP-BC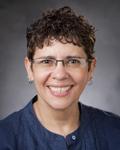 Assistant Professor
Office: 2118 Pearson Building
Dr. Blanca (Iris) Padilla joined the Duke University School of Nursing in May, 2014. She came to Duke from Vanderbilt University School of Nursing, where she taught in the MSN and DNP programs. She also served as one of the first clinic preceptors for the Vanderbilt Program in Interprofessional Learning. Her professional nursing experience also includes trauma-critical care, emergency room, and primary care. Dr. Padilla earned her BSN at Belmont University, and her MSN at Tennessee State University. Dr. Padilla's PhD research at the University of Tennessee Health Science Center in Memphis focused on acculturation, mental health characteristics, self-efficacy, and health-seeking behaviors in Hispanic women. After completing her doctorate, she had a postdoctoral fellowship and taught at the University of Michigan‒Ann Arbor.
Dr. Padilla has provided primary care in a nurse-managed community clinic for over 10 years to socioeconomically diverse patients. She was the lead provider with a focus on diabetes mellitus. She has first-hand clinical expertise in caring for the under-privileged patient population and understands the needs of the clinic personnel/administration as they pertain to supporting and caring for these patients.
Dr. Padilla has a strong interest in diabetes self-care, adherence, co-morbid depression, insulin initiation and education. She is continuously seeking innovative ways to foster a dynamic learning environment in academic and clinic settings with the goal of promoting quality patient care. She recently developed a web-based clinic module on diabetes management for nurse practitioners. She served as a primary research liaison between Vanderbilt investigators and clinic personnel and developed a diabetes and obesity self-management program for Tennessee Diabetes Prevention and Health Improvement. Dr. Padilla is also a co-investigator/consultant on an R01 NIH-funded intervention research project on improving medication adherence for the underserved population with Type II diabetes.
Academic Program Affiliations
Master of Science in Nursing Program
Doctor of Nursing Practice Program
Master of Science in Nursing Program
Doctor of Nursing Practice Program
Education
PhD - The University of Tennessee Health Science Center
MSN - Tennessee State University
BSN - Belmont University
Research Interests
Dr. Padilla's research interests include: • Diabetes: medication adherence via texting; self-care; co-morbid depression; motivational interviewing, insulin management; reducing CVD risk; burn-out syndrome; provider education in diabetes care. • Chronic illness management in primary care • Chronic illness in vulnerable populations • Interprofessional education • Integrative health care • Global health
Awards and Honors
2004 || Southern Regional Education Scholar, Southern Regional Education Board – State Doctoral Scholars Program
1999 || Inducted, Sigma Theta Tau International
Areas of Interest
• Diabetes management
• Diabetes and co-morbid depression
• Mental health delivery in primary care
• Integrative health care
• Interprofessional education
• Concept Maps in nursing education
Representative Publications
2010 -- Seong, J. G. and Brush, B. L. and Padilla, B. I. Bridging the language gap in primary care The American Journal for Nurse Practitioners. June, 2010 14(6); 23-34.
2012 -- Padilla, B. I. Type 2 Diabetes Mellitus Update for Primary Care (On-line course, Essential Learning) 2012 .
Grant Funding (Selected)
Improving Diabetes Medication Adherence among Patients Receiving Primary Care at a Federally Qualified Health Center

National Institutes of Health
1 R01 DK100694-01
01/2014 to 12/2014
Role: Co-investigator
Project Goal: to use the IMB model and clear health communication strategies to inform the content of a cell phone-delivered intervention to improve diabetes medication adherence among a racially diverse sample of low income adult patients with T2DM receiving primary care at a federally qualified health center.

FOOD: Family Overcoming Obesity and Diabetes

Tennessee Diabetes Prevention and Health Improvement
07/2008 to 06/2010
Role: Principal Investigator
Project Goal: This diabetes and obesity improvement program was framed by the six elements of the Chronic Care Model (CCM): community, health system, self-management support, delivery system design, decision support, and clinical information systems. The CCM has been associated with higher quality care in adults with diabetes. Therefore, based on evidence from prior implementation of the CCM, this program proposed to redesign all aspects of its Type II Diabetes Mellitus care processes and implement a unique, culturally appropriate, family focus support system that will aid in increasing self-care management, link patients to community resources that will promote healthy lifestyle. This redesign was undertaken within a primary care setting, among a population with significant inherent vulnerability.