You are here
DUSON Strong
DUSON Strong is a community of faculty, staff and students with the goal of becoming the most fit school of nursing in the nation and the most generous with its time and donations. There will be numerous ways to join and participate each semester starting with…
DUSON Strong Tour of Tanzania
We're excited to announce this spring's Tour of Tanzania: a 1,062.9 mile virtual race around Tanzania. We will visit several Global Academic and Clinical Sites from March 1 - March 31. As would be said in Swahili, safari sana (good journey)! 
How it works:
Join the race here.
You will see the entry fee as $20, but the race will be free for you by using DUSON's coupon code. Type "Tanzania" into the coupon code code box to enter the race for free!
Once the race begins March 1, log your daily activity! ALL activity counts (see mileage conversions below)
Work together to get DUSON Strong through Tanzania, passing multiple DUSON clinical sites along the way.
When you join the race, you will be automatically added to the DUSON Team with the entire DUSON Community. Add a little friendly competition with your coworkers, fellow students and teammates by creating a group. Putting a hashtag in your bio will create and add you to a group, and you can be a member of as many groups as you would like! For example: #DUSONstaff, #DUSONfaculty, #DUSONstudents. See below for more details!
If the DUSON Strong team makes it through Tanzania, the team will loop back to the beginning of the route and start again! How many loops can we do before March 31?
Join a Group: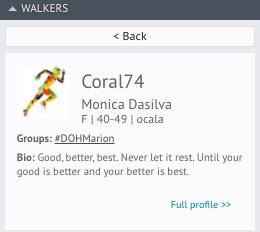 Want to race with your Department? Fellow Students? Staff? Faculty? Racers can either join a group or create their own for others to join. A racer creates a group by adding a group hashtag (#DUSONstaff) to their bio (see photo to the right). Group leaderboards will be activated once the race begins so you can see how your group stacks up!
Inviting People to Your Group: If you're logged in and already in a group, when you go to the group list you'll see a button to invite more racers to join your group.
What to Expect
After you sign up, you will:
receive an email reminding you to submit your miles.
receive an email reminder at 4:30 p.m. each day thereafter.
submit your miles by logging directly on the race page in the Log Miles tab or by responding to the email. **You can access the race via desktop, mobile web or Android and iPhone apps!
receive a daily email about the progress of DUSON.
IMPORTANT NOTE: You may opt out of the daily email reminders, but if you prefer to submit your miles via email, please keep the original email handy and to use it every time to submit your miles.
Have Fun and Be Active
Friendly competition is GREAT and your group topping the leaderboards is an awesome thing to strive for, but the real goals - how you and every participant can truly win - are to have fun and be active.
Frequently Asked Questions
Q: I don't like to run. Can I still sign up?
A: Absolutely! All activity counts!
Q: I track steps. How can I be part of this race?
A: 2112 steps = 1 mile
Q: What about activity classes? I do yoga/boot camp/pi-yo/zumba/spin class. Is there a conversion for that?
A: YES! You choose! Decide on your own perceived exertion and use one of the following conversions:
Moderate Activity (Think "average walker")
15 minutes of activity = 1 mile
60 minutes of activity = 4 miles
Vigorous Activity (Think "average runner")
10 minutes of activity = 1 mile
60 minutes of activity = 6 miles
Q: Does swimming count?
A: YES! How long did you swim? Convert laps to miles (1600 meters = 1 mile) or time spent swimming into miles.
Q: What about cycling?
A: Please convert time spent cycling or in spin class into miles with one of the walk or run conversions; otherwise, the rest of us will never be able to keep up!
Have More Questions?