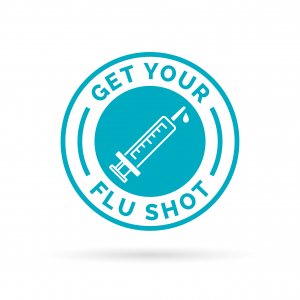 Duke Health — which includes Duke University Health System (DUHS) and the schools of nursing and medicine — is committed to reducing the prevalence of the influenza virus within our community. As part of this commitment, obtaining a flu shot is a condition of employment for ALL DUSON faculty, staff, instructors and post-doctoral fellows.
Flu Vaccination Dates & Locations
In light of the pandemic, mass flu vaccination clinics will not be available. However, "remote" vaccination locations have been established in Durham, Research Triangle Park and Raleigh and will be providing health care worker vaccinations by appointment.
Employees that are currently working remotely have the option of being vaccinated at a "remote" vaccination site. Choose a location that works best for you and reserve an appointment time. An appointment is required!
For DUSON Employees
The requirement is for all faculty, staff, clinical instructors, clinical nurse educators, seminar leaders and other part-time instructors and post-doctoral fellows to obtain an annual flu shot by 10 a.m. Tuesday, November 10, 2020.
Those who have medical or religious reasons for requesting an exemption may do so by completing one of two requests for exemptions. Those requesting a medical exemption should submit their request to Duke Employee Occupational Health and Wellness (EOHW) per the instructions on the form. Those requesting a religious exemption should submit their online request to Staff and Labor Relations per the instructions on the form. Applications for both exemptions are due by Monday, October 19, 2020. This will allow sufficient time for review and for communication of the review decision. Please note: Due to the availability of an egg-free formulation of the flu vaccine, egg allergy is not a reason for medical exemption.
Again this year, we will be using the Duke VaxTRax digitized flu vaccination consent and health screening platform. You and your vaccinator will complete documentation of vaccination using this digital platform, or, if you are vaccinated by your primary care provider or at a local pharmacy, you can submit evidence of vaccination through VaxTrax. Official documentation must include your Duke Unique ID, and any of the following:
Print out from MY Chart showing employee name, date and type of vaccine administered.

Documentation from provider with clinic letterhead/address or encounter form showing date and type of vaccine administered, date of birth.

Pharmacy printout with employee name, date of birth, name of vaccine, date of vaccination and location/address of pharmacy.
Your Duke Unique ID must be written on the flu documentation to ensure that the correct employee gets the correct credit. Also, add your best contact phone number in case EOHW needs to reach you.
For DUSON Students
All students are required to obtain an annual flu vaccination or submit exemptions no later than Monday, November 2, 2020. Students who have a medical or religious reason to request an exemption may do so by completing the religious exemption or medical exemption request form and submitting it to Student Services for the program director of each program to review. Please send this request to SON_StudentCompliance@dm.duke.edu or fax to 919-681-0715. All requests for exemptions will be reviewed and all decisions will be communicated directly to the requestor.
Students may also obtain flu vaccinations by scheduling an appointment at Student Health. This is free to all students who pay the student health fee. For those who obtain the vaccine from a health care provider outside of the Duke network and some Duke-affiliated practices, please send documentation to SON_StudentCompliance@dm.duke.edu or fax to 919-681-0715. Always keep a copy for your personal records.
How to obtain your flu shot
Visit the Student Affairs website to schedule your appointment,

or visit http://duke.is/H6cmzh,

or use this QR code:   
Failure to comply with this requirement could result in administrative withdrawal from the Duke University School of Nursing. A registration hold will be placed on all student accounts for the Spring 2020 semester until this requirement has been met.
Check this webpage throughout the flu season for additional information on where to receive a vaccination and how to protect yourself and others against the flu.