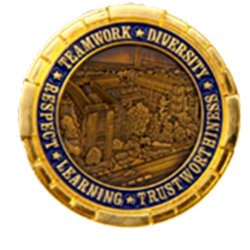 Have you seen a staff member demonstrating excellence in performing their job responsibilities? Take a moment and nominate them for a 2021-22 Commitment to Excellence Award. The Commitment to Excellence Awards are metallic commemorative coins that will be presented to staff to recognize their efforts above and beyond the call of duty.
This program celebrates our staff members who demonstrate the highest standards in their commitment to supporting our mission, vision and values. The Commitment to Excellence program is our practice of thanking those who consistently demonstrate excellence in what they do for our School community.
The award program is intended for staff whose roles are primarily administrative. To be nominated, a staff member's performance should meet one or more of the following criteria:
Consistently demonstrates excellence in the performance of their job responsibilities.

Consistently exhibits a superb and ongoing high level of service to their customers.

Consistently produces the highest quality of work product.

Performed a significant and exceptional role in the completion of a high impact project or initiative.
Any faculty or staff member may submit nominations to the DUSON.staffrecognition@dm.duke.edu email address.
All nominations will be reviewed against the criteria, and, once approved, a representative from the Vice Dean, Finance and Administration's office will notify the supervisor of the employee so the commemorative coin may be presented to the recipient.
2021-22 Award Recipients
I would like to nominate Rodney Bean for his professionalism, commitment to excellence, and extraordinary customer service. My multi-country research team collaboration had been invited to present at the Howard University International Stigma Conference on November 17. We had five mini-presentations that needed to be integrated into one presentation. With Rodney's guidance and patience, we were able to complete individual recordings with investigators from Rwanda, Tanzania (two separate recordings), and the U.S. (two separate recordings). With Rodney's guidance and expertise, we are able to have one integrated recording, available in multiple formats (.mp4, Mediasite), ensuring our ability to present our sessions. Without Rodney, this would not have happened! ~ Michael Relf
On behalf of the Interprofessional Education Center, we would like to nominate Rodney Bean for a Commitment to Excellence Award. Rodney worked closely with our team to film a welcome message to health profession students across Duke. In addition, Rodney assisted the Center in presenting our first FLIP! Workshops via Zoom. Rodney manages all requests with patience and good humor! His expertise helped make both our welcome to the students and our workshops a great success. ~ Mitch Heflin and the IPEC Team
I would like to nominate Mia Berg who has been wonderful with communicating with me for my clinical placements. I have had significant challenges with clinical placement in my community, but I've never had to worry because of Mia. She has been a steady source of support with very timely emails and excellent communication, as well as professionalism. ~ Paula Warren, MSN Student
I would like to nominate Mia Berg for exemplary service over the past semester. Mia worked diligently throughout the pandemic with the MOST difficulty clinical placements (restricted due to pandemic) - while this was likely frustrating, discouraging and demanding, Mia never complained or gave up the efforts to get our students clinical placement. Many were delayed or postponed, and she worked collaboratively with the faculty and CPO team to come up with resources and alternatives that met students needs ensured their success. Mia's expertise, commitment to excellence and determination have been a gift to our community and this team. Thank you for the commitment to excellence, Mia and your willingness to demonstrate the tenats and ideals of DUSON. ~ Anne Derouin
We would like to nominate Eric Bloomer for the Commitment to Excellence Award because he consistently demonstrates excellence by paying close attention to details and going above and beyond for faculty and students. Eric was the Academic Technology Sakai Specialist for our summer clinical course N475: Nursing Care of Older Adults and their Families. There were over 80 students in this course who had multiple clinical sites and experiences that varied week to week. Maintaining the Sakai site of a moving target during a pandemic is a logistical challenge. However, because Eric is organized and dedicated to ensuring our students have an enriched learning experience online and on Zoom, this course was delivered professionally and smoothly, despite multiple unplanned adjustments throughout the summer. Eric is also student centered and was responsive to student questions and concerns at all hours. We appreciate his contributions to the DUSON community because of his high standards and dedication to doing the best job possible in any circumstance. ~ Jill Brennan-Cook, Nikki Blodgett, and Michael Cary

I would like to nominate Felicia Bynum for the Commitment to Excellence Award. She has demonstrated excellence in performing her job responsibilities. She applies her considerable accounting skills flawlessly. She has consistently exhibited a superb level of service in addressing my questions and providing accounting summaries. The quality of her work product is extremely high. We are fortunate to have such a competent employee supporting our financial needs. ~ Julia K. L. Walker
I would like to nominate Karen Cash for the Commitment to Excellence Award. Karen administers my multi-institutional grant. Administering the financial accounting from four institutions adds to the complexity of the task as well as the time needed to complete it. She is extremely patient, respectful, knowledgeable and competent in her work. She is also very creative, as sometimes there are completely new situations that need to be handled. Karen goes above and beyond in terms of effort. When there are hiccups and glitches, as there inevitably are, Karen does what it takes to complete the task. She has a wealth of knowledge and is extremely dependable. I feel extremely fortunate to work with Karen Cash. ~ Julia Walker

We've all heard the phrase, "when the going gets tough, the tough get going." In October of 2021, the School experienced an unexpected cluster of retirements/resignations among our grant administration team. With numerous research grants and contracts in the queue for submission under tight deadlines, three staff members went above and beyond to assure the scientific work of our faculty researchers progressed nonetheless. Within the span of a few weeks, Karen Cash, Wendy Conklin and Julie Yamagiwa each absorbed additional responsibilities, partnering with researchers on complex processes and/or ensuring quick turnaround. Through this transition, Karen, Wendy and Julie demonstrated quick and agile thinking, creative problem-solving and grace under pressure. Each far surpassed standard expectations; they are the embodiment of DUSON excellence. We are grateful for their talent and contributions! ~ Christin Daniels & Paula Tanabe
I would like to nominate Jeffrey L. Clark for the Commitment to Excellence Award.
In my opinion, Jeffrey is very deserving of this award. In my interactions with Jeffrey, he has always displayed great skill and knowledge. He has always solved the IT issues that I presented him with. He is dedicated to getting the job done, and recently he even stayed late to make sure that everything was working fine with my computer before he left for the day. Additionally, Jeffrey has a really wonderful attitude about helping people like me, who at times make his job harder by clicking the wrong button or asking questions that most people would know the answer to. He is very patient and kind in that regard. Thank you, Jeffrey! ~ Julia Walker
I would like to nominate Wendy Conklin for a Commitment to Excellence award. Recently, I reached out to Wendy to get guidance on several issues surrounding a grant. Although this was not a grant awarded to DUSON, Wendy took the time to explain where to find the information, provided me with a template, checked my math and even offered me a cup of coffee! Wendy is very knowledgeable and I appreciate that she took the time to assist a struggling coworker. ~ Cindy Luddy
Gabby Houston has demonstrated tremendous customer service since joining the CPO team six weeks ago. She has had numerous faculty compliment her proactive and professional collaboration with them and her "can do" spirit to successfully place students in clinical learning sites. Students have also reflected on her responsiveness, professionalism, knowledge and collaboration. One student, whom had no placement in TN was assisted by Gabby's diligent effort to secure a pediatric site - this resulted in a very positive learning opportunity and potential job for our student after graduation. Outstanding vision and service which reflects the standards of DUSON. Thank you Gabby! ~ Anne Derouin
I am glad to nominate Karen Jackson for a Commitment to Excellence Award. Throughout the pandemic, Karen has repeatedly taken on responsibility for initiatives and projects that show her willingness to do whatever it takes to support DUSON and help the school achieve its mission. From organizing and leading the plans to cover safety check in stations with staff and faculty in Pearson, to reviewing compliance using symptom monitoring reports, building complex surveys that seek out opinions related to where we should work, organizing other professionals who keep administrative offices moving to share best practices, and most recently taking on the organization of logistics for an important planning retreat, Karen embodies what it means to be committed to excellence! Thank you, Karen, for all you do to support the school, my office and me. ~ Dave Bowersox
I would like to nominate Karen Jackson for a Commitment to Excellence award. She is incredible, efficient, professional and a joy to collaborate with. She has facilitated recognition for many of my team members that are deeply gratified when recognized for their service. I would really like to do the same recognition for the incredible, consistent service Karen provides. ~ Anne Derouin

I would like to nominate Lori Jackson and Lakecha Alston for the Commitment to Excellence Award. I asked them for help with making sure the Dean's Advisory Retreat on November 3, 2021, went off flawlessly. Without hesitation, both jumped right in! Lori came over to the offsite location twice to help set up and break down the site. Lakecha came over and helped facilitate the afternoon, so I could leave to make another appointment. It is great to know that we really have a strong team within the Vice Dean's group. ~ Karen Jackson
Evidence of high performing teams is most notably seen during periods of stress and strain. In June 2021, an integral member of DUSON's family experienced the loss of a family member. Seamlessly and without hesitation, other members of the DUSON community stepped up to support that member's role alongside their own. Lindsay Johnson, Karen Lowdermilk, and Lakecha Alston each took on additional labor-intensive responsibilities to successfully support DUSON Faculty Search Committee's mission by coordinating six virtual faculty interviews for three regular rank faculty recruitments. Their ability to multitask with high quality results directly supported the school's mission. This school operates so well because of consistent, reliable, and earnest people like Lindsay, Karen and Lakecha! It is for these reasons and more that they deserve public recognition. ~ Crystal Arthur and Sean Convoy
I would like to nominate Tina L. Johnson for a Commitment to Excellence Award. Tina has always gone above and beyond in every interaction I've had with her. She is so courteous, friendly, professional, and knowledgeable and she makes every effort to complete every request timely. Tina is such an asset and a blessing to the DUSON community. ~ Angela Richard-Eaglin
Angie Keith is a solution-focused staff member. During the past week, we had some rather urgent issues arise with the processing of a visa for several staff. As a consummate professional, Angie ensured that all necessary documents from the human resources/business office were completed in a timely and accurate manner. Further, she made herself available for urgent meetings to help problem solve and strategize solutions. She consistently followed through to ensure that documents were received and worked with her team to obtain answers to critical information needed. Over the course of the week, Angie exemplified DUSON's core values of excellence, integrity, and collaboration. Without Angie's commitment to excellence, we may not have been able to meet a very strict deadline. ~ Michael Relf
I want to be sure that Annette Lancaster was recognized for all of the hard work that she has been and still doing for our team. Annette assisted in placing my load while I was on maternity leave and took the time to help me with canvassing so that I did not fall behind when I came back. Even though Annette is a manager, she takes the time to help every coordinator who reaches out for help or needs leads. I would love to recommend her for an Excellence Coin! ~ Silvia Vasquez 

I want to recognize Christina Li for the amazing work she has done with the DUSON students. She has been a clinical instructor on our unit for two years now, and her students always come prepared and engaged. I'm confident to say that this is due to the excellent nursing program at Duke but also Christina's leadership and ability to build meaningful relationship with her students. Our staff also appreciates the knowledge and education expertise that she provides. I have seen her educate our new graduate nurses and assist staff with patient care even on patients not assigned to her students. I have also asked her for insight on quality improvement projects such as preventing needlestick injury and how it's taught, and she's always willing to help. Christina is also willing to assist in emergent situations such as RRTs and use these situations appropriately as a learning opportunities for her students. We truly feel that Christina is a huge part of our team, and everyone can see that she teaches with excellence and compassion. We think that she has found her calling. As a recent graduate of the Acute Care NP program at DUSON, I see that Christina exhibits the DUSON values I have admired and appreciated from my past professors and instructors. ~ Jason Suarez



I would like to nominate LaWanda McCreary, Rodney Bean and Carla Nichols for the DUSON Commitment to Excellence coin. Their work in preparation and during our recent webinar, "The Role of Nursing in Ending the HIV Epidemic: A Call to Action," was a key component of its success. Their early engagement and attention to detail, along with flexibility with last-minute changes, created a professional event for DUSON and one of which we can all be proud. ~ Glenn L. Setliff
I would like to nominate Nicholas McNeill for a committee to excellence award. He spent over two hours with me and a collaborating research colleague from RTI to help problem solve her library access. During the course of the week, my research collaborator lost prior functional access to Duke libraries. With Nick's assistance, we were able to work with the library and central OIT to problem solve this issue. Throughout the situation, Nick remained solution focused and went above and beyond when my colleague from RTI was not able to set-up the VPN account to access the library remotely. Nick actually sent my colleague a zoom link at the end of his work day and walked her through setting up the VPN and helped her download and set up the Duke Duo mobile app. Nick always approaches his work with a friendly demeanor and solution-oriented approach. Nick demonstrated DUSON's core values of collaboration and excellence yesterday and for that I am thankful. ~ Michael Relf
Monica Meza serves in the vital role of onboarding two new team members to the CPO shop, Gabby Houston and Cindy Luddy. Her patience, professionalism and poise served as the "launching pad" for our two new members who are both thriving in the CPO role. This took time and dedication outside of her typical work day of placing students in clinical sites across the nation but her effort resulted in two high performing CPO team members and who are out performing expectations. Thank you for the leadership and role modeling, Monica. ~ Anne Derouin
I would like to nominate Monica Meza for exemplary service over the past semester. Monica has demonstrated extraordinary customer service for our students living outside of NC, building positive, collaborative partnership with many of them in sites/locations we have never had clinical learning in the past. She is tireless in efforts to secure new sites and identifying creative options for our students, which has resulted in a considerable new number or clinical partnerships and successful experiences for students. Her dedication to building relationship with students, faculty and her team is extraordinary! I think of her as a pioneer, paving the way for new opportunities and creative ventures that will ensure we remain a destination school. Thank you Monica! ~ Anne Derouin


Duke University School of Nursing's (DUSON) Psychiatric-Mental Health Nurse Practitioner (PMHNP) Program has expanded student enrollment by 1,067 % over the past four years. This dramatic increase generates massive workload within our school's Clinical Placement's Office (CPO). The inimitable team of Monica Meza, Cindy Luddy, and Stacy Swinney have been a lifeline to our program's growth. Their ability to adapt and occasionally "roll with resistance" makes this problem-prone aspect of graduate education that much better. This school operates so well because of consistent, reliable, and earnest people like these three people. It is for these reasons and more that they deserve public recognition. ~ Sean Convoy
I would like to nominate Jed Poston for the Commitment to Excellence award. In a recent cross-campus meeting with representatives from the Fuqua School of Business, Jed was recognized as providing excellent service and assistance. Jed shared with the Admissions Team the setup he used to create accordion functionality in the DUSON application. This functionality allows for easier user interfacing and ultimately provides the applicant with a more streamlined way to access application instructions that are relevant to them. This is and will continue to be a beneficial change for thousands of applicants across Fuqua's 10 degree programs, and the Admissions Team has already received positive feedback from applicants regarding the look and flow of the application. Jed's commitment to advancing the best practice standards both internally here at DUSON and across campus are key to the foundational success of DUSON and Duke. ~ Lindsay Bipes & Nora Harrington
We would like to nominate Jed Poston for his excellence in providing us the data to ensure a robust cohort of well-qualified nursing students who are invited to join the International Honor Society for Nurses. Without Jed's expertise, the process would be delayed, cumbersome and inefficient. Jed professionally and cheerfully provided this data to us, making the process seamless. ~ Christina Leonard, STTI Beta Epsilon Chapter and Anne Derouin

I would like to nominate Angela Ramsey for the Commitment to Excellence award. Angela is the first point of contact for many of our prospective students prior to applying here in the admissions office. Recently a prospective applicant reached out to specifically recognize and thank Angela for her time and attention. Angela has been an integral part of the admissions office during this application cycle. I am sure this one instance is a sample of many. ~ Nora Harrington
Nanika Rhodes serves as DUSON's building support services coordinator. During 2021, she has assumed a dramatic increase in workload due to unexpected staffing shortages. Despite the increase in workload, she remains reliable, responsive and amicable. Each morning I am on campus, she is the first person I see. Each morning, she makes her rounds waking the school up from its slumber and ensuring all is safe and secure. In this regard, she serves as the school's chief executive for first impressions. This school operates so well because of consistent, reliable and earnest people like Nanika. It is for this reason and more that she deserves public recognition. ~ Sean Convoy
I would like to nominate Nanika Rhodes for exemplary service over the past semester. The team and I are grateful for the dedication and willingness to grow new skills as Nanika joined CPO during the pandemic and became a critically important member in placement processes. She eagerly joined the team, learned new platforms, resources and tools that were unfamiliar to her. She proved her adaptability, flexibility, strategic thinking and professionalism throughout her tenure with our team. Students have been grateful for a consistent, timely communication and support in their learning process. Nanika, you are commended for stretching yourself outside of a comfort zone and for demonstrating the key values of our community through excellence, service, dedication and collaborative communication. Thank you! ~ Anne Derouin
I would like to nominate Siti Ricks for her outstanding collaboration with the Duke Urgent Care leadership team, led by Dr. Smith, and Duke Primary Care with Dr. Pyser. Both physicians have commended her on meticulous attention to detail and communication. Siti also has several accolades from two NC students who graduated this summer. One student/graduate, Idal Musa, wrote that her longitudinal placement with the Duke Primary Care team was instrumental in her current potential job opportunity. This is a win-win for both the practice and the patients' since she will be able to stay in a system for which she is well prepared. I'm proud to recognize Siti for this tremendous work! ~ Anne Derouin
I would like to nominate Siti Ricks for exemplary service over the past semester. Siti has continued to place the largest number of DUSON students and undeterred during the pandemic despite considerable limitations/restrictions in clinical placement sites. She professionally collaborated with Duke Primary Care, Duke Urgent Care and Duke Private Diagnostic Clinics to develop streamlined processed for placement. This required meetings, coordination, strategic thinking and collaboration that is far beyond the "standard" canvasing efforts of coordinators. Because of this effort, we have strengthened the ability to rely on Duke and other partners for clinical placements. Students have progressed and graduated because of this effort and our reputation with the clinical partners has been strengthened. Thank you for representing DUSON with grace, professionalism and exemplary collaboration. ~ Anne Derouin
I would like to nominate Siti Ricks for her assistance in securing a clinical placement for me for my Spring 2022 NURS 622 and Summer 2022 NURS 626 courses - it is so appreciated! Siti went further by putting me in touch with Mia Berg to assist with locating a clinical placement for NURS 634 for Fall 2022, and even provided some suggestions regarding securing a local VA assignment for NURS 695/807. Many thnaks for assisting me in my future clinical assignments. ~ Nancie Deckard, MSN-FNP student
I would like to nominate Monica Russell for a Commitment to Excellence Award. Monica has been a tremendous support for all of the CQ workshops I delivered. She helped me stay organized by scheduling, supporting Zoom, creating Box folders, and the list goes on. The best part is that she did most of that through her own initiative! No matter the request or the timing that I needed her, she always delivered and was so gracious every time. She is a true asset to DUSON. ~ Angela Richard-Eaglin
I would like to nominate Tony Snipes for the Staff Excellence Award. Particularly over the past year, defined by a pandemic, we have come to fully appreciate the herculean efforts of our staff whose efforts have allowed faculty to make a near seamless transition to regular academic order in a virtual space. Mr. Snipes efforts with the Institute for Educational Excellence (IEE), Faculty Governance Association (FGA) and Sigma Theta Tau (STT) has been both impressive and reliable. This school operates so well because of consistent, reliable, and earnest people like Tony. It is for these reasons and more that he deserves public recognition. ~ Sean Convoy
I would like to nominate Stacy Swinney for exemplary service over the past semester. Stacy's expertise and consistent demonstration of excellence has been invaluable to our program and our school. Her ability to manage multiple tasks/responsibilities while also remaining calm, cool and poised is remarkable and her legal expertise has been vital to securing the MANY new clinical sites. A true professional partner and collaborator with faculty, staff, CPO team and students is extraordinary. She is a humble servant-leader who has enabled many students to progress/graduate because of her behind the scenes efforts to complete clinical agreements and legal contracts. She is also skilled and highly knowledgeable with data management, CPS an assisting the team. I am so fortunate to work collaboratively with Stacy and truly grateful for her professional expertise and commitment to DUSON. ~ Anne Derouin
I am a distance-based student who currently lives in Pittsburgh, so I have been working very closely with the clinical placement office over the last year. Since last summer, I have been blessed to be assigned to clinical placement coordinator, Silvia Vasquez. This woman works miracles! Last- minute clinical site changes, changing locations halfway through the semester, adding additional contracts in just a few days — Silvia can do it all. I also want to add that she done all of this and recently returned from maternity leave. Ms. Vasquez is a wonderful asset to DUSON and has been a breath of fresh air, as finding clinicals amidst COVID restrictions has been difficult. She responds promptly to all emails and is very knowledgeable. I am currently completing my second-to-last semester in my MSN program and require 392 clinical hours. Ms. Vasquez got my clinical placement set up and prepared, went on maternity leave, and while she was on maternity leave, I realized I needed a second clinical placement that we did not anticipate in order to complete all of my hours. Within a week of returning from maternity leave, Ms. Vasquez had a new clinical contract set up for me and also ensured that I would have computer access at my new facility! I cannot stress enough how much her work is appreciated. Ms. Vasquez deserves all the accolades, and I just wanted all of you to know what a rockstar she is! ~ Alaina Eisenhooth 
I would like to nominate Silvia Vasquez for exemplary service over the past semester. Silvia has created an orientation manual and collection of resources that can be used by the CPO team and will effectively and efficiently assist us with onboarding new team members in the future. This effort was above and beyond her job description and will be invaluable to the team as we evolve, grow and prepare for accreditation. A critical eye for efficiency, collaboration, she humbly continues to contribute to the clinical placements efforts in important and meaningful ways. ~ Anne Derouin

I would like to nominate Selnatta Vereen for a Commitment to Excellence. We have a Peer and Alumni Tutoring Program in the ABSN Program. We hire students and alumni to work as tutors in courses they successfully completed. Tutoring requests began to pour in a few weeks ago, and the tutors we currently have were stretched to the max. We did a big recruitment pitch and worked to approve, hire, and onboard at least 10 new tutors which is quite a feat over 15 working days. Didn't quite reach 10 but really appreciate Selnatta's communications with me and new hires along the way. Wasn't always seamless, but I appreciate her keeping me in the loop and working to assure current students are academically supported and have these wonderfully talented new tutors as a resource. Thank you, Selnatta! ~ Najla McClain 

I just wanted to thank Leah White for helping a student years ago at an OCI to get her clinical set up with the VA as part of the VA specialty and FNP synthesis. There were some issues yet, because of your help, Emma Michl not only did our post-grad VA residency but just got a job as an oncology NP at a VA to care for our veterans with cancer. This not only satisfied her ACS scholarship goals but also honored her as one of our wonderful military personnel! Thank you. Thank you. Thank you! You make a difference, always! ~ Mary Lou Affronti
Leah White has continued to demonstrate exemplary service to MSN and CPO teams using her meticulous eye for detail and skills managing data and various electronic platforms. For more than seven months, she has served collaborated with the CPO team to ensure students clinical credentials are correctly submitted to sites and secured at DUSON (not part of her job description). She has assisted with NED, INFO and NHCL clinical placements in a humble, efficient manner (not reflected in the weekly reports) and ensured the link among faculty, CPO, and students remains steady and dependable. I am grateful for Leah's ability to pivot and remain flexible while also demonstrating extraordinary dependability. She is literally the hub of our team. Thank you, Leah! ~ Anne Derouin


I would like to nominate Julie Yamagiwa and Christin Daniels for a DUSON Commitment to Excellence Award. Because of their extraordinary patience and their willingness to go above and beyond, I was able to submit an RO1 grant application to NIH with partners from Rwanda. Any grant submission to NIH is complicated. However, international grants due to U.S. government regulations are even more complicated. Despite staff challenges in CNR due to recent retirements and resignations, these two individuals provided exceptional support and service which included "hopping on a quick Zoom meeting to answer a question," working late into the evening to review documents, and helping me problem solve uploads challenges in the grant submission system. These two individuals exemplified the DUSON Core Value of Excellence and Teamwork. They also demonstrated the Core Value of Integrity which is essential in submitting an NIH grant application. I am thankful to have colleagues like Julie and Christin who are willing to go above and beyond to support faculty in their research endeavors. ~ Michael Relf
 
I enthusiastically nominate Stacy Zhao for a Commitment to Excellence Award. Throughout the pandemic, Stacy has been an incredible support for faculty within and across divisions, taking on increasing levels of responsibility for initiatives and projects that show her willingness to support DUSON's mission. She does this, of course, through thoughtful inquiry and innovative solutions for common and unique challenges. She is deeply committed to understanding various technologies and leveraging their capabilities to help faculty, students, and staff colleagues teach, learn, and perform at the highest level. Stacy has a calm, easily approachable manner, and her patience for learning and teaching software nuances is unparalleled. Finally, her attention to detail is exceptional, contributing daily to the professional polish expected of the Duke brand. Thank you, Stacy, for all you do every day at DUSON! ~ Valerie Sabol 
Stacy Zhao has been an excellent addition to the DUSON community. There were quite a few times when she has provided support for my CQ workshops in times of a crunch. Even when I contacted her last minute and for after hours workshops, she has been there with a smile on her face and a warm and kind presence. She is an excellent communicator; even when her schedule was booked, she did her best to assist me with anything that I've needed to support me with the work I needed her to help with. For all of these reasons, I'd like to nominate Stacy for a Commitment to Excellence Award. ~ Angela Richard-Eaglin
I would like to nominate Stacy Zhao for her commitment to excellence with my endocrinology students. Stacy has helped me facilitate two virtual intensives for my students which has involved lots of planning, coordinating, shipping of materials and general logistics. She helped coordinate both of the events beautifully and I am so grateful for her help and professionalism in ensuring that the event was a success. I relied on her heavily to help ensure that the schedule, speakers and supplies were in their correct location at the right time. I am so grateful to be able to call Stacy a colleague. Her professionalism helped ensure that these events were a success. Thank you, Stacy! ~ Kathryn Evans Kreider