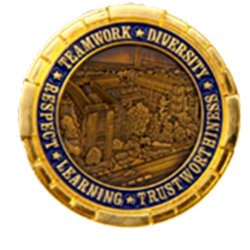 Have you seen a staff member demonstrating excellence in performing their job responsibilities? Take a moment and nominate them for a 2022-23 Commitment to Excellence Award. The Commitment to Excellence Awards are metallic commemorative coins that will be presented to staff to recognize their efforts above and beyond the call of duty.
This program celebrates our staff members who demonstrate the highest standards in their commitment to supporting our mission, vision and values. The Commitment to Excellence program is our practice of thanking those who consistently demonstrate excellence in what they do for our School community.
The award program is intended for staff whose roles are primarily administrative. To be nominated, a staff member's performance should meet one or more of the following criteria:
Consistently demonstrates excellence in the performance of their job responsibilities.

Consistently exhibits a superb and ongoing high level of service to their customers.

Consistently produces the highest quality of work product.

Performed a significant and exceptional role in the completion of a high impact project or initiative.
Any faculty or staff member may submit nominations to the DUSON.staffrecognition@dm.duke.edu email address.
All nominations will be reviewed against the criteria, and, once approved, a representative from the Vice Dean, Finance and Administration's office will notify the supervisor of the employee so the commemorative coin may be presented to the recipient.
2022-23 Award Recipients


When the Admissions unit was experiencing high staff turnover, we asked some staff members to see if they might be interested in helping out with answering calls and monitoring the Admissions inbox. Two individuals enthusiastically offered to help, without any reservation. Those individuals were Lakecha Alston and Lori Jackson. Both willingly jumped in to assist, which required learning a new software program to answer calls via their laptops and document the interactions. While both of these talented staff members have extraordinarily challenging positions supporting the vice deans, I was most impressed with their dedication to furthering the academic mission of the school through their support of Admissions. I want to extend my sincere appreciation to both Lori and Lakecha for selflessly offering to help their colleagues in admissions, which ultimately supports our excellent school of nursing. Thank you! ~ Valerie Howard
Since I arrived at DUSON, Wendy Conklin has served as a subject matter expert on the fiscal rules that govern the Health and Human Services Administration (HRSA) grant management process. I have come to appreciate and rely on her wisdom. Over the span of my HRSA ANEW grant, I gain a greater appreciation for the fact that each recommendation she offers is ethically based and responsive to the dynamic changes that exist within HRSA's evolving policy environment. As it relates to the fiscal management of my grant, Wendy has served as both an anchor and lighthouse for responsible fiscal management. It is for this reason and more that she deserves public recognition. ~ Sean Convoy


I am nominating Jeffrey Clark, Nicholas McNeil, and Carla Nichols for commitment to excellence awards because they have consistently exhibited superb and ongoing high-level service to their customers and are excellent in performing their job responsibilities. There were two specific occasions I would like to highlight in which Jeffrey, Nicholas and Carla provided exceptional service. First, my existing Mac (from 2014) was on its last legs and required a lot of updates and troubleshooting throughout the pandemic just to keep it running until we could begin ordering replacement computers again. This meant Jeffrey and Nicholas had to help me on off hours by phone, by Zoom, and at the service desk to be able to find ways to find memory and clean my Mac using alternatives that required researching Mac blogs and other resources so I could keep working. Over the last two years on multiple occasions they provided exceptional support. Carla helped me in navigating and buying a replacement MacBook Pro once the ordering restrictions were removed. She helped me by going over the available specs, the options available, and the ordering process at Duke including the final costs that needed to be covered on my discretionary account, so I knew exactly what these would be. It took several months to get the laptop, and she immediately contacted me to set up everything. This took several hours and a couple of visits with Carla and Jeffrey, so the transition from my old machine went well, I didn't lose work time and could get all my documents and accounts onto my new laptop.
Simultaneously, we had our first in-person DNP for OCI for N963. This class is a data and informatics class. Often students need to troubleshoot accessing data, recording a storyboard presentation on PPT, using Excel, etc. Jeffery, Nicholas, and Carla are very helpful in guiding students coming to Duke for the first time trying to connect to wifi, downloading new software, and printing at DUSON. They are also very open to having students call them directly to troubleshoot software or user problems, so they can complete assignments throughout the semester (there are over 85 students in this class). In preparing for N963 and a second data management class (N919), they have also helped me think through what the most cost effective and student friendly software/process I can use for coursework and assignments. I greatly appreciate their consistent and valuable input and expertise. ~ Nancy Crego

Be'Ledda Dixon demonstrated exceptional leadership and customer service while leading the Ed Tech team during MSN Summer NPI. She is part of the MSN NPI logistics team, so she's an integral part of ensuring the day runs smoothly for a technology standpoint. She offers valuable insight to ensure the students have a positive, engaging and stress-free on-campus experience. Despite the fact we had events running simultaneously in Pearson and Hanes House, she was constantly checking in with faculty in both locations to ensure they had what was needed to run their sessions smoothly. As issues arose, as they sometimes do when coordinating large-scale events with 200+ students, she handled them with ease and a smile. She constantly checked in to see if I needed assistance and volunteered to help in any way she could. She demonstrated DUSON's core values of  excellence, integrity, collaboration and respect. She is a team player with a can-do attitude and is a valued member of the DUSON community. ~ Keysha Hall

Angela Goss demonstrated exemplary service by ensuring a new Sakai site was "stood up" in record time.  Her proficiency, customer service and professionalism are exemplary. I'm so grateful for her dependability and reliability in time of pressure and crisis. She truly assisted me during a difficult situation by statically managing multiple conflicts. So thankful for her expertise! ~ Anne Derouin 

I would like to nominate Chloe Hayim for an excellence recognition. She went above and beyond to ensure I had correct student enrollment data needed to complete course evaluations this summer. While her colleague was away, she served in a role that was outside of her job responsibilities to assist. This was vitally important to our success, and she did it was competency and composure. She was responsive, professional, knowledgeable and kind! I'm grateful for her willingness to "share the load" with the team. ~ Anne Derouin

We like to nominate Gabby Houston for an excellence coin for her outstanding service. She volunteered to provide clinical placement and credentialing service while her teammates were out, serving as an expert and "champion" with data management and in customer service. She cheerfully and willingly jumped in to support the mission of CPO, ensuring that students had placement and credentialing paperwork in place, allowing them to progress in their program of study. Her generous and professional service were instrumental to a successful start to the summer semester. Thank you, Gabby!  ~ Anne Derouin and Stacy Swinney 

Tina Johnson worked tirelessly to ensure we have tech support throughout the day and in every classroom space despite recently losing her mother. We are truly grateful to Tina for her commitment to excellence and dedication to both her Ed Tech team and to the success of our programs across the school. What an outstanding example of dedication, professionalism, poise and wise, steadfast leadership. ~ Anne Derouin
We are pleased to nominate Maggie McDonough, manager, clinical instructor, for a Commitment to Service Excellence Award for her patience, fortitude, persistence, grace and capability for assigning our clinical rotations for students enrolled in N475 Nursing Care of Older Adults and Their Families this summer 2022. Placing 72 students in a limited number of clinical slots was challenging, and the sites were constantly shifting and changing even up until the day before classes started and the first week of class. Maggie communicated and collaborated with the key people at each of the sites and sought innovative ways to schedule the students. We are truly grateful for the extraordinary effort and exemplary work that Maggie provided for our course and highly recommend her for a Commitment to Service Excellence award. ~ Deirdre Thornlow, Nikki Petsas Blodgett, and the N475 faculty 

I would like to recognize Carla Nichols for her exceptional customer service and assistance with the PMHNP alumni. Carla worked late into the evening to secure internet access and Duke email connectivity for guests that would assist the PMHNP students in a virtual simulation learning activity. She ensured all the team members were equipped with resources needed for success despite the late hour. Carla served the team with her usual poise, professionalism and efficiency. It was such a blessing to have her expertise and timely assistance. ~ Anne Derouin 
I nominate Carla Nichols for the Staff Commitment to Excellence Award. I had a class one Friday from 5 to 8 p.m. (Moral Movements in Medicine), where I had invited these interprofessional students (nursing, medicine, physician assistant, physical therapy) to DUSON to watch the movie CODA (Child of Deaf Adults) together. After watching the movie, we were going to debrief/discuss how they might engage as future health care providers. The movie was on Apple TV+ — who knew that our antiviral software (Z-Scaler) would be so problematic in playing this movie? Carla thought it might, and so she stayed the entire duration of the movie and helped us 'disable' Z-Scaler every 20 minutes until the movie was complete. Staying until 7 p.m. on a Friday night was way above and beyond the call of duty. Carla positively impacted interprofessional student learning; without her, this learning opportunity would not have happened. Thank you, Carla! ~ Valerie K. Sabol

Tiffiany Parker was instrumental in assisting with simulations that occurred for the acute care students in the lab, swapping out manikins as needed for appropriate simulation, providing equipment at the last minute and being proactive in supporting the students, faculty and team. She singlehandedly managed the clinical simulation to ensure success! Thank you, Tiffiany, for being proactive, efficient, timely, and collaborative. ~ Anne Derouin
 

I just wanted to reach out and thank the CPO and specifically one of our clinical placement coordinators, Siti Ricks. As you know, I am the Lead AGNP and Oncology faculty. Unfortunately, one of our students was diagnosed with cancer, which caused her to struggle academically, so she had to take a leave of absence (LOA). The LOA was extended due to treatment and additionally because of the pandemic, which prevented her from returning to DUSON for over a year and a half. When she returned last fall (2021), we decided she needed extra help to re-develop her clinical skills due to her prolonged time out of clinic and asked CPO (Siti) for help. Ricks was exceptional. Siti went above and beyond to took extra care to find her an additional preceptor who would have the time to work with the student one on one. Siti was instrumental in creating an extra 56-hour experience last fall with the wonderful Sarah Cottingham, MSN, FNP-C, of TROSA, and our goal was accomplished. The student went on to become successful with additional preceptors in N625 (old N626) and had a beautiful final preceptor evaluation for her final N694 synthesis in the Spring 2022 semester! Her preceptor (Dr. Shaikh) commented that she was a "hard working student." I am so proud of this student, who is set to graduate in May (2022) after a long journey, and it was Ricks who was critical in the student's success! I just wanted to thank CPO, and especially Siti, as a faculty member and oncology provider for the incredible work that Siti does to individualize clinical experiences for students with special needs. We appreciate all that you do, Siti! THANK YOU, THANK YOU! ~ Mary Lou Affronti 

I would like to nominate NaShonda Thomas for her professionalism, commitment to excellence, and extraordinary customer service. She has always been so professional, kind, and easy to work with.  She does so much behind the scenes and has impressed me with always knowing the supplies that are in the lab at any given moment and also knowing what she needs to order.
Since COVID, there's been supply chain issues, and she does so much research on how to find items that we need to keep us going. She keeps us informed on issues so that we can pivot if needed and always has her finger on the pulse of the CND. 
NaShonda orders items from so many different size syringes, chux pads, gauze pads, tegaderms, armbands, and more. She orders pediatric and adult supplies such as ambu bags, nasal canals, incentive spirometers, and other respiratory supplies, trach supplies, IV supplies, NG tubes, foley kits, central line kits, spinal kits, epidural kits, nebulizer kits, and kangaroo pump sets.  She orders maternity supplies, saline bags and flushes, goggles, bath basins, pitchers, and sitz baths.  She orders all types of simulated medicines such as epi pens, eye drops, ear drops, Tylenol liquid and pills, and so on. This is just the tip of the ice of what she orders. She orders other medical items that I'm not even familiar with. She always calmly answers my questions.
NaShonda does other stuff behind the scenes such as setup and breakdown of lab events. She doesn't care about accolades but always comes to work and gives her best. I admire that about her. Thank you for all you do! ~ Tiffiany Parker

Leah White has shown tremendous leadership in steeping up to perform tasks for NPI and other tasks to support the MSN Program in the wake of us losing a staff member. She leads meetings and offers valuable insight to facilitate the students having a successful on-campus experience. She was an integral part of the summer NPI being so successful. She had a can-do attitude and helped wherever she was needed. She also volunteered to manage sticky situations as they arose, so I didn't have to and kept me in the loop of the happenings of the day. She demonstrated DUSON's core values of excellence, integrity, collaboration and respect. She is a team player and a valued member of the MSN Program. ~ Keysha Hall
Leah White served as the hostess and "jack of all trades" through the NPI, managing room assignments, food and beverage hospitality, offering support in kind and meaningful ways to students and coordinating support for guest speakers who were new to our campus. Leah graciously and professionally assisted the entire team, ensuring success and seamless events throughout the day. Thank you, Leah.  ~ Anne Derouin


I hosted my endocrinology specialty students for NPIs, and it was a resounding success! I want to give a big thanks and shoutout to Stacy Zhao and Rometa Summerlin who made sure that everything flowed smoothly. We have an amazing team, and I am so thankful. ~ Kathryn Kreider