I went to Bequia, a small island on the south side of St. Vincent and the Grenadines (SVG), last year near Easter time. We spent the entire month of April there for our rotation. I had a wonderful experience learning the culture and the people of Bequia. My colleague that went spent time on the big island SVG, and we occasionally spent time at each other's apartments to see the difference in the lifestyles between the islands. Bequia was more laid back, and SVG was a bit busier, definitely in the city by the bus stations. We learned the difference between the Windward and Leeward sides of the islands quickly for travel and directions. We both decided to learn how to scuba dive while there, so we did the prep online work, finished our open-water dives, and got certified by a wonderful American who retired there from Colorado who is a Dive Master. He gave us great advice on places to eat and visit. The best part was how much we were respected not as just tourists from America but as Nurses. Once the people found out we were and we made a few local friends, everyone always said hi and was friendly and made sure they looked out for us.
I chose this spot as my international rotation because my husband and I love the Caribbean and hope to move there one day. We wanted me to learn the culture and how health care works to see if it was an actual possibility.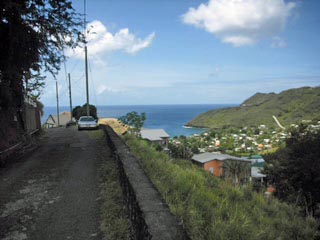 The highlight was that my husband came at the end of the trip, and I met a man who took us out on his boat for a half-day sailing trip. I had made friends with his brother who lived on the island and was part of the winning boat in the yearly Easter Regatta. They were part of eight boys who were locals, and everyone knew them. He took us out to the other side of the island for some snorkeling, and we ran into a brother of his and some locals there for a day fish fry. They invited us to join and shared their food. We loved being included and enjoyed their laid back lifestyle.
I also loved my preceptor. She made a picnic lunch that her husband, my colleague and I shared when we went to the beach for a day. She took us to the Turtle Sanctuary after lunch to visit.
The most rewarding part was helping educate the locals about diabetes and HTN and feeling I could offer them help with their health. They were all very appreciative and respectful of Nurses and the staff.
I learned that with my type A, OCD personality I could live outside my comfort bubble for one month, and it was OK. I was much calmer and happier not worrying about every detail. I also learned how to respect not wasting anything; we saved all bottles for refilling, as we couldn't drink the water on Bequia without boiling it first, and how I took water for granted, as it was a commodity there in the dry season. I didn't expect to love the island so much. My husband and I plan to go back next year for my 40th and visit my preceptor as she and I have stayed in touch and become friends. She had a daughter in Thailand away for two years training, and she is due to return this year. I hope to meet her daughter as we spoke so much about her. I look forward to seeing my friend again.
I would tell all students who have the chance to have a global immersion experience to do so. It is the actual ability to walk a mile in someone else's shoes. We should seek out opportunities to learn from our neighbors and respect their differences and cultures. I learned a lot about myself, mostly how to unplug from tech and first-world attitudes and learn how others live. While there was a TV and tech was not completely void from the island, it was quite less than here and refreshing to see there is a world that does not revolve around it.
- Shamin Hampton, ARNP, MSN, CCRN