I traveled to Managua, Nicaragua to work with the AMOS organization in their urban and rural health clinics as well as in various community health programs in Managua and outlying rural villages.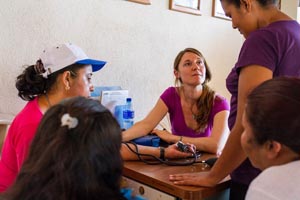 I chose to participate in this trip because I speak Spanish and have worked with community health workers (CHWs) here in the U.S. The Nicaraguan health care system has used CHWs to reach underserved and rural communities for a long time and has extensive programs involving prenatal and chronic disease management led by CHWs. This was of particular interest to me and gave me the opportunity to share ideas and learn from the work they are doing at AMOS.
The highlight of my experience was most definitely engaging with the community alongside CHWs. I had the chance to give a community presentation in one of the rural villages about the risk factors, signs, symptoms and prevention of diabetes. This was both fun and rewarding.
Taking away from this experience, I learned more about my personal skills and limitations as a practitioner. While I strive to be culturally competent, I recognize that having a local, trusted community leader as a liaison is crucial to building trust within a community.  I was humbled by the incredible work of the Nicaraguan CHWs.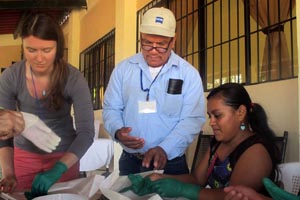 One CHW has been assisting pregnant women and young mothers for more than 20 years. He has no formal medical education but has assisted with the births of over 500 babies and provided countless hours of education to these women and their families, often reaching  his patients by traveling on horseback through mountainous, undeveloped terrain. He is a wonderful example of how CHWs can bridge the gap between the medical world and the community by reaching the most isolated and underserved populations.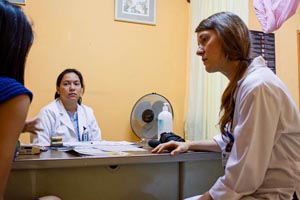 I quite often reflect on the skills that I learned and experiences I shared in AMOS when serving patients here in the U.S. who have limited resources or are from a different culture or ethnicity than me. My respect for and utilization of CHWs has only increased as a result of my experience in Nicaragua, and I value them as crucial members of our patient-centered medical home team.
Participating in a clinical immersion trip opens your eyes to medical care around the world and broadens your perspective on health care. You can discover similarities and differences, learn ways to be resourceful and rely on your physical exam techniques in the absence of modern diagnostic tools, discover ways to reach and better serve communities and challenge your own belief system related to health.
- Brooke Nicholls, MSN'15