December 22, 2020
Image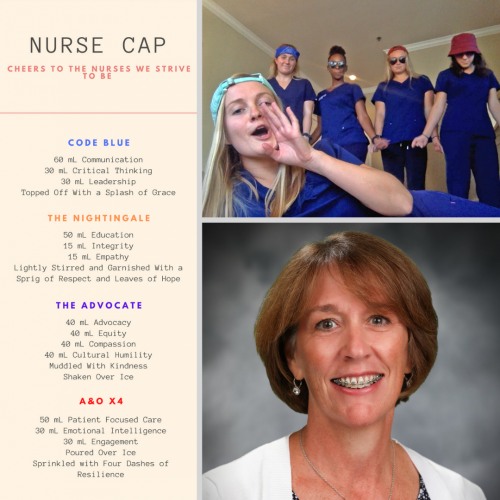 Every nursing student, at some point, must decide which part they want to play in the nursing field. The first-semester Accelerated Bachelor of Science in Nursing (ABSN) course, "Professional Nursing: Past, Present and Future," helps the students make just that decision.
The course focuses on introducing students to current issues in the field while having them start to think about their own professional identities as caregivers, scholars, and leaders and how they and their classmates might be able to apply their skills and identities towards molding the future of health care. Jill Brennan-Cook, DNP, RN, CNE, assistant professor, has designed a series of creative exercises to help her students scrutinize upon these points and more.
"This class is very important because our students are the future of the discipline, and they will be influential leaders regardless of where they practice," Brennan-Cook said.
Throughout the course, students generate items such as a personal philosophy statement and a 30-second, memorized speech. Their last major assignment is to produce a professional identity group project.
This assignment is meant to be an artistic reflection upon their takeaways from the semester. The teams have a range of presentation options from pictures to poems, as long as they are able to collaborate on a list of at least 10 of the most important values, attributes and qualities that would be key in their future careers.
"The assignments are scaffolded purposefully to encourage thoughtful reflection while their professional identities emerge throughout the semester," Brennan-Cook said. "As the most trusted profession, it is imperative for our ABSN students to build an ethical practice with high professional standards that includes delivering care that is both evidence based and patient centered."
For their professional identity project, one group created a brief music video set to the tune of their original song "Nurse, Nurse, Baby," a spoof on the Vanilla Ice hit "Ice, Ice, Baby."
"As our group was brainstorming what song to use, we knew we wanted something recognizable and catchy. We went back and forth on using something current that everyone would know, but the lyric 'collaborate and listen' from 'Ice, Ice Baby' kept coming back to mind and already encompassed some of what we wanted to write about," said student Taylor Lingle.
Lingle was joined by A'Adil Ali-Jenkins, Teyonn Ennis, Hayley Goell, Lauren Rhodes, Angibel Tejada and Jeri Walkow for the assignment. While the full group wasn't able to participate in the video due to COVID restrictions, they did each contribute to their list of 10 qualities and the song lyrics. The values they wove throughout their spoofed song are:
Recognizing our personal biases
Practicing with cultural humility
Always keeping the patient at the center of care
Practicing empathy for patients and colleagues
Using good ergonomics to protect ourselves and patients
Treating patients holistically, not just their symptoms
Collaborating with other health care professionals
Using therapeutic communication
Critically thinking about the care we give, not simply going through the motions
Learning from our mistakes and from others
"Writing the lyrics was a hilarious team effort," Lingle said. "Once we had our list of qualities and priorities, we listened to the original song on repeat, clapping out the rhythm and trying to incorporate our list into catchy rhymes.
It was so fun to have this project as a creative outlet. As we would come up with a new line that fit perfectly, everyone would become more and more excited about the potential for the final product."
The video was filmed in two takes.
"This course highlighted how like-minded many of the students in our cohort really are, despite the wide variety in our backgrounds and interests in our future field of work," Lingle said. "It is so important to be able to successfully collaborate with colleagues, especially in nursing, and this assignment was the epitome of bringing everyone's ideas to the table and turning them into something special.
All the growth I experienced this semester was sparked and supported by conversations with my peers, and I feel lucky to be learning from and alongside them."
With a passion for maternal and child health, Lingle sees herself becoming a certified lactation consultant and earning an advanced practice nursing degree.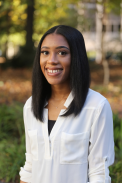 Ennis aspires to become a pediatric nurse practitioner who opens a practice in a medically underserved community that would provide affordable and accessible health care to children from disadvantaged backgrounds.
"Going through this class and doing this assignment allowed me to learn more about the roles of a nurse and my career interests while also envisioning how I could impact the nursing profession with my values and skills," she said.
Another team chose to convey their collective values as four drink recipes: Code Blue, The Nightingale, The Advocate and the A&O x4. The recipes are featured on a menu entitled: "Night Cap: Cheers to the Nurses We Strive to Be." The "ingredients" included:
Communication
Critical thinking, education and leadership
Empathy, grace, compassion and kindness
Integrity and respect
Advocacy
Equity and cultural humility
Patient-focused care
Emotional intelligence
Engagement
Resilience and hope
The team consisted of Kitzia Diaz, Paige Ellens, Elise Fitzgerald, Frank Garcia, Charlotte Geissberger, Caitie Mathias and Olivia Raulf.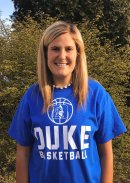 Raulf admits she is still figuring out her career path but is currently interested in working with children and/or babies.
"Going through this class taught me how to work and collaborate with others, which is what I had to do with this assignment," she said. "This class also taught me the importance of how to treat patients and their families. I learned about nursing ethics and what it was like to create a nursing philosophy.
By listening in class and taking part in assignments, it allowed me to decide which path I am leaning towards taking and what I believe it takes to become a nurse and the values and traits I believe in order to follow a career in nursing."