September 23, 2021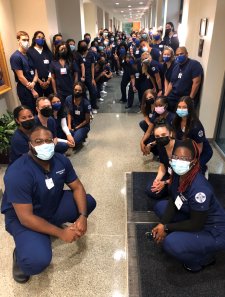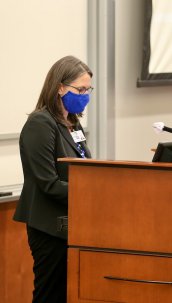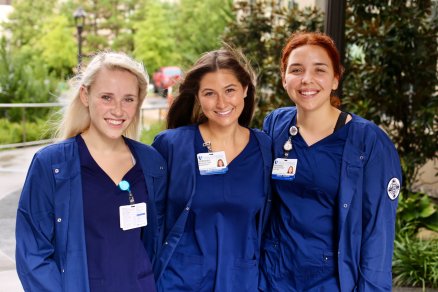 The ABSN Program hosted its Commitment to Excellence Ceremony for its first semester students on Wednesday, September 22, in Classroom 1014. Dean Vincent Guilamo-Ramos was the guest speaker, and Rosalia Preiss was the fourth-semester student speaker. 
For the first time, contributions from members of the Bessie Baker Society covered the cost of the students' scrub jackets; the members also included notes for the students in the jacket pockets. The pins are gifts from the Arnold P. Gold Foundation.
Excerpted from remarks by Michelle Hartman, assistant dean, ABSN Program:
"Historically, earning one's nursing cap was a hallmark of beginning their clinical training. Similarly, in medicine, the White Coat Ceremony, established by the Arnold P. Gold Foundation in 1993, is designed to advance humanism in medicine. As the Foundation asserts, "through ceremonies and rituals, society passes on its values and publicly acknowledges the importance of certain transitions in the lives of its members. 
The purpose of DUSON's Commitment to Excellence Ceremony is to facilitate a sense of community as well as establish a transitional experience to provide guidance and encouragement to nursing students who are about to begin their clinical rotations. The students also took a public oath written by Wilma Cordova and received a pin from the Arnold P. Gold Foundation."
For more student and event photos, please check out our Flickr album. All photos are downloadable; please credit Duke University School of Nursing in your online sharing. For questions and more information, please email Stephanie Turner, Public Relations Specialist, at stephanie.turner@duke.edu .