ABSN Program Ranked Among Top in the Nation for Second Year in a Row
The Accelerated Bachelor of Science in Nursing (ABSN) Program is among the top rankings in the 2023 U.S. News & World Report.
Image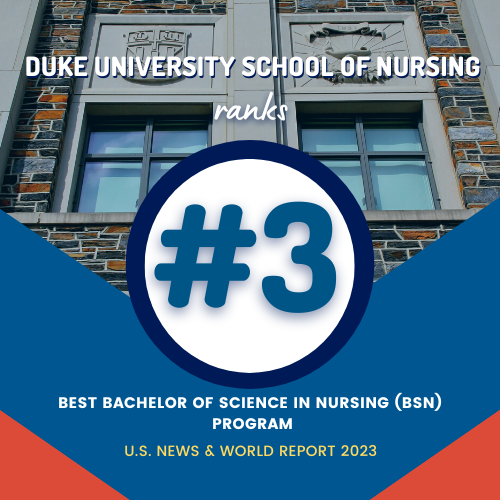 September 19, 2022
The Duke University School of Nursing Accelerated Bachelor of Science in Nursing (ABSN) Program ranked #3 in the 2023 U.S. News & World Report Best Bachelor of Science in Nursing (BSN) Programs report.
The rankings, based on the judgement of nursing school peers across the country, rated the overall quality of undergraduate BSN programs.
"This impressive national ranking by our peer schools demonstrates our reputation and commitment to pre-licensure nursing education," said Valerie K. Sabol, PhD, MBA, ACNP-VC, GNP-BC, FAANP, FAAN, interim vice dean for academic affairs, Duke University School of Nursing. "I could not be more proud of our Duke ABSN Program, incredibly innovative faculty and staff, dedicated communities of interest, and amazing students."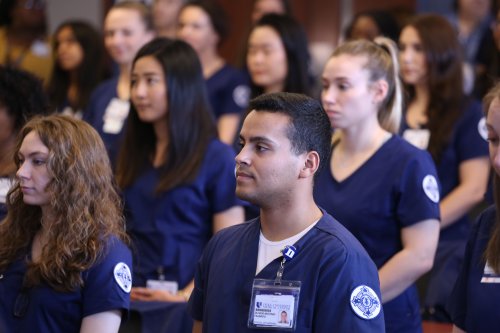 ​
The Duke ABSN program is a second-degree program for students who have completed at least an undergraduate degree and the required pre-requisites. The 16-month, campus-based program prepares students to enter today's nursing workforce with all of the components of a traditional Bachelor of Science in Nursing program with an additional focus on 21st-century health care needs and the environment.
"As a school, we are deeply committed to advancing health equity and cultural competency through our innovative courses, simulation-based learning, and clinical rotations. Through these learning experiences, our ABSN graduates are practice-ready future nurse leaders, who are prepared to care for an increasingly diverse population," said Sabol.
The rigorous program focuses on clinical leadership, evidence-based nursing practice and culturally relevant care while providing students with personalized advising from faculty. The Duke ABSN program has a three-year NCLEX average pass rate of 95 percent, above both the national and North Carolina average three-year pass rates.
"Our ABSN graduates are prepared for roles of the future through rigorous didactic content and clinical, lab, and simulation experiences in which they provide nursing care for patients across the lifespan in acute care, ambulatory care, and community-based settings," said Michelle Hartman, DNP, RN, CPNP, CNE, assistant dean, ABSN Program and assistant professor, Duke University School of Nursing. "Our focus on health promotion and social determinants of health are in strong alignment with the Future of Nursing Report and the AACN Essentials."
As one of the most trusted and largest group of health care professionals in the country, the nursing profession has the capacity to lead models of care that will mitigate harmful social determinants of health and improve health outcomes.
"This is a transformative time for the nursing workforce, and we're excited to lead the shift in preparing our students to advance health and social equity," said Vincent Guilamo-Ramos, PhD, MPH, LCSW, RN, ANP-BC, PMHNP-BC, FAAN, dean, Duke University School of Nursing and vice chancellor for nursing affairs, Duke University. "Our faculty and staff are committed to educating the next generation of leaders who will advance the role of nurses and make a meaningful impact in the landscape of health care."