November 11, 2020
Image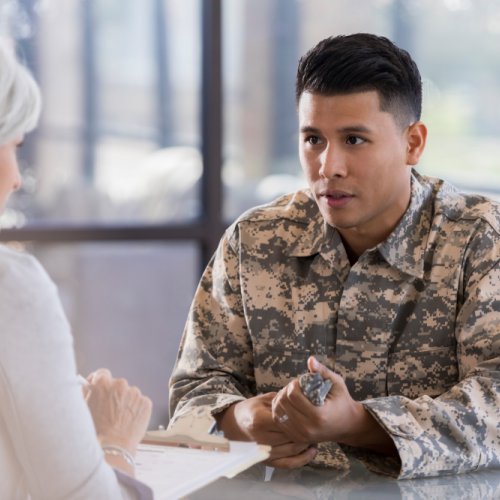 One path includes revamped specialty program.
With an estimated 17.4 million veterans in just the U.S. alone, it's highly probable that a health care professional will treat a veteran at least once in their career. The Duke University School of Nursing offers a few options for students who want to treat or to gain a better understanding of how to treat veterans.
Veterans Health Care Specialty
The Veterans Health Care Specialty has been updated and is ready for student enrollment for the spring 2021 semester. The revised program is a legacy of the former Duke University School of Nursing/Durham VA Nursing Academic Partnership in Graduate Education (VANAP-GE) program, which ended in September. Through this partnership, Duke served as the academic affiliate, and the Durham VA was the clinical affiliate.
Originally, students would enroll in the program and be placed at the VA for their clinical hours. There were no extra classes involved.
The expanded Veterans Health Specialty program will follow the same three-course model as the School's other specialties. Its reach will extend across the U.S. and beyond.
The program includes the new Foundations in Veterans Health Care course, which is also available to any Duke student who wishes to take it as an elective course.
"This will expand interprofessional collaboration opportunities among students and also provide an opportunity for all health professions students to receive specialized knowledge regarding the care of veterans and their families," said Angela Richard-Eaglin, DNP, FNP-BC, CNE, FAANP, assistant professor and lead faculty of Veterans Health Care.
We do a lot of interprofessional work in the VA, and, in that veterans health care system, it does require a team to take care of veterans, especially depending on their era of service, whether or not they were active in a war or something similar. They need multiple disciplines taking care of them."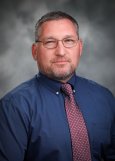 She credited Sean P. Convoy, DNP, PMHNP-BC, assistant professor and lead faculty in the Psychiatric Mental Health Nurse Practitioner (PMHNP) Program, with the idea of opening the Foundations class to students in other health disciplines.
When students leave the Veterans Health Care Specialty program, they will be prepared to take care of veterans and their families across VA and civilian health care settings.
Taking care of veterans is a particular area of interest that's dear to Richard-Eaglin, who has veterans throughout her family and who has focused on working with vulnerable or marginalized populations throughout her career.
"Veterans sacrifice so much for us. They deserve for us to go an extra step to make sure we can give them what they need," she said.
Having a desire to develop courses focused on veterans' health since she came to the School, Richard-Eaglin said she is looking forward to being able to finally launch this updated version of the program.
"To our knowledge, other than the VA academic partnerships, there is no such specialty like this at any other university, so this is a groundbreaking opportunity for the School," Richard-Eaglin said.
For more information, visit the Veterans Health Care Specialty on the School's website.
Psychiatric Mental Health Program Offerings
The Psychiatric Mental Health Nurse Practitioner (PMHNP) MSN Program is another pathway at the School that has a special focus on veteran care.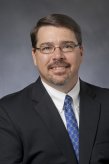 The School has partnered with the Durham VA Health Care System to offer the PMHNP Post-Graduate Training Program, overseen by lead faculty Michael E. Zychowicz, DNP, ANP, ONP, FAAN, FAANP, professor. The program is also generously supported by the Office for Academic Affiliations (OAA). Over the course of 12 months, students gain tremendous experience in the management of veterans with complex mental health conditions.
The School also has a partnership with the Cohen Veterans Network, a national, not-for-profit, philanthropic network of mental health clinics for post-9/11 veterans and their families. This partnership allows for select PMHNP students to undergo intensive clinical placements at Steven A. Cohen Military Family Clinics across the country and to be eligible for the ANEW Psychiatric - Mental Health Nurse Practitioner Scholarship for Serving Vulnerable Populations.
General
The School of Nursing was named the #4 Best Online Graduate Nursing Program for Veterans by the 2020 U.S. News & World Report.
The School is also a participant in the Yellow Ribbon Program of the Post 9/11 GI Bill, which the federal government adopted in 2008. Scholarships are provided annually for a select number of students in the ABSN, MSN, and DNP programs as part of the Yellow Ribbon initiative.