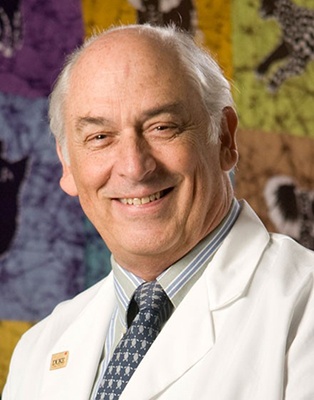 In an article published by Duke Pediatrics, it was announced that Dennis Clements, adjunct faculty at DUSON and PNP course instructor, professor in the departments of pediatrics, community and family medicine, nursing and global health; will be named professor emeritus on June 30, 2019.
Dr. Clements received his MD degree from the University of Rochester in New York and completed his pediatric residency at Duke University. He took a research year in Uganda during his medical school training where he worked for the Uganda Cancer Institute. He completed his Pediatric residency training at Duke from 1973-76. From 1976-78, he was a flight surgeon in the US Air Force and is still a certified flight instructor. After eight years in private practice in Durham, NC, Dr. Clements returned to Duke University as a Pediatric Infectious Disease fellow. He also completed an MPH and PhD in epidemiology from the School of Public Health at the University of North Carolina-Chapel Hill.
As a research fellow, Dr. Clements developed interests in both vaccine research and pediatric infectious disease epidemiology. In July 1990, Dr. Clements joined the Duke primary care pediatric practice where he established the Duke Vaccine and Epidemiology Unit to continue studies on Haemophilus influenzae type B, varicella, and rotavirus vaccines.