July 22, 2019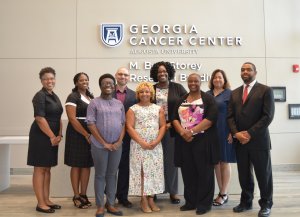 Nancy Crego, assistant professor, was recently selected for PRIDE, a National Heart Blood and Lung Institute research program.
PRIDE, or Programs to Increase Diversity Among Individuals Engaged in Health-Related Research, is a two-year mentored research program funded by the National Heart, Lunch and Blood Institute that pairs young scientists and seasoned researchers with the goal of helping junior faculty learn what it takes to advance their careers.
Participants work with a mentor to learn grant writing skills and hands-on bench research skills. The program is directed by Betty Pace, who started one of the first three PRIDE programs in the country at the University of Texas at Dallas in 2006.
This year, nine mentees from universities across the country will be in Augusta through July 30 for the PRIDE Summer Institute, focusing on functional and translational genomics of blood disorders.