Dame Claire Bertschinger Visits Duke for Global Health Lecture
Dame Claire Bertschinger will discuss her impactful nursing career advocating on behalf of disenfranchised people in tropical and resource-poor settings on October 4.
Image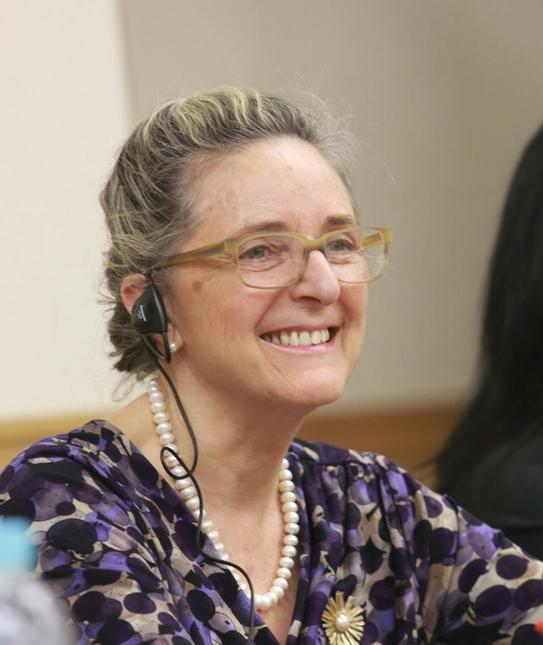 September 26, 2022
Dame Claire Bertschinger, DBE, DL, DEd, DSSc, DSc (honoris causa), MSc, RGN, director for Diploma in Tropical Nursing at London School of Hygiene & Tropical Medicine in Great Britain will serve as the keynote speaker for the 13th Annual Dorothy L. Powell Global Health Lecture on Tuesday, October 4 at 4:30 p.m. The hybrid event will take place in the Christine Pearson Building, Room 1014 and via Zoom. A reception will follow immediately for attendees who join in-person. Registration is required for in-person and Zoom.
Sponsored by the Duke University School of Nursing Office of Global and Community Health Initiatives (OGACHI), the lecture's theme will be "Moving Mountains." During the 1984 Ethiopia famine, Dame Bertschinger inspired one of the biggest global health relief programs ever mounted—Live Aid. The lecture will focus on her impactful nursing career and her work advocating on behalf of disenfranchised people in tropical and resource-poor settings.
"We are thrilled to welcome Dame Bertschinger, one of the true heroines of our time, to the Duke School of Nursing," said Michael Relf, Associate Dean for Global and Community Affairs and Professor, Duke University School of Nursing. "During her visit, our community will learn about her experiences in limited resource settings and war zones around the globe. She is a true leader in global health and nursing."
About the Speaker
Following a successful nursing career in the UK, Dame Bertschinger's first post abroad was as a medic for the Scientific Exploration Society in Panama, Papua New Guinea, and Sulawesi. She went on to accumulate vast experience from many years working in emergency disaster relief, primarily in war zones, with the International Committee of the Red Cross (ICRC). 
Prior to joining the London School of Hygiene and Tropical Medicine, Dame Bertschinger worked as a training officer in the Health Division of ICRC Geneva. She now trains other medical professionals to work in resource poor settings and low to middle-income countries of the world and continually seeks to raise awareness of the key issues in global public health.
Increasingly, Dame Bertschinger has become convinced of the centrality of education, particularly of women, in making and sustaining any improvements. She was honored as Dame Commander of British Empire by the late Queen in 2009 for services to "Nursing and to International Humanitarian Aid." She was made a Deputy Lieutenant of Hertfordshire in 2012.
Dame Bertschinger is recognized as one of the most influential female nurses of all time and hopes to inspire the next generation of health practitioners by sharing her extraordinary experiences and the lessons learned along the way.
About the Lecture
The Dorothy L. Powell Global Health Lecture is an opportunity for international experts distinguished in imperative areas of global health to address the campus community on areas of particular global significance and/or critical challenges facing nursing, while further strengthening our commitment to global health. The event is free and open to the public.
Registration
n-person registration is required by 3:00 p.m., Thursday, September 29. To register for in-person attendance, visit https://duke.is/2kapy.  
Virtual registration is required by 3:00 p.m., Monday, October 4. To register for virtual attendance, visit https://duke.is/gq8ys.