You are here
DNP Alumna Funk Receives 2017 Mary Hanna Memorial Journalism Award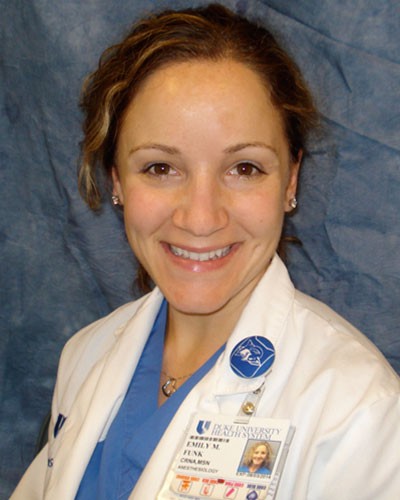 DNP alumna and associate faculty member Emily Funk was selected to receive the American Society of Perianesthesia Nurses (ASPAN) 2017 Mary Hanna Memorial Journalism Award for her article entitled "Structured Handover in the Pediatric Postanesthesia Care Unit." Sharon Hawks was the chair for this project and Brett Morgan was the DNP project committee member.
The article was selected by the Journal's review panel. Each published article was considered by a panel of perianesthisia nurses and independent reviewers from other specialties. Selection criteria included journalistic style, originality, clarity of expression, relevance of content to the specialty, and overall contribution to the collection of published nursing knowledge.
Funk will receive the award in May during the opening ceremonies of the ASPAN 36th National Conference in Indianapolis, Ind.
Involved Faculty Profiles