DUSON Celebrates the Commitment and Service of Nurses Across Our Community
Image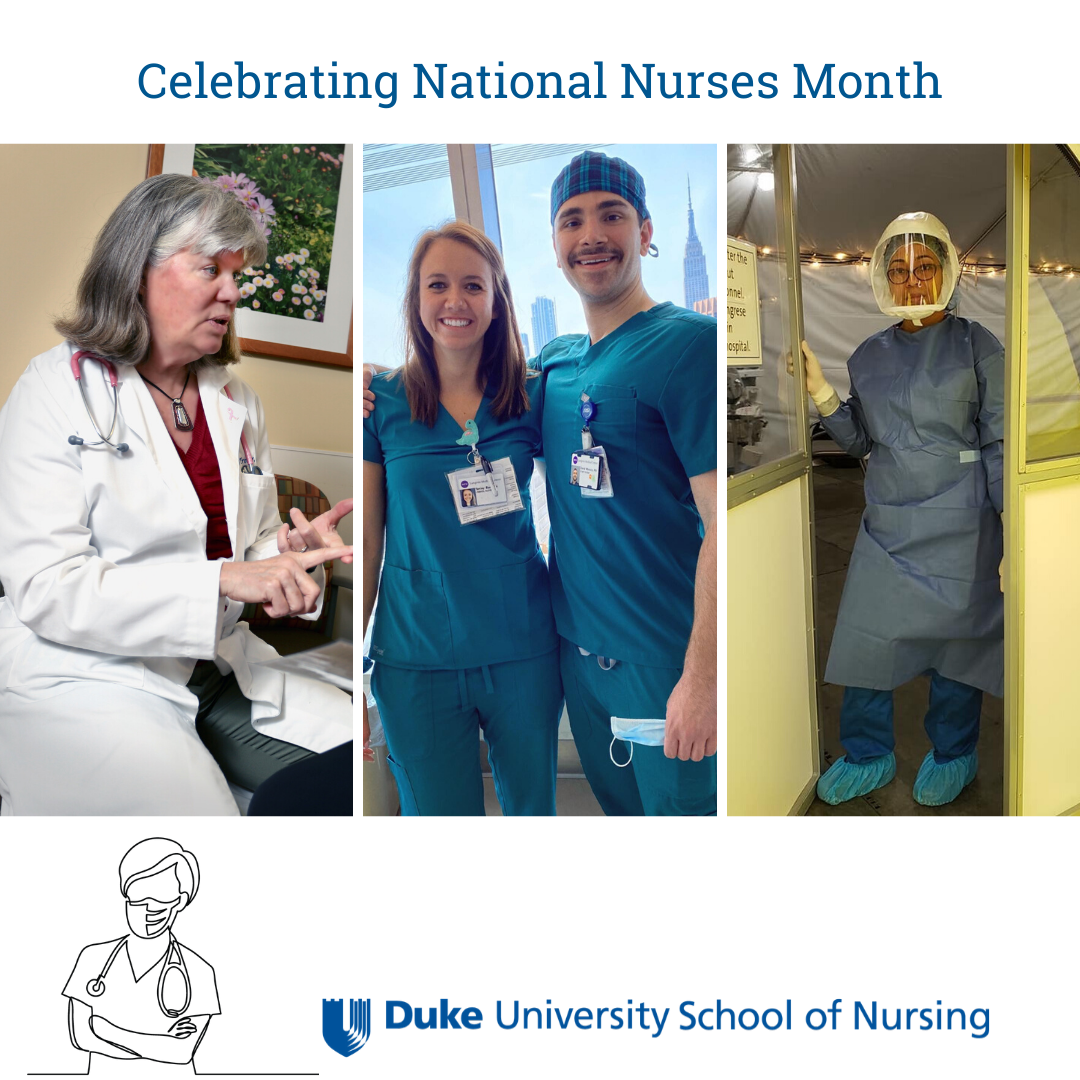 May 5, 2020
In honor of the International Year of the Nurse and National Nurses Month, Duke University School of Nursing (DUSON) celebrates the contributions of nurses in practice, education and research in addition to our nursing students. Thank you for devoting your lives to caring for individuals and families throughout the lifespan and across the health continuum.
Now more than ever, individuals across the country are recognizing the sacrifices and commitment nurses have for those they serve in their communities. What better way to honor these unsung heroes than by hearing from them on what it means to be a nurse during a global pandemic, why they chose the nursing profession and what they hope to see for the future of nursing.
Nursing During a Global Pandemic
Being on the frontlines of this crisis and facing uncertain conditions takes a bravery and a commitment to serve that is unmeasured. These nurses share what it means to be a nurse during this unprecedented time.
"I believe that now is the best time to be in the nursing profession because of the amazing partnership nurses share with the health care team and the community. Nurses have the knowledge base to make a lasting impact in health care as well as to provide exceptional patient-centered care. As a student, I am learning the importance of the work we do as nurses and that nurses play a vital role in health care today and every day," Megan Cardwell, ABSN'20 student, Greensboro, NC.
"Endless opportunities exist for nursing with a variety of ways to contribute to the good of others," Virginia "Chris" Muckler, DNP, CRNA, CHSE-A, director Nurse Anesthesia Doctor of Nursing Practice program,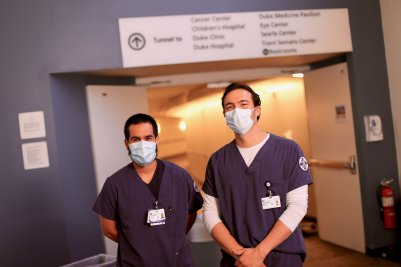 DUSON.
"Despite the stress, uncertainty and risks, nurses continue to show up to work, provide exemplary care and don't complain. The team work, comradery, professionalism and compassion exhibited by nurses is a gift and an unwavering strength," Anneka Huegerich, MSN Nursing and Health Care Leadership student, Chapel Hill, NC.
"This is a perfect time for nurses and advanced practice nurses to showcase their knowledge, skills and compassion as we take care of the world during this pandemic. Nurses are the most trusted profession, which is a testament to the profession and care we deliver," Maria Colandrea, DNP, NP-C, CORLN, CCRN, FAANP, consulting associate, DUSON.
"Now is an incredible, scary, life-changing time to join the nursing profession. I will be joining the frontlines in the emergency department. I am encouraged to know that I will be joining a team of hard- working nurses who are incredibly talented, brave and amazing at what they do. I will forever say that I started my career during a pandemic. I love a good challenge, and this for sure will be one. But I am so excited to learn, grow and change with the medical world as this pandemic has forced us to do," Mary Leibold, ABSN' 20 student, Long Island, NY.
"I believe that, for those called to nursing, this is what we prepare for. This is our Super Bowl. This is the time we rise to our best selves. Our reporting, our insight and our instinct combined with our innate caring are all critical to patient care and recovery. I strongly believe that the caring hand of a nurse has therapeutic value. Not only that, in the outpatient setting, we are instrumental in keeping people out of the hospital. We are talking to patients, picking up on their little clues about what is going on with them, and educating them again and again in order to empower them to care for themselves," Jennifer Pryde, BSN, RN, MSN Adult-Gerontology Nurse Practitioner student, Columbia, MD.
"What a year to be the Year of the Nurse! Nurses are innovative and adaptable and use evidence to improve outcomes for our patients. My role as both a clinician and educator has certainly felt different this year. I feel very proud to be teaching our future acute care pediatric nurse practitioners and equipping them to be able to treat and manage the whole patient no matter the situation. As a clinician, I feel that my nursing background has equipped me to quickly adjust to help our patients and families cope with this crisis. I have led our team to implement virtual rounding to help parents be part of family-centered medical rounds in the midst of visitor restrictions necessary for this pandemic," Sarah Tallent, DNP student and clinical instructor, Durham.
Pursuing your Purpose
The reason someone chooses to take an oath to care for others at their most vulnerable time can range from a personal connection to a strong desire to serve. These nurses share with us why they chose the nursing profession or why the nursing profession chose them.
"Growing up, I never imagined myself entering the nursing profession. Music is my biggest passion and first career path. While I had a successful career, including earning a Gold Record with Sony Music, something was missing. The sense of service inherent with health care attracted me. Nursing is the health care path I chose because I'm a people person, and we as nurses spend the most time with our patients," Steven Powell, MSN'19, Nursing and Health Care Leadership, Houston, TX.
"I decided to become a registered nurse approximately 11 years ago because I wanted to work on the frontline to help nurse critical patients back to their optimal state of wellness and health," La'Kita Knight, MSN, FNP-C, BSN, BSN, RN, PhD student, Charlotte, NC.
"Four years ago, I had an internship working with children with cerebral palsy in Shanghai. This experience humbled me and showed me humility, compassion, love and the power of nursing. I haven't looked back since, and I'm still thankful for this decision to go abroad. It changed my life," Kevin Gao, BSN, RN-BC, MSN Nursing Education student, New York, NY.
"I wanted to help people when they needed it most. I've found this to be very rewarding from the intensive care unit to primary care," Monika Trogdon, MSN, clinical instructor, DUSON.
"I have been a nurse for five years and have had multiple jobs with different patient populations. Each floor comes with its special challenges and rewards. I chose nursing at a young age. My sister broke her leg and was in a wheelchair for a year. Although in the grand scheme it seems like a minor event, it was at the age of 5 years old that I realized I thoroughly enjoyed helping others through hard times. I wanted to be a nurse! This career can test your limits emotionally and physically, but every day I am proud to be a nurse," Melissa Rutkin, MSN Family Nurse Practitioner student, Philadelphia, PA.
"I decided to become a nurse after my dad was diagnosed with cancer. He had a tumor in his eye, and the only place in the world he could receive treatment was in Boston, halfway across the country. The nurses there took great care of my dad and family. From then on, I knew I wanted to help people as they'd helped my family," Delora Prange, MSN Nursing and Health Care Leadership student, Wright Patterson Air Force Base Medical Center, OH.
"There is no greater honor than to provide exceptional care for someone else during one of the most vulnerable times in his or her life," Emily Funk, DNP, CRNA, assistant professor, DUSON.
Nursing of the Future
The nursing profession has evolved and matured over the past several decades, with millions of nurses working in more diverse settings and fields and taking a larger role in providing frontline health care services. Now more than ever, nurses are critical components in continuing to advance health care systems. These nurses share with us what they hope to see as the nursing profession continues to expand and make progress in the future.
"My hope is that as a profession, we can stay strong and unite in order to improve the health and wellbeing of all people around the world," Beth Phillips, PhD, RN, CNE, CHSE, director, Institute for Educational Excellence,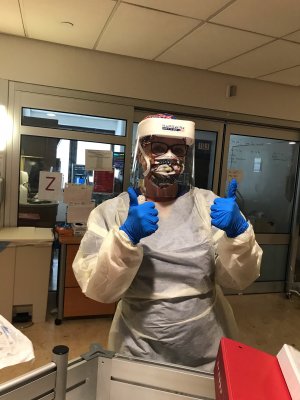 DUSON.
"(I hope to see) professional growth in leading initiatives within the hospital such as quality improvement initiatives," Staci Reynolds, PhD, RN, ACNS-BC, CCRN, CNRN, SCRN, assistant professor, DUSON.
"The knowledge obtained by nurses can be used to address a multitude of regional, national and even global concerns. Nurses are innovative beings, and we use our ingenuity to create change in the lives of many. Therefore, it is my personal hope that the future of nursing includes more diverse representation of nurses as educators, nurse practitioners, nurse scientists, even as lawmakers and politicians," Knight.
"Considering our current situation with the global pandemic, I hope that this pandemic brings attention to the public about the dangers inherent in the work that health care workers do and improves safety for all of us," AnnMarie Walton, PhD, MPH, RN, OCN, CHES, assistant professor, DUSON.
"I hope nurses are appreciated more. We are selfless, caring and loving people who will risk a lot for the greater good. I wish we as nurses will have more recognition and keep the courage, education, experience and care that made us heroes. I hope we stay remembered as heroes forever," Gao.
"I hope to see the continued development and advancement of the profession and for nurses to gain the respect they deserve. The general population doesn't know that nurses' research enhances patient care or that nurse practitioners have a holistic approach to health care unlike the medical model – this is better patient care. I want people to not ask 'Why didn't you become a doctor rather than a nurse?' We need smart, innovative, creative, thought-provoking, dedicated nurses. Also, better pay for all the work and responsibility that nurses assume," Kathy Viall Gallagher, BSN'75, Ambler, PA.
"I hope to see deliberate efforts made to invite diverse students into our profession who can mirror the population that they care for. I am encouraged by efforts toward a holistic admission process. My hope is that schools of nursing can offer the needed support to assure students' success," Margie Molloy, DNP RN, CNE, CHSE, assistant professor and assistant director Duke Interprofessional Education Center.