June 17, 2021
Image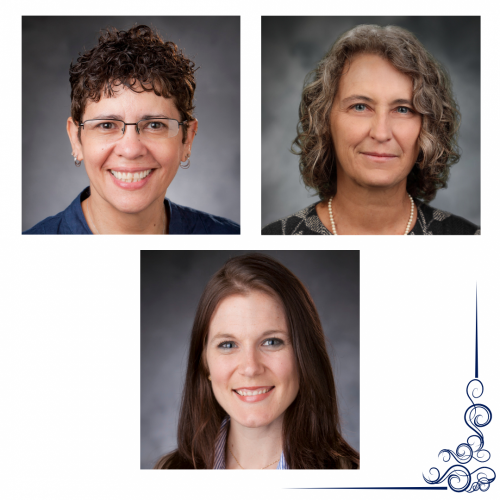 The organization announces Padilla, Edie among new Fellows and Kreider as award winner.
Three faculty members have been formally recognized by the American Association of Nurse Practitioners (AANP).
Blanca Iris Padilla, PhD, MSN, APRN, FNP-BC, and Alison H. Edie, DNP, APRN, FNP-BC, assistant professors, have been selected for the 2021 class of new fellows. Kathryn E. Kreider, DNP, APRN, FNP-BC, FAANP, associate professor, has received a State Award for Excellence.
Padilla and Edie will be officially inducted into the FAANP in September.
AANP Fellows (FAANP) are regarded as nurse practitioner (NP) leaders who have exceedingly contributed to education, policy, clinical practice or research and are committed to advancing the NP field. Currently, more than 874 leaders from across the country comprise the FAANP. The 2021 class consists of 38 NP leaders from 22 U.S. states and Vancouver, British Columbia.
Interested AANP members apply for fellowship after having at least two years of continuous AANP membership and identifying two sponsors to support them. Padilla is sponsored by Valerie K. Sabol, PhD, MBA, ACNP, GNP, ANEF, FAANP, FAAN, chair of the Healthcare in Adult Populations Division and professor, and Maria Colandrea, consulting associate.
"I am extremely honored and humbled to be recognized for the work that I am so passionate about," Padilla said. "I am grateful to have supportive and esteemed sponsors and colleagues who have contributed to my success."
Edie is sponsored by Anne L. Derouin, DNP, RN, CPNP, FAANP, assistant dean, Master of Science in Nursing Program and professor, and Angela Richard-Eaglin, DNP, FNP-BC, CNE, FAANP, assistant professor.
"I was pleased to be recognized by my peers and look forward to the opportunity to work with other fellows on issues related to nurse practitioner education and practice," Edie said.
The AANP annually grants the State Award for Excellence to one NP per state. These individuals are chosen based off their demonstrated excellence in clinical practice. Kreider, who was inducted into the FAANP last year, is a NP with Duke University Medical Center's Division of Endocrinology, Metabolism and Nutrition, where she has practiced for almost 13 years.
"I am humbled to receive this prestigious award from AANP," she said. "My clinical practice has been the most important foundation of my career, and I take great pride in caring for patients using a patient-centered, holistic approach."