DUSON Faculty & Staff Follow-up to University Message: Plans for Start of Spring Semester at Duke
Image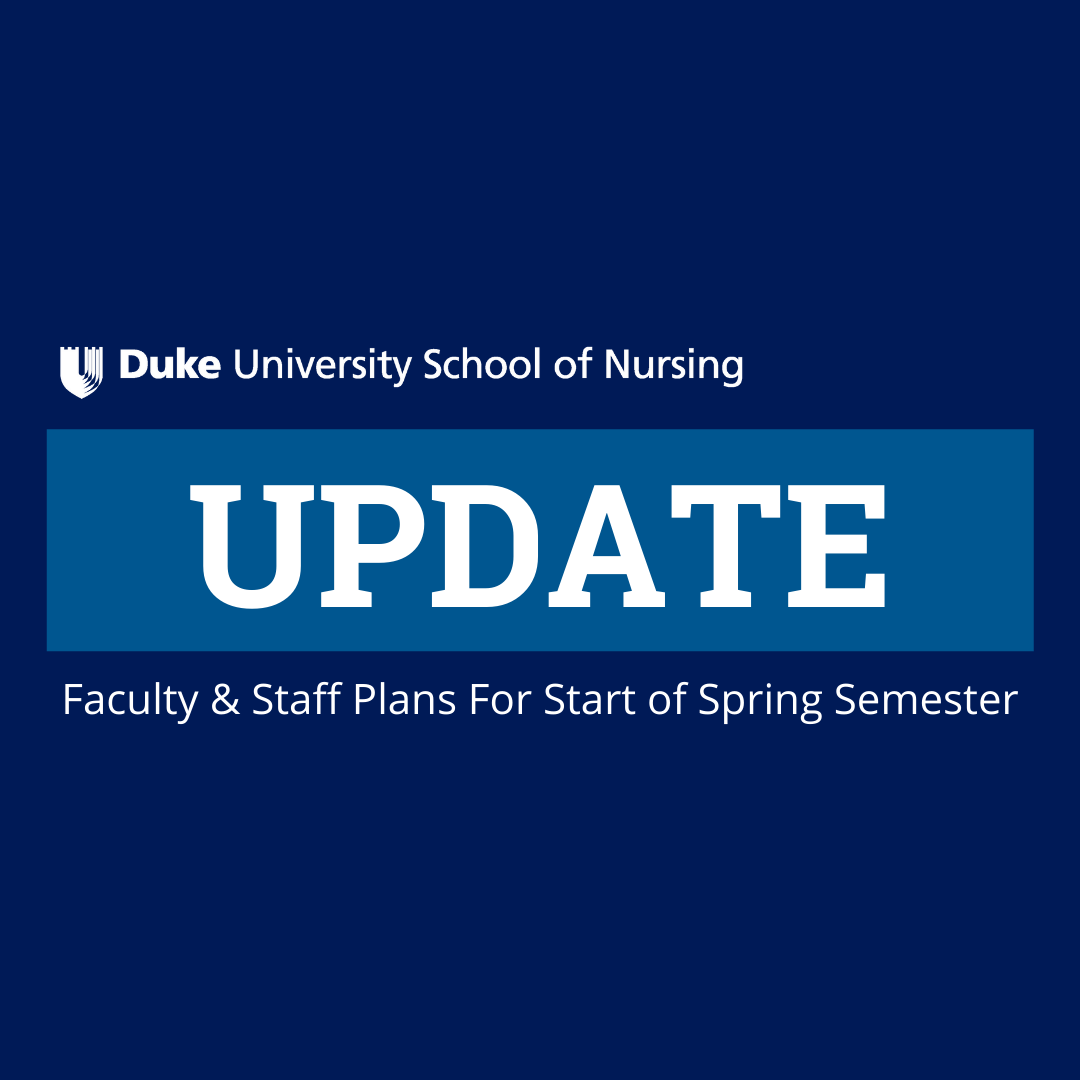 December 22, 2021
Editor's Note: The following message was sent to all faculty and staff from Dean Vincent Guilamo-Ramos on Wednesday, December 22, 2021.
Dear Duke School of Nursing Faculty and Staff,
The message is to inform you of a Duke University School of Nursing message that I sent to students at 8:20 p.m., in follow-up to the "Plans for Start of Spring Semester" message that Duke University shared earlier today, Wednesday, December 22. The Duke University School of Nursing message to students is included below.  
Consistent with university decisions, all Duke University School of Nursing didactic classes will be held remotely through Friday, January 7. We anticipate that normal operations, including in-person classes and labs, will resume on Monday, January 10. The message below provides information about student COVID-19 protocols, DUSON orientations, clinicals, and CND labs.
For faculty and staff affected by this shift in instruction, SON-IT is ready for classroom and technological support. At this time, the change to remote instruction is just for the first week of classes. Contact the IT Service Desk at 919-684-9200 or via email at SONIT-Support@duke.edu for assistance.
Staff should plan to work on campus on their normally scheduled days. Supervisors can work with staff around individual circumstances, as is the norm. Faculty and staff who are returning to the building that first week are asked to please avoid group gatherings and remember to continue wearing masks when not alone in an office.
I know this continues to be a challenging time and I want to thank you for your continued flexibility, patience, and resilience. Please continue to monitor your email for updates from the university and the school.
Sincerely,
Vincent Guilamo-Ramos
Dean, Duke University School of Nursing
Vice Chancellor of Nursing Affairs, Duke University