March 30, 2021
Image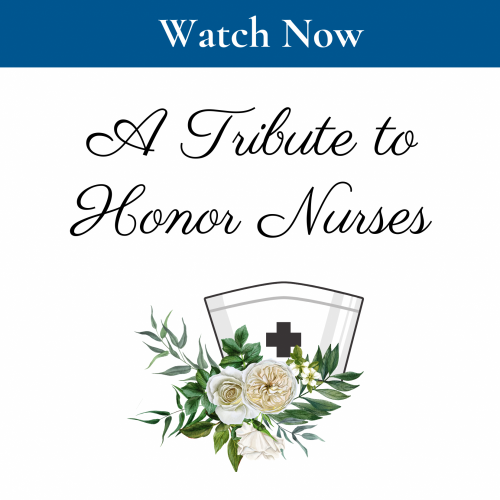 Nurses have long been the backbone of the health care system who have put the care of their patients first and foremost. This was never more the case as it has been throughout the last year, when the COVID-19 pandemic upended life as we know it.
To express a token of gratitude, the Duke University School of Nursing presents "A Tribute to Honor Nurses in the Duke University Health System and School of Nursing." The video premiered on the School's website (see below) and YouTube on March 30 at noon.
"This video is intended to salute the tremendous contributions of our School's nursing faculty, staff, students and alumni and of the Duke Health System nurses who have given so much of themselves during the pandemic over the past year," said Valerie M. Howard, EdD, MSN, RN, ANEF, CNE, FAAN, vice dean, Academic Affairs, and professor.
Speakers include:
Dean Marion E. Broome, PhD, RN, FAAN

Dean and Ruby Wilson Professor of Nursing of Duke University School of Nursing; Vice Chancellor for Nursing Affairs, Duke University; Associate Vice President for Academic Nursing, Duke University Health System

Reverend Bruce Puckett

Assistant Dean, Duke University Chapel

Ernest Grant, PhD, RN, FAAN

President of the American Nurses Association

Richard Ricciardi, PhD, CRNP, FAANP, FAAN

Professor at George Washington University and President of Sigma Theta Tau International

Dana Robinson, MSN, APRN, NNP-BC, CCRN

BSN'14, MSN'19 and Critical Care Nurse Practitioner- Neonatology, Duke University Health System

Duy-Tan Ngo, MSc
Mary Ann Fuchs, DNP, RN, NEA-BC, FAAN

Vice President of Patient Care & System Chief Nurse Executive, Duke University Health System; Associate Dean of Clinical Affairs, Duke University School of Nursing
Performers include:
Jennifer Forsman-Stoyell, DNP, APRN, FNP-C

MSN'17 and Family Nurse Practitioner, Starlight Pediatrics

Valerie Howard, EdD, MSN, RN, ANEF, CNE, FAAN

Vice Dean of Academic Affairs

Brigit Carter, PhD, MSN, RN, CCRN

Associate Dean, Diversity, Equity and Inclusion

Lisa Barker, RN, BSN, CCRN
Nurse Manager of Operations, Duke University Hospital
The Nightingales

o Duke School of Nursing a cappella group
Thank you to our entire School community and to the Duke Health nurses for your sacrifices and contributions throughout the pandemic. We celebrate and salute you.