DUSON's Position Jumps in QS World University Rankings
March 5, 2021
DUSON improved its position among QS World University Rankings for nursing by being named the #10 highest ranked nursing program globally for 2021.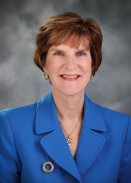 "Duke University School of Nursing is thrilled to be among the top 10 best schools of nursing in the world. This is testament to the extraordinary research being conducted by our faculty and exceptional educational programs we offer," said Marion E. Broome, PhD, RN, FAAN, dean and Ruby Wilson Professor of Nursing, vice chancellor for Nursing Affairs for Duke University and associate vice president for Academic Affairs for Nursing for Duke University Health System. "Being ranked among the top schools of nursing in the world is because of the innovation, leadership and commitment to improving the human condition by our faculty and staff.
Over the last decade, we have deepened our global presence through focused and mutually beneficial partnerships with schools of nursing around the world. As a school, we learn from as much as we give to our global partners and so value those collaborations."
The QS World University Rankings for nursing are based upon academic reputation, employer reputation and research impact. For the 2021 rankings, QS World University Rankings identified the top 150 schools of nursing from around the world were ranked.
We congratulate the entire DUSON community for their continued success!