July 8, 2020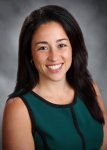 Kudos to Multi PIs Rosa Gonzalez-Guarda, associate professor, and Krista Perreira (UNC-CH) and their entire team for the submission of their NIH NCATS (R21) proposal entitled: "CASA Latina: Community Academic Strategic Alliance for Research with Hispanic/Latino(x) Populations." This project requests funding for a two-year period with a proposed start date of April 1, 2021.
Hispanic/Latino(x) (herein referred to as Latinx) communities are underrepresented in clinical research. In fact, Latinx people in the U.S. represent 17-percent of the U.S. population yet make up less than eight-percent of research participants in NIH clinical trials. The underrepresentation of Latinx communities in research is problematic as it limits the ability to generalize new discoveries in health to this population. If the underrepresentation of Latinx communities in clinical research is not addressed, documented disparities in cancer, cardiometabolic diseases, mental health, and, as of late, COVID-19 will continue to grow alongside continued growth of this population. Institutional barriers to research participation in this population include limited bilingual and bicultural researcher workforce capacity, lack of awareness of researchers regarding the importance of engaging Latinx communities in research and effective engagement strategies, and lack of infrastructure to support community-academic partnerships.
This project proposes a partnership among two of the Clinical and Translational Science Award (CTSA) hubs in North Carolina, Duke University and the University of North Carolina, Chapel Hill (NC-CH), and leading Latinx serving community-based organizations (CBOs) in proximal communities.
A mixed-method, community-engaged research (CEnR) approach will be taken to:
1) Develop a comprehensive Community Academic Strategic Alliance with Latinx communities (CASA Latina) that includes:

a) a bicultural research advisor certificate program housed within CBOs;

b) research engagement training for academic researchers; and

c) CEnR navigators to reduce systemic barriers to Latinx research inclusion in academic institutions; and

2) Examine the feasibility, acceptability and the preliminary impact of CASA Latina to advance Latinx research engagement in clinical research.
First, input from a multi-stakeholder group of community and academic partners and data from six focus groups with other stakeholders (n = 36 – 48) will be used to co-develop and manualize a comprehensive CASA Latina Program. Then, we will pilot test the three different components with community-dwelling Latinx advocates housed within CBOs (n = 10), academic researchers (n > 50), and clinical research coordinators (n = 4). A pre/posttest single-arm design and exit interviews will be used to assess changes in basic knowledge of clinical research, awareness of the importance of engaging Latinx people in clinical research, advocacy for scientific equity for Latinx communities both external and internal to the institution, and ability to create solutions for the challenges involved in Latinx inclusive CEnR. Satisfaction with the training, materials, and quality of CASA Latina will be assessed, alongside shifts in trust in clinical research.
Findings from this study will be used to inform a larger implementation trial of this CASA Latina approach and can serve as a national model to enhance Latinx engagement in clinical research in other CTSA hubs with low Latinx research engagement.