April 23, 2020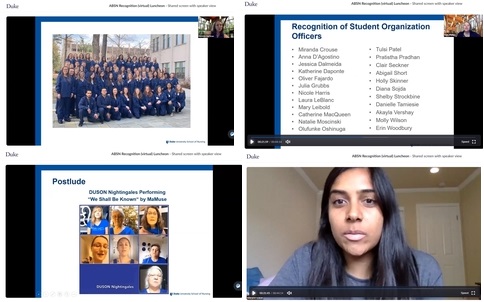 ABSN cohort was celebrated on April 20 through a virtual luncheon. More than 112 students, staff, and faculty from the program and from the general School of Nursing community signed in to the Zoom-based event.
The stream lasted almost 45 minutes, being kicked off by Michelle Hartman, assistant professor. Several faculty, staff, and students were recognized throughout the event.
ABSN student Meera Narayanan came on to give what would have been her graduation speech. Traditionally, this event doesn't feature a student speaker, but, given COVID-19's impact on graduation, an exception was made for this year's occasion.
"We are essential," she said. "We are currently in the 'Mission Impossible: Rouge Nation' movie where they go, 'Your mission, should you choose to accept it, is to be there for your patients. Pursue it, and you'll make a difference. Resist it, and many people in the world will miss the care you have to provide.' That's what it feels like. We are fighters, and we are trained to get out there. We are needed now more than ever."
Recordings were played of the School of Nursing's Nightingales chorus performing "We Shall Be Known" by MaMuse and the Duke University alma mater "Dear Old Duke," to which the attendants were invited to sing along. Dean Marion Broome spoke to help conclude the event.
Awards
The cohort was polled and awarded the following:
Faculty Embodiment of Duke University's Guiding Principles
Faculty Excellence in Teaching
Jacquelyn McMillian-Bohler

Margie Molloy
Excellence in Clinical Teaching
Staff Excellence
Student Embodiment of Duke University's Guiding Principles
Rachel Castillo

Jeremy Lawson
Other awards and recognitions included:
Recognition of Student Organization Officers
Miranda Crouse

Anna D'Agostino

Jessica Dalmeida

Katherine Daponte

Oliver Fajardo

Julia Grubbs

Nicole Harris

Laura LeBlanc

Mary Leibold

Catherine MacQueen

Natalie Moscinski

Olufunke (ID) Oshinuga

Tulsi Patel

Pratistha Pradhan

Clair Seckner

Abigail Short

Holly Skinner

Diana Sojda

Shelby Strockbine

Danielle Tamiesie

Akayla Vershay

Molly Wilson

Erin Woodbury
Recognition of Peer Tutors and Note Takers
James Arnold

Lindsey Bonando

Miranda Crouse

Nicole Harris

Gina Labate

Mary Leibold

Stephanie Lin

Catherine MacQueen

Natalie Moscinski

Pratistha Pradhan

Holly Skinner

Diana Sojda

Shelby Strockbine

Paula Venables

Kaylin Wilson
Recognition of Peer Mentors
Lindsey Bonando

Dorothy Brooke Branigan

Rachel Castillo

Rachel Catlin

Miranda Crouse

Anna D'Agostino

Katherine Daponte

Oliver Fajardo

Sara Greene

Julia Grubbs

Nicole Harris

Yunah Kang

Jaclyn Latvis

Stephanie Lin

Catherine MacQueen

Natalie Moscinski

Meera Narayanan

Tulsi Patel

Logan Polsinello

Kelsey Schaad Feaver

Clair Seckner

Abigail Short

Holly Skinner

Shelby Strockbine

Molly Wilson

Sarah Woodard

Erin Woodbury
Recognition of CALD Mentors
Yunah Kang

Jaclyn Latvis

Stephanie Lin

Catherine MacQueen

Meera Narayanan

Pratistha Pradhan
Recognition of Cohort Coordinator
Recognition of Class Representatives
Anna D'Agostino

Rachel Castillo