GWEP Program Fellow Provides Training to Guides of Nasher's Tours
Image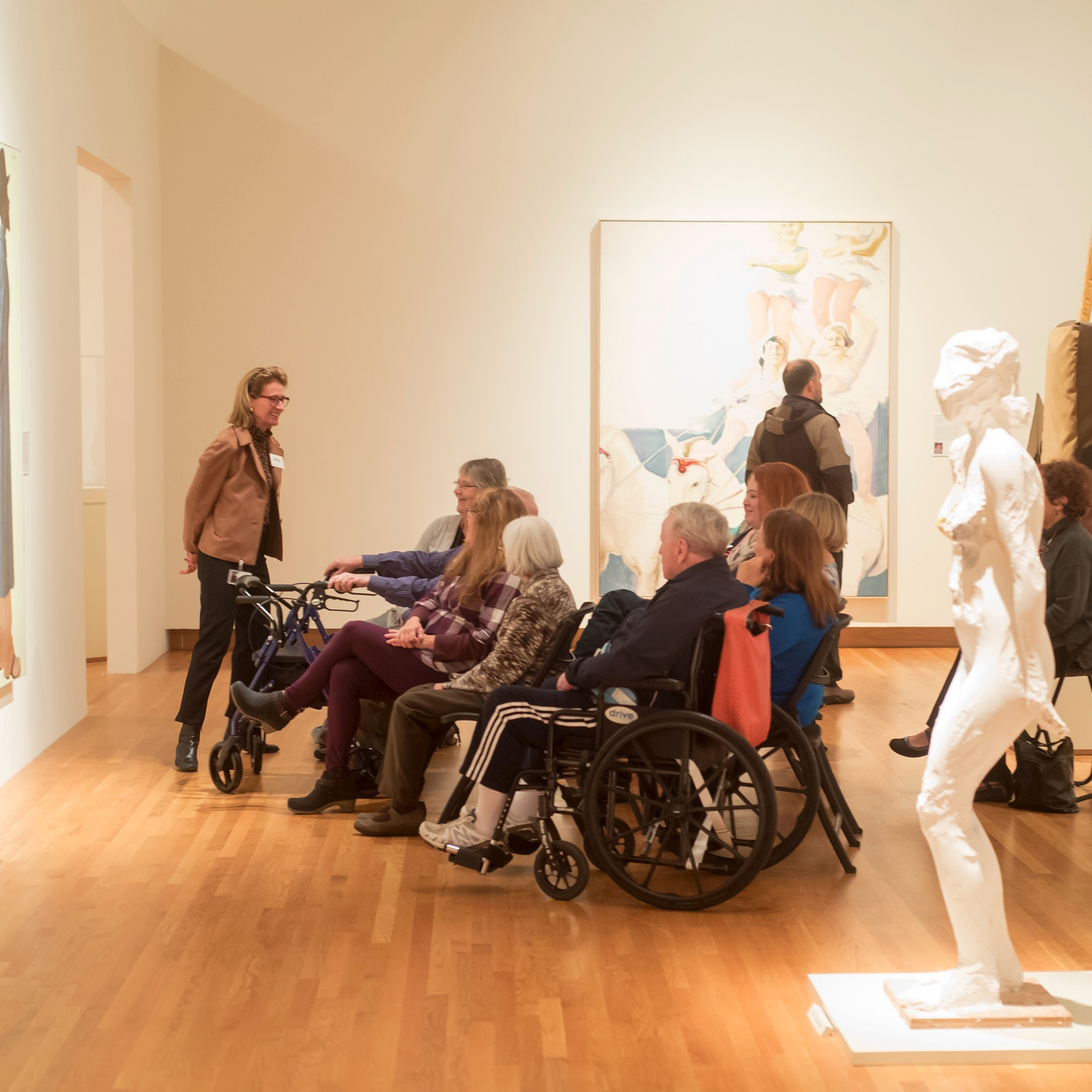 May 22, 2019
On a bright spring day, nurse practitioner Dakar Howell and physical therapist Lauren Waits met with a group of eight eager tour guides in a back room of Duke University's Nasher Museum of Art. They weren't preparing for just any museum tour, however. The volunteers are to be guides in the Nasher's Art Reflections Program for people living with Alzheimer's Disease and dementia.
The Reflections Program engages these individuals and their care partners through interactive museum tours that include guided discussions through the many visually inviting art galleries, as well as live musical performances and hands-on art experiences. These special tours offer the opportunity to enjoy art in the moment and to engage with the current exhibitions using multiple senses.
"The training Lauren and I provided to the Reflections program guides focused on the best ways to accommodate guests by ensuring they have adequate rest periods, incorporating restroom breaks more often in the tour and best practices on how to engage with and retain guest's attention, ensuring the time spent in the tour results in a meaningful experience," Howell says.
Howell, DNP, AGNP-C, a fellow of the Geriatric Workforce Enhancement Program (GWEP), and Waits, DPT, PT, a physical therapy resident from the Durham VA, explained the Reflections program and gave tour guides perspectives of individuals  with Alzheimer's or Dementia.
Studies show that individuals living with Alzheimer's or Dementia who participate in engaging activities have an increased quality of life, less depression and are able to maintain activities of daily living.
"It's my hope that the Reflections program adds quality to the lives of individuals living with Alzheimer's and Dementia and that they continue to stay involved in experiences that engage their senses," Howell says.
The tour experience offers its special guests the opportunity to engage and socialize without the fear of becoming stressed due to unfamiliar situations and also offers a space where these individuals can discuss new ideas and enjoy their visually appealing surroundings.
"Because Dakar and Lauren work with individuals living with Alzheimer's and Dementia every day, they were able to teach us how to most effectively communicate and interact with our guests," says Brittany Halberstadt, education assistant for the Reflections program.
ABSN students in Duke University School of Nursing's course "Gerontological Nursing—Caring for Older Adults and their Families" also take part in the Reflections Program to gain ideas for how to interact with patients who are experiencing age-related decline and gain the opportunity to learn new approaches to connect with patients.
"The partnership between the Nasher Museum of Art and the Duke School of Nursing is a new and successful approach to connecting with dementia patients," says Jill Brennan-Cook, DNP, RN, CNE, assistant professor. "Our students had an opportunity to view the art, see the colors and take note of how it made them feel. After viewing the art, students and faculty had a discussion on how the reflection experience can positively impact nursing practice for this special population."
The Reflections program recently celebrated its fourth anniversary and has offered tours to more than 2,000 individuals living with Alzheimer's and Dementia and their care partners. The program offers eight tours a month with two to three guides present on each tour. Learn more about Duke University's Nasher Museum of Art's Reflections tours here.
Editors Note: This article is published in May in correlation with Older Americans Month, led each year by the Administration for Community Living (ACL). This year the theme "Connect, Create and Contribute" ACL encourages older adults and their communities to connection with friends, family and services that support participation; create by engaging in activities that promote learning, health and personal enrichment; and contribute time, talent and life experience to benefit others.