July 14, 2021
Image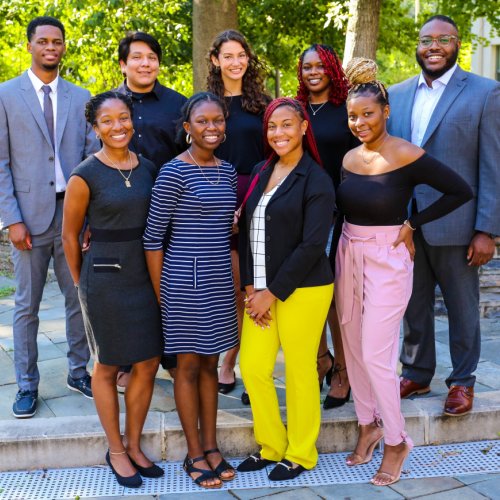 The Academy for Academic and Social Enrichment and Leadership Development for Health Equity welcomes their final cohort of Health Equity Academy II (HEA II) Scholars. These nine HEA II Scholars are Troy Duncan, Mitchell Schurz, Sophia "Sophie" Forte, Bria Allen, Ryan Lawton, Marlana Rawls, Oluwadamilola "Dami" Oluwadara, Tyease Jenkins and Maimouna "Mai" Barry.
The scholars have been on campus participating in the Pre-Entry Immersion in Nursing (PIN) program since June 27; the program will continue until July 23. During this four-week experience, scholars are living on campus and working with Duke faculty, advisors and mentors to develop an enhanced understanding of social determinants of health by exploring health access, health disparities and health equity.
The summer program includes: intersection of professional nursing practice and social determinants of health; pathophysiology case studies/guided reading; social determinants of health and community assessment; socialization to nursing weekly seminars; mentored shadow experiences and teambuilding and leadership development seminars.
HEA II is a federally-funded nursing workforce diversity project committed to the development of minority nurse leaders with an understanding of and commitment to addressing the relationship between social determinants of health, health access, health disparities and health equity. HEA II Scholars are high-achieving/high-potential students who are underrepresented in nursing. 
Biographies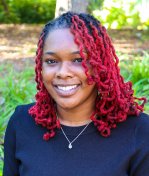 Bria Allen was born and raised in the nation's capital, Washington, D.C. She is a proud Spring 2021 graduate from Winston Salem State University, located in North Carolina. As a first-generation college student, Allen graduated with a Bachelor of Science in Biology with a concentration in pre-health with a magna cum laude distinction and became a member of Tau Sigma Honors Society. She discovered her passion in the nursing field many years ago and dedicated her path to achieving her goals. In doing so, she volunteered at multiple hospitals in North Carolina, attended conferences and workshops and participated in Mentoring to Increase Access to Health Professions (MAP) in 2018 at Duke University. While gaining experience in the MAP program, Allen was able to shadow a certified registered nurse anesthetist (CRNA), which confirmed the path of nursing that she has always aspired. Her long-term goal in the nursing field is becoming a CRNA. By participating in HEA II program, Allen hopes to gain exposure to the nursing field, mentorship and knowledge to help her become a well-rounded nurse.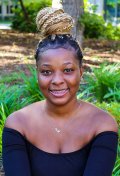 Maimouna "Mai" Barry was born and raised in Middletown, Del. She received a Bachelors of Science with a minor in forensic science from University of Delaware. In addition to being enrolled into 15-plus credit semesters, she dedicated her time on campus as a mentor, work-study student, board member of the Cultural Programming Advisory Board and even spent the summer of 2020 conducting research under her professor. Her research focused on the racial disparities of Black women in health care with medicine's relationship to slavery. While in school, she worked as a medical scribe/assistant gaining real world experiences at Christiana Care Urgent Care, Bayhealth ER, Delaware Vision and Interventional Pain/Spine center. Upon completion of the ABSN program, she plans to become an ICU nurse and begin travel nursing. After gaining a few years of experience, she aspires to complete her Masters in Nursing to complete her goal of becoming a nurse practitioner. Eventually, she plans to pursue her PhD in nursing and become a college professor. She wants to teach nursing students how we can fight against racial disparities in health care and how medical racism is still unfortunately with us today. She believes the HEA II program will allow her to expand her network in nursing, bring positive change to minority communities and help build her leadership skills which will allow her to become a great nurse in the near future.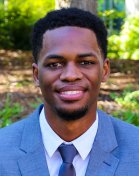 Troy Duncan is excited to be a part of this upcoming cohort. He spent most of his life in Stamford, Conn., but was originally born in Jamaica. Duncan attended Stamford High School and recently graduated from Duke undergrad as a member of the class of 2021. He is grateful for the opportunity to continue his education at my alma mater. At Duke, he majored in sociology, minored in biology and was involved in student groups such as Duke Black Men's Union, Black Student Alliance, and Students of the Caribbean. His studies were focused on the sociology of health care and explored the ways that health could be impacted beyond the physical setting of a provider's office. He learned about the disparities that existed, and it compelled him to be a part of the solution. As a result, HEA II caught his attention because it presented a way to enrich his education with practical, hands-on experience with health equity. Troy is eager to explore the nursing profession with you all and get to know everyone!
Sophia "Sophie" Forte is from Centreville, Virginia. She recently graduated from Virginia Tech this past May with a Bachelor of Science degree in human, nutrition, fitness and exercise. Forte was a member of Alpha Phi Omega, a service fraternity, where she participated in projects at the adult day center and local daycare and performed manual labor around the Blacksburg area. Her goal, after receiving her ABSN, is to work in trauma units as well as labor and delivery. She has a passion for helping others and is excited to continue this in her nursing career. Forte's long-term goal is to become a women's health nurse practitioner and further help women of all backgrounds receive the proper care they need. She is excited to be participating in the HEA II program to work with faculty and other students in furthering her knowledge of health care disparities, as well as learning ways to improve health care access and advance the quality of the health care field for both patients and healthcare professionals. Along with this, she hopes to improve her leadership skills, so she can continue to work on social enrichment and health equity throughout her nursing career.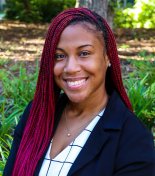 Tyease Jenkins was born and raised in Sumter, S.C. In April 2021 she graduated cum laude with a Bachelor of Science degree in Biology with a minor in chemistry from Claflin University in Orangeburg, S.C. During her matriculation she did an internship with the Medical Experience Academy in Greenville, S.C., where she collaborated with colleagues and shadowed professionals. She also did undergraduate research where she conducted hands-on experiments for publishing. She has joined a few organizations while at Claflin University including Delta Sigma Theta Sorority, Inc. Jenkins is interested in specializing in labor and delivery or travel nursing after becoming a nurse. She believes that the HEA II program will allow her to connect with different individuals and to get a different perspective on nursing. This program will also help with developing leadership skills. Jenkins is eager to be around people that have the same mindset as her and are supportive. She believes that the HEA II program will help her be more resilient than she has ever been before!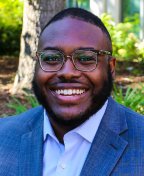 Ryan Lawton spent his childhood growing up in metro Atlanta. He attended the University of North Carolina at Chapel Hill and earned a Bachelor in Science in Business Administration with emphases in consulting and marketing. Post-undergrad, Lawton worked as a management consultant with PwC. At PwC, he helped drive projects that focused on globally expanding influenza vaccine brands, launching rare disease pharma products in both U.S. and European markets and reducing the total cost of care (TCoC) for a large midwestern health system. While co-managing TCoC projects that centered on providing standardized care and implementing value-based health care, Lawton again yearned for direct patient care and realized his passions would not be fulfilled on the administrative side of health care. Although yet to be confirmed, he believes critical care or emergency trauma nursing will best suit his personality and career goals. Long term, Lawton plans to gain more education and become an advance practice provider. He believes HEA II will hone his drive for implementing equitable health care that better incorporates affordability, quality, timeliness and personalized health education for Black, Native and Latinx populations.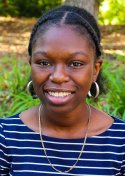 Oluwadamilola "Dami" Oluwadara is a Nigerian American. Born and raised in Boston, Mass., by her two Nigerian parents and is the youngest of six siblings. After winning the national Posse Foundation Scholarship during her senior year of high school, she attended Union College in Schenectady, N.Y., where she was a residential advisor, led several on-campus clubs and traveled to Ghana for a medical service trip, where she was reminded of her passion for nursing and global health. In 2021, Oluwadara graduated summa cum laude from Union with a Bachelor of Science in Biomedical Engineering. Throughout her educational journey, she has interned with the Boston Area Health Education Center, Boston Children's Hospital and Mass General Hospital. She is excited to continue her educational journey at DUSON as a HEA scholar and dive deeper into health equity, the social determinants of health, and how she as a future nurse can combat these issues. She looks forward to applying her knowledge to research and global health.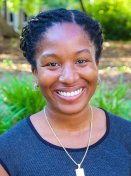 Marlana Rawls was born and raised in Jacksonville, Fla. For the past 10 years, she has called Gainesville, Fla., her home. She graduated from the University of Florida with her bachelor's in family, youth, and community sciences and master's in early childhood education. During her studies, she worked at Baby Gator Child Development and Research Center where she advanced over the years to become a lead teacher working with children ranging from six weeks to five years old. In 2018, she worked as an infant/toddler program coordinator. She successfully led the development of infant and toddler classrooms in a preexisting childcare center. Rawls currently works at a non-profit childcare center as a lead implementation coach where she mentors and coaches early care and education professionals on the use of evidence-informed practices in the classroom to enhance learning and care for young children within the underserved community. Beyond her role as a coach, she also coordinates parent involvement events, specifically geared towards providing families with tools and strategies to support the development of their children. She aspires to be a neonatal or pediatric nurse where she can merge her early childhood and health care experiences to further support and educate families within underserved communities on their child's development. Rawls looks forward to being a part of HEA II because she believes it will provide her with a different perspective on social disparities as it relates to health within underserved communities and educate her on how she can foster a change and support in her role as a nurse.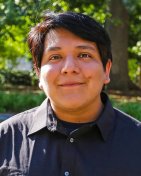 Mitchell Schurz is from the Fort McDowell Yavapai Nation located east of Phoenix, Ariz. He is the second born to Deanna Wathogoma (Yavapai) and the late Jeremy Schurz Sr. (Salt River Pima). He lived on the Fort McDowell reservation until he was 18 and then moved to Eugene, Ore., where he attended the University of Oregon to study general social sciences with an emphasis in crime, law and society. Schurz also earned a minor in English and a certificate in secondary education foundations from the College of Education. While attending the University of Oregon, he had the opportunity to take courses focused on the Indigenous population. After learning about the blood, sweat and tears that several reservations have been through, he desired a career which would focus on helping the Indigenous population. During his final term of college, he was working as a caregiver. While talking with the nursing staff, a nurse for a First Nations community spoke about how rewarding it was to help the community improve their health. Schurz loved his time as a caregiver and knew that he would be a nurse that focused on improving the health of Indigenous communities. In the Health Equity Academy, he wants to look at how the health care team cares for the Indigenous population and where staff members can be more culturally competent when caring for Indigenous people. He is excited to toss ideas around with a diverse group of people who want to achieve equity in health care. 
More about HEA II
This program (The Academy for Academic and Social Enrichment and Leadership Development for Health Equity II) is supported by the Health Resources and Services Administration (HRSA) of the U.S. Department of Health and Human Services (HHS) under grant number D19HP30844-01-01 as part of an award totaling $1,907,854 with 10 percentage financed with non-governmental sources. The contents are those of Dr. Brigit Carter's, associate dean for diversity, inclusion and equity, and do not necessarily represent the official views of, nor an endorsement, HRSA, HHS or the U.S. government.