In Memoriam: Celebrating the Extraordinary Life of Dean Emerita Ruby Wilson
A Visionary Leader in Nursing Education and Healthcare Advocacy, Dean Ruby Wilson's Legacy Endures
Image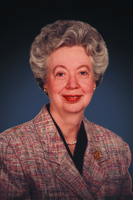 August 8, 2023
The nursing community and all whose lives have been touched by her legacy mourn the passing of the esteemed Ruby Wilson. The former Dean of the Duke School of Nursing (DUSON) passed away peacefully in her home on July 31, 2023, leaving behind a profound void in the hearts of her family, friends, colleagues and admirers.
Dean Emerita Wilson's exceptional journey in nursing began with her academic achievements and her early service as a clinical instructor at Allegheny General Hospital School of Nursing in Pittsburgh, Pennsylvania. She then pursued her education at the University of Pittsburgh, graduating with a B.S.N.Ed. in 1954. Her pursuit of knowledge and desire to broaden her horizons led her to Duke University School of Nursing, where she served as an instructor in Advanced Medical-Surgical Nursing from 1955 to 1957, contributing to the development of their new BSN program.
Throughout her career, Wilson continuously sought to expand her expertise, completing an MSN at the Frances Payne Bolton School of Nursing at Case-Western University in 1959 and earning a doctorate (Ed.D.) from Duke University in 1971. Her thirst for knowledge took her beyond borders, where she served as a visiting professor and consultant in nursing with the Rockefeller Foundation in Bangkok, Thailand, contributing to the establishment of vital healthcare programs.
In 1971, Wilson was appointed Dean of the Duke School of Nursing, a position she held with unwavering dedication until 1984. Her visionary leadership and passion for nursing education shaped the school into an esteemed institution known for innovation and excellence.
In addition to her illustrious career, Wilson was deeply devoted to her community and actively involved in various organizations, advocating for healthcare and nursing issues at the state and federal levels. Her commitment to the well-being of others extended beyond her own community to international initiatives, reflecting her global perspective on nursing's impact.
Current DUSON Dean Vincent Guillamo-Ramos, Ph.D., MPH, LCSW, RN, ANP-BC, PMHNP-BC, FAAN, said that the DUSON family and community will forever be grateful for the impact Dean Emerita Wilson made on faculty, staff, students, and in the field of nursing. "Although this is a time of grief, it is also a time to commemorate her contributions and honor and build off her legacy," Ramos said.
Following her passing, Dean Emerita Wilson's care has been entrusted to the Hall-Wynne Funeral Home in Durham. In accordance with her wishes and to honor her family ties, interment will take place at the Wilson family cemetery plot in Smicksburg, Pennsylvania, under the care of McCabe Funeral Home. To celebrate her extraordinary life, a Celebration of Life is being planned in the fall to allow distant family members and friends to gather and pay their respects. 
As we bid farewell to Dean Emerita Ruby Wilson, let us remember the indelible mark she has left on the nursing profession, her relentless pursuit of excellence, and her commitment to compassionate care. She has departed this world, but her legacy lives on in the hearts of countless nurses and healthcare professionals she inspired.