Message from the Dean: DUSON Welcomes McGee to Faculty
February 26, 2020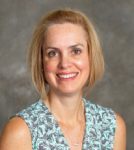 I am pleased to announce Kara McGee, DMS, MSPH, PA-C, AAHIVS will join DUSON's full time regular rank faculty on May 1, 2020. She will be a member of the Healthcare in Adult Populations Division and will assume an integral role in the MSN program's HIV Specialty. Some of you may know Kara as she has been teaching with us in this specialty for many years.
Dr. McGee holds a BS in Biology and Medical Technology from the Catholic University of America, an MS in Public Health from UNC-CH, and a Doctor of Medical Science from Lincoln Memorial University, Debusk College of Osteopathic Medicine. She completed her Physician Assistant degree at SUNY Stony Brook in 1994 and is certified HIV Specialist by the American Academy of HIV Medicine.
Dr. McGee has been practicing HIV medicine for 14 years and is currently a physician assistant in the Duke Health Adult HIV Clinic. She also practices at a community health center in Henderson, NC with focus on HIV and primary care in rural populations.
As a Consulting Associate at DUSON, Dr. McGee helped develop the HIV specialty program for nurse practitioner students and is lead faculty for the Psychosocial, Legal, Political and Ethical Aspects of HIV course. She has been a clinical instructor for the Physical Assessment and Diagnostic Reasoning in Advanced Practice Nursing course since 2011. She is also faculty for the Cultural Determinants of Health and Health Disparities course taught to first year medical students in the School of Medicine.