More than 70 Participants Attend 2020 Access for Immigrants Community Health Symposium
February 5, 2020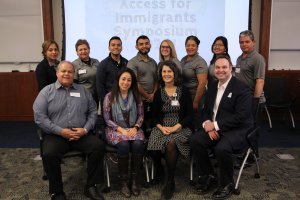 The SER Hispano Project and D-CHIPP joined to host the third annual Access For Immigrants Community Health Symposium: Affirming Communities, Cultivating Resilience on February 1. More than 70 community members, students, staff and faculty came together to learn about best practices, current research and lived experiences of immigrants, asylees, and refugees living in the Triangle area.
Participants were welcomed to DUSON by the SER Hispano team and learned about the project's preliminary baseline outcomes  from Principal Investigator, Rosa Gonzalez-Guarda.  Afterwards, concurrent sessions addressing mental health, domestic violence, immigration law, HIV/AIDS in the South and community resources took place throughout the day.
Participants were excited to learn from one another and put into practice what they learned. Many had positive feedback about the event:
"This was an amazing conference where, as an immigrant, I was able to relate and bring words to my own feelings."

" The session of policy and immigration law was one of the best quick sessions that have helped me so much. My father is currently in an immigration case and this was very very helpful. Thank you."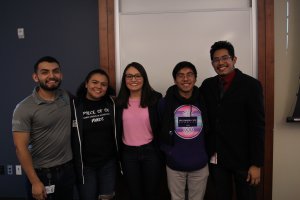 The sessions ended with a panel of youth from the community sharing their experiences and how they define resilience and would wish others, adults included, would listen. "The youth were inspirational," one participant shared.
To end the day, participants were invited to a Design Thinking session led by Heather Mountz, D-CHIPP program coordinator, where they were given an opportunity to share their ideas and hopes for what the immigrant community needs now.