MSN Student Adrianne Sapienza Visits White House to Discuss Affordable Care Act and Medicaid
Adrianne Sapienza cites her education at Duke School of Nursing as contributing to her earning the invitation.
Image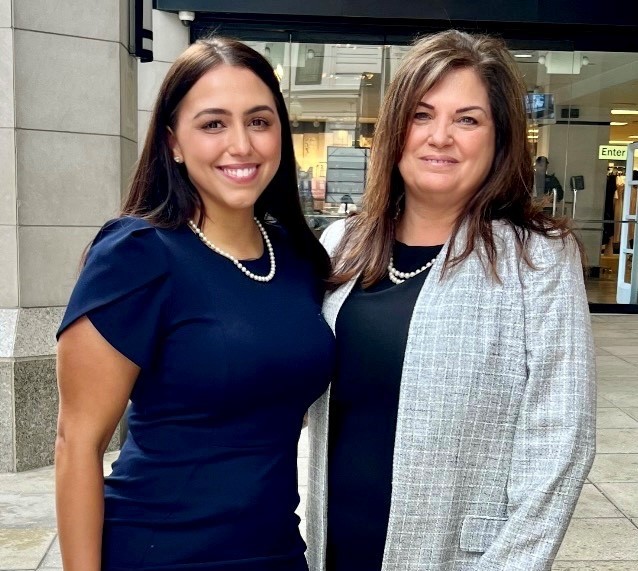 May 18, 2022
When Adrianne Sapienza, Master of Science in Nursing (MSN) student and diabetes nurse educator, heard President Joe Biden speak about the Affordable Care Act and capping insulin prices during his State of the Union Address on Tuesday, March 1, 2022, she was compelled to write him a letter — in part because of her education at the Duke University School of Nursing.
Her letter landed her a formal invitation from the president to attend the "Strengthening Access to the Affordable Care Act and Medicaid" event at The White House on Tuesday, April 5, 2022.
"It was an amazing experience," Sapienza said. "I have always loved health care, and my drive for patient advocacy comes from my personal health experiences. In my letter to President Biden, I thanked him for the work the administration has been doing to provide health care to everyone. I believe, to my core, that health is a human right, not a privileged one."
Sapienza recently completed her first semester in the MSN Program and considers the "Population Health in a Global Society" course with Marta Mulawa, PhD, MHS, assistant professor, as particularly influential.
"(In my letter to Biden), I touched on my time at Duke and, the 'Population Health in a Global Society' class in particular, and how much I have learned about the health care system while at Duke," she said. "It is important to look at the way the rest of the world addresses health care because there is a lot we can learn from different societies. I've always realized how lucky I am to have the resources and been born into the world I am in. However, I have learned, and the class has highlighted, how lucky I truly am."
The course raised Sapienza's awareness of the state of global health care and fortified her perspective on the importance of policy and nurses being involved in decision making.
As someone who has always had access to food, housing, transportation, and health care, particularly insulin, she said the course deepened her learning and understanding about how having limited access to those resources — to food, housing, transportation, and health care — can negatively impact one's health.
"My parents never had to worry about deciding whether to put food on the table or pay for my insulin. I always had access to healthy food, a safe home, reliable transportation, quality health care, and an overwhelming amount of emotional support. All these factors play into a person's overall health," she said.
So far in her Duke education, Mulawa and Michael V. Relf, PhD, RN, ACNS-BC, AACRN, ANEF, CNE, FAAN, associate dean for global and community health affairs and associate professor, have made an impression on Sapienza.
"Dr. Mulawa helped challenge my thinking, was always available to talk about my love for public and global health, and offered suggestions on how to navigate my passion," Sapienza said. "We had a lecture in class from Dr. Michael Relf, and I found his lecture inspiring. In one part of his lecture, he encouraged nurses to make changes in public and global health and reminded the students that they are not 'just a nurse.'"
Sapienza was diagnosed with type 1 diabetes when she was 4 years old. She currently serves as a diabetes nurse educator at UPMC Children's Hospital of Pittsburgh, where she's also been a patient, and has worked as a neonatal ICU nurse.
Sapienza noted that she has had a longstanding interest in pediatric health care and that she is finding that prevention and education are key in maternal and pediatric care. "My hope is that I can teach families and children the power of education when it comes to living a healthy lifestyle," she said. "Educating a person on factors that support a healthy pregnancy not only supports the mother but also gives the child the best start to life. In addition, for the pediatric population, providing them with education on management and prevention of illnesses and diseases, such as the important of yearly vaccines, can instill healthy behaviors that they can carry onto adulthood, which can lead to an overall healthier country."
Sapienza received her bachelor's degree from the University of Pittsburgh in addition to a certificate in the history of medicine, which showed her how health care has evolved around the world. She received her associate degree in nursing from the Community College of Beaver County. She chose Duke School of Nursing to further her education due to the school's commitment to advancing nursing excellence and community and global health care.
The Duke School of Nursing is dedicated to the advancement of nursing through exposing students to the potential impact nurses can have on transforming health care, impact that includes, as Sapienza has demonstrated, advocacy for patients, policy changes, and for the nursing profession as a whole.
"It's important for nurses to advocate for policy changes in public and global health because nurses really can make a difference," she said. "As nurses, we tend to see the patient, not just their diagnosis. Because of this holistic approach, we know the inequities many people in (the United States) — and around the globe — face in terms of health care. A nurse's unique perspective can act as a voice to fight for what is needed in health care."