Tuesday, October 29, 2019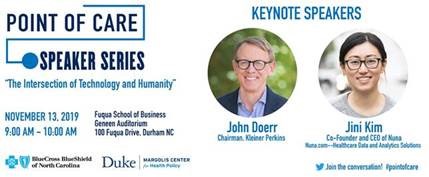 "Point of Care" is a new monthly speaker series, sponsored by Duke-Margolis Center for Healh Policy and Blue Cross NC, that provides a national stage for thought leaders in health care delivery, payment, and reform to share their ideas, discuss new approaches, and comment on emerging health reforms.
The kick-off event will be held on Wednesday, November 13 in Fuqua's Geneen Auditorium! Breakfast offered from 8:30 am-9:00 am, followed by remarks by our speakers, John Doerr and Jini Kim, followed by Q & A with attendees.
Register here to attend.