July 6, 2020
Image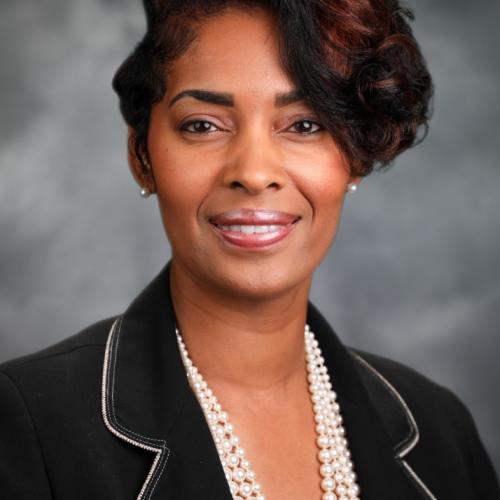 Schenita D. Randolph, PhD, MPH, RN, CNE, assistant professor, has been selected to be a part of an inaugural cohort for a new fellowship program focused on nurse leadership and innovation.
The new Betty Irene Moore Fellowships for Nurse Leaders and Innovators fellowship program serves to "recognize early- to mid-career nursing scholars and innovators with a high potential to accelerate leadership in nursing research, practice, education, policy and entrepreneurship," as stated in a news release.
"I am excited to be a fellow in the first-ever cohort with the Betty Irene Moore Fellowship Program for Nurse Leaders and Innovators," Randolph said. "There is an urgent need for nurses to lead in innovative and transformative ways that will influence health care interventions, organizations and policies through a racial equity lens."
Each of the 11 nurse scientists in the cohort received $450,000 for their innovative project or study. Randolph is applying her funding to develop a nurse-led mobile application called The TALK. The TALK will focus on promoting healthy sexual behaviors and addressing health disparities in HIV among Black male adolescents through such methods as turning to parents and guardians to serve as health educators and raising awareness of HIV prevention.
Black teenagers have eight times the rate of HIV compared to their White male peers, comprising more than half of all HIV infections in this age group in the United States, predominantly in the South, according to Randolph.
"The current events in our nation — COVID-19 pandemic and systemic racism — have highlighted for us what we have known for decades. There are serious disparities and injustices within our systems, including our health care system," Randolph said.
Randolph plans to work with barbershops and beauty salons to market the product and to recruit participants.
"Building upon what we know in the literature that barbershops and salons are safe spaces in the Black community for health promotion and disease prevention, I have used a community-engaged approach to include barbers, stylists and Black fathers as partners," Randolph stated in her fellowship application.
Randolph recently received a grant from the Gilead Sciences, Inc., to study a similar topic. That project is titled "A Salon-Based, Multi-level Intervention to Improve PrEP Uptake Among Black Women Living in the United States South." PrEP stands for pre-exposure prophylaxis, which is considered an effective HIV prevention strategy.
"I am deeply committed to leading change to improve the lives of communities disproportionately affected by health disparities, especially Black communities in the South," Randolph stated in her fellowship application.
The Betty Irene Moore program runs for three years and is backed by a $37.5 million grant from the Gordon and Betty Moore Foundation. Through the program, Randolph will have access to "a hybrid online and classroom curriculum designed and taught in partnership with the UC Davis Graduate School of Management to enhance leadership and innovation capacity, strengthen strategic thinking and collaborative skills, expand professional networks, develop entrepreneurial skills, and propel innovative ideas to fruition," as stated in a news release.
In addition to having a mentor provided by the program, Randolph was able to choose another mentor and chose Rosa Gonzalez-Guarda, PhD, MPH, RN, CPH, FAAN, associate professor, due to Gonzalez-Guarda's leadership qualities and community-engaged research that addresses health disparities and issues with the Latinx population.
"As a Betty Irene Moore Nurse Fellow, I look forward to spending the next three years advancing my leadership skills and positioning myself to be a partner in advancing health care equity," Randolph said.
The TALK Proposal Abstract
Black male youth ages 13 through 17 have eight times the rate of human immunodeficiency virus compared to White male youth, accounting for over half of all HIV infections in this age group in the United States, predominantly in the South. Black male youth tend to have multiple sexual partners, use condoms inconsistently and, if HIV infected, are unaware of their infection. Just 34.5-percent of young adults aged 18‐25 have ever been tested for HIV, and 60-percent of infected young adults are unaware of their infection. In general, Blacks test less frequently than Whites and Latinos. Thus, reaching Black male youth before their risks increase is critical in ending the HIV epidemic. Parents are important as sexual health educators for their adolescent males'. Evidence supports that interventions engaging mothers are effective in delaying sexual debut and promoting condom use among adolescent males. Although there are fewer interventions that focus on fathers, especially Black fathers, there is ample evidence to show that fathers are as equally important in delaying sexual debut and increasing condom use among sexually active youth. A majority of parent‐adolescent interventions focused on male adolescents engage mothers and sons or fathers and sons. However, what is missing from adolescent sexual health interventions are interventions that engage both the mother and father as a family unit regardless of their marital or residential status (living in or outside of the home). Family interventions that are culturally and socially relevant and sustainable are needed to improve adolescent male sexual health.
The TALK mobile application has potential to be an innovative solution to address this problem. With some reconstruction, the app could be integrated and marketed through signage in proven safe spaces for health promotion activities for both Black men and women — the barbershop and beauty salon. Barbershops and beauty salons are promising venues where networks of Black men and women socialize; historically these venues have been a trusted place for health promotion activities. Additionally, these settings provide a unique opportunity to overcome barriers of medical mistrust and stigma prevalent throughout Black communities in regards to health care and HIV. More than 92-percent of U.S. adults own a cellphone, and more than 77-percent own a smartphone. This presents an easy opportunity to connect with patients that are often hard to reach. Given the high ownership of smartphones and increase in access to mobile technologies, individuals are now able to engage in healthy behaviors and self‐management with assistance from no‐ or low‐cost digital health interventions. However, many digital health interventions are not created by clinicians, but rather by for‐profit companies and industries. Our nurse‐led app will create a solution that is evidence‐based and has the potential for commercialization. Digital health interventions based on theories of behavioral change prove to be more clinically effective. Integrating the marketing of a mobile application through signage into safe, trusted spaces like the barbershop and beauty salon has the potential of having a community widespread impact.