School of Nursing Faculty Become American Academy of Nursing Fellows Due to Significant Contributions to Nursing Profession
Michael P. Cary, Jr., and Schenita D. Randolph join a cohort of 248 other distinguished international nursing leaders.
Image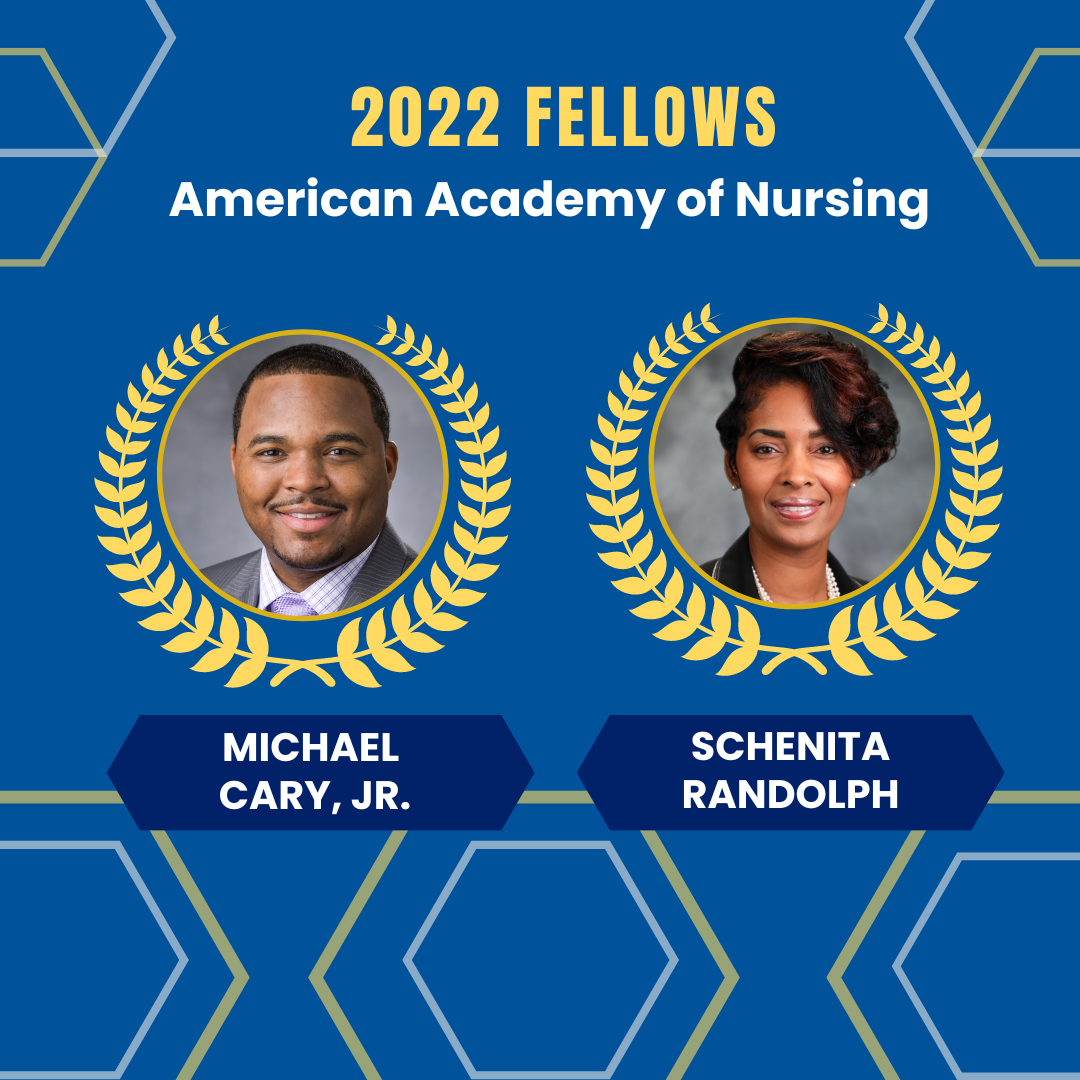 August 19, 2022
Two Duke University School of Nursing faculty members have been selected as Fellows of the American Academy of Nursing. Michael P. Cary, Jr., PhD, RN, Elizabeth C. Clipp Term Chair in Nursing and associate professor, and Schenita D. Randolph, PhD, MPH, RN, associate professor, join 248 other distinguished international nursing leaders — making the 2022 cohort the Academy's largest to date. Cary and Randolph were appointed due to their contributions to health and health care. The fellows will be formally recognized during the Academy's annual Health Policy Conference in October. 
"Drs. Michael Cary and Schenita Randolph are exemplary examples of how putting research into action through their nurse-led interventions can affect real change within real communities," said Vincent Guilamo-Ramos, PhD, MPH, LCSW, RN, ANP-BC, PMHNP-BC, FAAN, dean, Duke School of Nursing, and vice chancellor, nursing affairs, Duke University. "We are elated to have these outstanding researchers, nurses and educators be formally recognized for their contributions to nursing with this prestigious honor."  
Michael Cary 
As one of few PhD-prepared African American males in nursing, Cary has distinguished himself as a nursing leader, researcher, and educator. 
As a leader, he works to combat structural racism in nursing and academia by advancing the diversity, equity and inclusion (DEI) of historically marginalized groups who face inequities. Nationally, he led the development of the Academy Health's Interdisciplinary Research Group on Nursing Issues' Emerging Diversity Leaders, a mentoring program designed to establish a diverse cadre of health services researchers that will establish active careers in science and academic nursing and will contribute to reducing and ultimately eliminating health disparities. 
Within the School of Nursing, he chairs the Recruitment & Hiring (Faculty) committee of the school's Racial Justice Task Force, which is overseen by the Dean's Office and Office of Diversity, Equity and Inclusion. Several of the committee's strategies are highlighted as part of a published action-oriented framework that other schools of nursing can implement to bolster their own DEI efforts. He currently oversees the creation of strategies to recruit and hire a diverse set of faculty members who are focused on mitigating the negative effects of social determinants of health, including the impacts of structural racism and discrimination on underserved communities of color. 
Dually trained as a health services researcher and applied data scientist, Cary focuses his research efforts on innovative data science to predict disability in older African American adults and other groups at increased risk for rehospitalization following discharge from post-acute care (PAC) settings including inpatient rehabilitation facilities (IRFs). For example, he developed machine learning algorithms to predict 30-day and one-year mortality among older adults with hip fracture treated in IRFs — being the first nurse scientist to develop these complex algorithms in PAC research. As an educator, he uses his research expertise to prepare nursing students and clinicians to extract meaningful clinical insights knowledgeably and skillfully from data in response to the growing demand for data science education and training in real-world clinical settings. 
Cary serves as Duke Artificial Intelligence (AI) Health's Inaugural Health Equity Scholar, a position meant to broaden Duke's commitment to ethical and equitable data science. 
"As a Black man and one of the few PhD-prepared nurses in the U.S. trained as an applied health data scientist, I sit at the intersection of equity, patient care, and data science," Cary said. "With these unique skills and experiences, I strive to mitigate racial bias in health care algorithms and advance health equity at Duke and beyond. 
"I am honored to become a fellow in the American Academy of Nursing. I will continue to use my expertise and positions in national organizations to educate Academy members and promote leadership in the areas of quality health care, informatics and technology." 
Schenita Randolph 
Randolph was awarded her Academy fellowship due to her addressing America's HIV epidemic, particularly among the Black community, through community engagement efforts. Of the 30,635 people in the United States who received an HIV diagnosis in 2020, 42% percent were Black/African American; the U.S. South continues to have the highest number of individuals living with HIV. Racism and medical distrust contribute to these health disparities.  
As a way to bridge the gap and strengthen trust within the Black community, especially around the stigmatized topic of HIV, Randolph launched The HEEAT Research Lab. This interdisciplinary team of researchers, clinicians, entrepreneurs, and community members construct and implement culturally relevant, real-world interventions to promote sexual health and prevent HIV. 
To reach Black women, Randolph engages with stylists to raise awareness of the HIV prevention medicine pre-exposure prophylaxis, or PrEP, through educating stylists and offering them educational resources. Her COVID-19 Community Conversations series reached more than 50 Southern salons and barbershops. Through tapping into the social networks of Black women in beauty salons, Randolph's intervention has the potential to reach Black women throughout the South by connecting with more than 600 beauty salons. 
Black fathers play an integral role in influencing the sexual health of their children, particularly their sons, but often research does not engage them throughout the research process to develop culturally and socially relevant tools to prompt these conversations. Through The Talk program, Randolph partners with barber shops to co-develop and provide fathers those tools in addition to resources to discuss racism. This work is among the first nurse-led, parent-adolescent intervention that uses a syndemic model to address experiences of racism as a social determinant of health. The project is designed to potentially be scaled up in order to reach more than 14,000 barbers throughout the country.   
Randolph has shared her expertise about the benefits of community engagement in research through serving as co-director of the Community Engagement and Dissemination Core of a NIMHD-funded health disparities research center; co-creating a course on community and stakeholder engagement that promoted the engagement of communities, especially communities of color who have been mistreated in research and consequently distrust the research and health care; and presenting to organizations and entities such as the White House Office of Public Engagement.
As an Academy fellow, she will work to influence policy and disseminate nurse-led models of care aimed at achieving health equity, promoting wellness, eliminating racism and improving health care delivery. 
"I am excited to receive an invitation to this Fellowship and to be recognized for my accomplishments within the nursing profession," she said. "I look forward to providing my unique contributions and expertise to the Academy and engaging with other dynamic leaders to transform health and advance equity within our health care system and research enterprise." 
Four Duke University School of Nursing alumni also received the designation — Elizabeth Duffy, DNP'14, RN, CPNP; Jing Wang, PhD'17, RN; Dalmacio Flores, PhD'16, ACRN; and Rose Mary Xavier, PhD'17, MS, RN, PMHNP-BC — as well as Hudson Santos Jr, PhD, RN, former postdoctoral fellow.