School of Nursing Jumps to Fifth in NIH Funding for Fiscal Year 2021
Image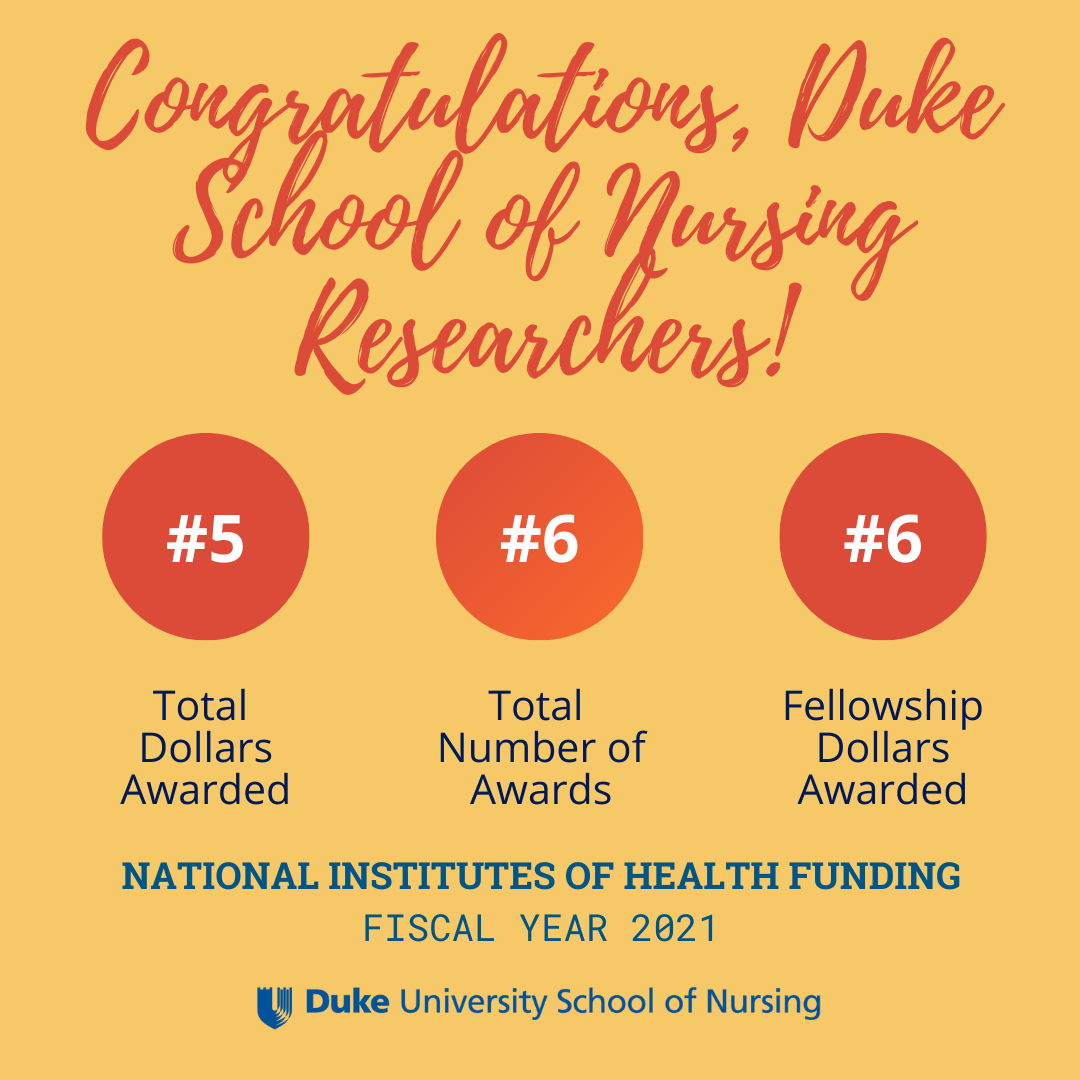 February 9, 2022
Duke University School of Nursing (DUSON) jumped in position as one of the top nursing schools engaged in National Institutes of Health (NIH)-funded research. In fiscal year 2021, DUSON received more than $8.4 million in annual funds from NIH, positioning the school 5th in funding. A jump from 9th in 2020, this is the second highest NIH ranking DUSON has held and the highest funding total in the history of the school. 
"Duke School of Nursing is dedicated to leading and accelerating nursing science that improves the health of individuals, families and communities," said Paula Tanabe, PhD, MSN, MPH, RN, FAEN, FAAN, vice dean, Research, and Laurel Chadwick Distinguished Professor of Nursing. "Over the last year, our faculty developed and tested interventions that shape innovative care delivery based on evidence of what works best for adults, children, and caregivers. Our researchers often use technology to monitor and improve health for individuals and communities." 
Tanabe credits the faculty's strong focus on advancing the science to promote health equity, facilitate treatment effectiveness, and improve quality of care. The new grants continue this focus. 
Some of the NIH-funded projects focus on areas that will continue our efforts in improving patient and population health outcomes both locally and globally. This includes: 
Improving the understanding of the asthma phenotype and subsequently asthma treatment 
Overcoming critical barriers to the use of mobile monitoring-enabled telehealth for poorly controlled diabetes and hypertension  
Developing and testing a nurse-delivered telehealth counseling intervention to reduce suicidality and improve HIV care among people living with HIV in Tanzania 
Developing and testing individualized pain protocols for treatment of vaso-occlusive episodes in the emergency department 
In addition to the research engagement of Duke School of Nursing faculty, three PhD students received research training grants, which positioned Duke as #6 overall in NIH funding for individual training awards.  
PhD student NIH-funded projects focus on: 
Addressing symptom experience of midlife menopausal women with metabolic syndrome 
Developing interventions to reduce the incidence of postoperative pulmonary complications 
Improving self-management of type 2 diabetes among black men through use of digital health technologies 
"Recent health and social events including the COVID-19 pandemic have shown how much more work needs to be done to advance health equity, and nurses have a key role in designing health care delivery and models that reduce disparities and improve outcomes for real people, families, and communities," said Vincent Guilamo-Ramos, PhD, MPH, LCSW, RN, ANP-BC, PMHNP-BC, FAAN, dean, Duke University School of Nursing, and vice chancellor of nursing affairs, Duke University. "Our growth in research funding reflects our commitment to improving the health of communities and our forward thinking in developing more nurse-led models of health care. This is the future of nursing."