School of Nursing Student Uses Her Diverse skills on Patients Across the Globe
Duke School of Nursing (DUSON) DNP student Kegt Vildor uses her diverse skillset as she focuses on improving pediatric health globally to help eliminate health inequities through science, education, and service.
Image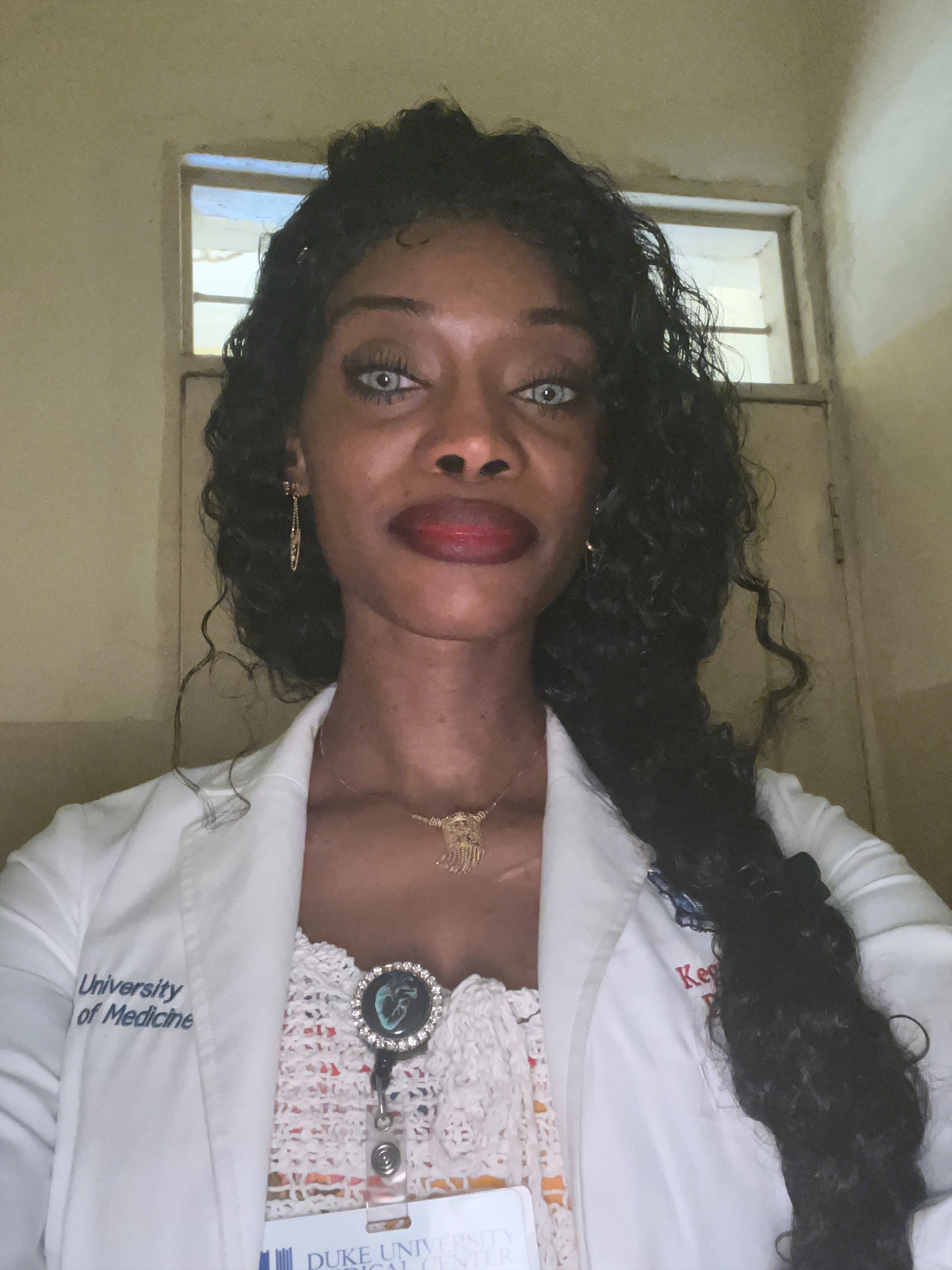 May 22, 2023
As mentioned in Duke Global Health Institute, Vildor can speak seven different languages, so while in Tanzania, she used their native language Kiswahili to communicate with her patients. In particular, she was presented with a health challenge to treat an Eastern Green Mamba snake bite of one of her elderly patients after receiving the snake from his wife. She used steroids and beta blockers to treat the snake bite while learning he finds bird sounds soothing, so she played them on YouTube to keep him calm.

Vildor explains her training at DUSON has prepared her for various nursing situations. "One of my favorite authors, the late Warren G. Bennis stated, 'Create a compelling vision, one that takes people to a new place, and then translate that vision into a reality,' and that to me is DUSON," Vildor said. "I believe that DUSON's vision forces you to inquire 'how can I make myself a critical part of a growing global healthcare team,' then it takes you to an understanding of flexibility and accommodation of multiple lifestyles and needs."

She said DUSON embraces diverse viewpoints and expertise people bring, causing nurses to adopt a new growth mindset. Vildor explains the most impactful technique she has learned at DUSON has been utilizing compassion in care to relate to others, especially the pediatric population she serves.
Vildor was encouraged to use her background to relate to others instead of shying away from it. This technique allowed her to learn Kiswahili while in Tanzania to communicate and adapt to the Tanzanian culture. "Dr. Derouin, Dr. Waldrop, Dr. Blood-Siegfried, Dr. Melinda Teague, Mrs. Jackson, Mrs. Mills, and many others within the NP field emboldened me to expand on my diverse skillset to help people with whom I can relate due to similar backgrounds and experiences," Vildor said.

It is DUSON's mission to help eliminate health inequities that negatively impact Americans and the healthcare system. Vildor said health inequities are the poster child for structural inequities. Invariably, structural inequities are systemic. The cultural, social, environmental, and economic detriments of health are the topography on which structural inequities construct health inequities. "We can spew literature after literature, research after research, spend hour after hour citing evidence-based practice; however, the aforementioned does not instigate change," Vildor said. "Science and knowledge are only tools for directing action; they do not initiate action. Therefore, serving and being of service to the many suffering from health inequities is important."

She continued, "This is what directs change to sustainability. The conviction in me to fight against health inequities comes from me constantly referring to a personally difficult failure, perhaps even traumatic," Vildor said. "This failure was something that made me feel that desperate sense when I hit bottom as if something I felt was almost a necessity to cause the opening of my eyes to see the world around me... an 8-year-old girl who died in my arms during a medical mission over something that could have been foreseen and treated."

Vildor reflects that she could not see past the bigger picture and thought giving money so the patient could get dialysis was the answer. Still, a donation of monetary value has no significance. "The patient needed sustainability to save her life. At that moment, the iron entered my soul. That instant created the resilience that I needed to grapple with inequity at its root. BJ Fogg said: 'You can never change just one behavior. Our behaviors are interconnected, so when you change one behavior, other behaviors shift."

She is a pediatric primary care provider with an original acute care background (specifically pediatric congenital cardiac surgery and intensive care management). Her career goal is to bring and teach preventative care within the global paradigm to the pediatric populous in underserved arenas. Ultimately, Vildor wants to establish sustainable provider healthcare for the pediatric population in low- and middle-income countries because she said it is a global priority.

"I have spent the entirety of my career traveling overseas to countries such as Haiti (where I have set up a tertiary medical facility), Ethiopia, Sudan, Somalia, Cuba, Rwanda, South Africa, Australia, Saudi Arabia, and recently Tanzania just to name a few," Vildor said. "I have witnessed babies and children suffering from preventable ailments and diseases easily cured with knowledge. Knowledge is power, and learning to lead to sustainability is the optimum goal."

Vildor is a native of Fort Lauderdale, Fla.; her parents were second-generation foreigners from a diverse background of Hebrew, Northeast and East African, and Caribbean. She lives with her 8-year-old fur baby cat Jeremiel Bartholomew Vildor.