Student Awarded Scholarship for Social Justice In Nursing Practice
DNP student Charmaine L. Duckie received the scholarship because of her DNP Project, which addresses hypertension in Black patients.
Image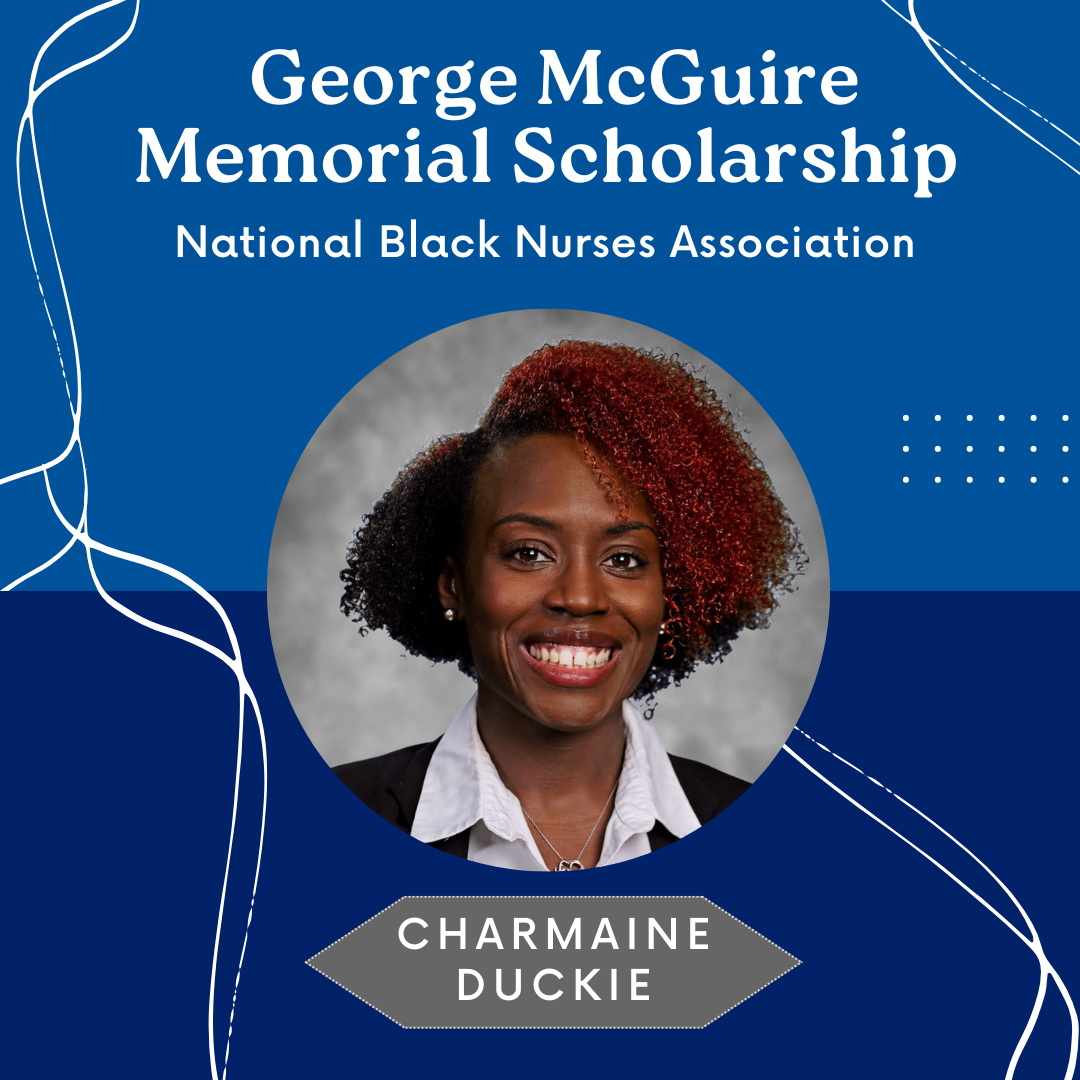 November 22, 2022
Doctor of Nursing Practice (DNP) student Charmaine Duckie, MSN, RN, MSRN-BC, NEA- BC, has been awarded the George McGuire Memorial Scholarship from the National Black Nurses Association (NBNA) for her social justice efforts. The NBNA, of which Duckie is a member, serves as a voice for Black nurses and diverse populations, ensuring equal access to professional development, promoting educational opportunities, and improving health.
The scholarship will support Duckie, a clinical nurse manager at Duke Primary Care (DPC) Riverview, as she executes her DNP Scholarly Project. Her project will focus on treating and addressing hypertension in Black patients, particularly ones on the hypertension registry at her clinic.
Of adults in the U.S. living with hypertension, 56 percent of those individuals are non-Hispanic African American/Black. While the reasons for this disproportion are debated, relevant social determinants of health include concentrated poverty, which can inhibit access to well-funded education and fresh healthy food. Physicians are also generally trained to prescribe only a certain set of medications to African American/Black hypertension patients, whereas white patients can be treated with any available medications.
"We have a lot of socioeconomic deterrents in our area, just knowing the population," Duckie said. "We (at DPC) have the resources, but how do we make sure the patients that are the least healthy and the most complex get those resources?"
For her project, Duckie will implement an innovative workflow to interconnect and optimize the roles of the DPC team. The population health specialist, for example, will ask the patients questions about situations, such as housing and transportation, to gather data on the social needs that impact them. This information is needed in order to know which community resources and educational materials the patient will benefit from. For example, if the patient is facing eviction, the specialist will work diligently to help resolve their current living situation. The primary care physician and pharmacist will help the patient figure out how best to manage their hypertension, while the nurses walk the patient through any processes they need to perform at home, such as taking their blood pressure.
"Once the patient is more involved in their care, if the evidence proves correctly, they will have better outcomes," Duckie said. "We're using a patient population that is very complex. We're providing them with education but also treating the whole patient. We're hoping this brings improved outcomes. We will then see what the successes are and how we can replicate those across the organization."
The project aims to produce preliminary results by the end of the year. Her co-chair is Bradi B. Granger, PhD, MSN, RN, FAAN, professor; other committee members include DPC internal medicine doctors Karen A. Boston, MD, and David J. Halpern, MD, MPH, as well as Brittney Champagne, PharmD, of Duke Population Health Management Office.
Duckie has served as a nurse for 17 years. After earning her master's degree in nurse administration and leadership, she realized, in order to induce systematic change, she would need to earn a more advanced degree.
"When I got my master's, I learned that as far as management of health systems goes, yes, we take care of people, but there's also a business aspect to it," she said. "You help patients get better, but they keep coming back, constantly using resources, which becomes very costly. It's all about doing that dance and how to make it work successfully for both parties.
"I really like informatics, making workflows more efficient, and improving proven processes to improve things, which is what led me more to the DNP aspect of things."
She chose the Duke University School of Nursing specifically because of the program's high U.S. News & World Report ranking and flexibility, which allows her to continue working while pursuing her degree.
"I am learning a lot, and I'm able to apply it here at work," she said. "I'm doing my project within my patient population and am able to see firsthand the barriers my patients are experiencing. This experience allowed us to be innovative while working on a project right here at Duke."